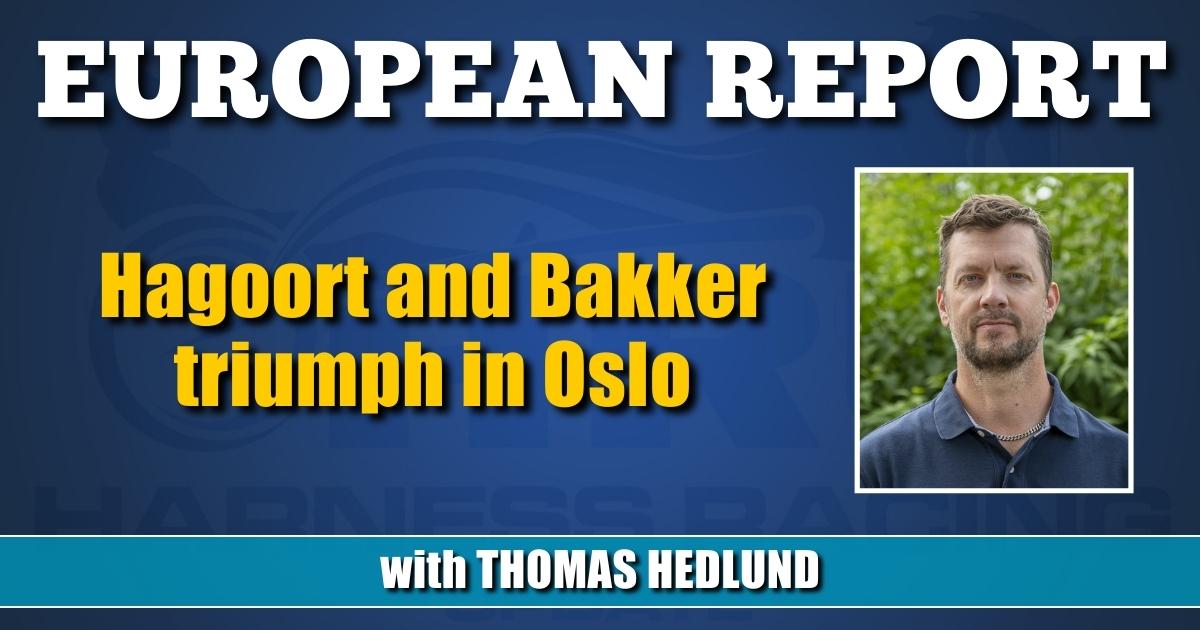 Hagoort and Bakker triumph in Oslo
by Thomas Hedlund
Norway's most prestigious race for the older elite, the $180,000 Oslo Grand Prix over 1.3 miles, was held at Bjerke racetrack on Sunday (June 11) and after quite a messy beginning, the race ended with great success for 6-year-old Hades de Vandel (Ganymede), paired with Robin Bakker.
Dutch trainer Paul Hagoort, now operating in Sweden, couldn't be more satisfied with the drive from Bakker in the Oslo Grand Prix replay here.
Bo Westergaard's duo from post 1 and 2, Seven Nation Army and Get A Wish, both disappeared by making breaks shortly after the car left the field and Björn Goop was quick to send his Moni Viking to the front.
Hades de Vandel got a perfect cover trip second over with Aetos Kronos in front of him so Bakker could wait with his three wide attack until the last turn. Moni Viking couldn't defend himself when Hades de Vandel sprinted down the stretch and pocket runner Oscar L.A. got his engines on fire a little bit too late.
Hades de Vandel won in a mile rate of 1:53.4. Oscar L.A. was second and Moni Viking third.
Earlier on the race card, Alessandro Gocciadoro's Clarissa (Exploit Caf) impressed a lot in the $56,000 Trond Andersens Minneslopp. Clarissa landed outside the leader with a half mile to go and was strongest to the finish as she hit the wire in 1:52.3 over the mile.
American bred B A Superhero (Muscle Hill), purchased in 2022 at Harrisburg, was outstanding for his trainer Bo Westergaard in a race for 4-year-olds. B A Superhero hit the lead after 300 meters and was untouchable as he won in a mile rate of 1:55.4 over 1.3 miles.
HAIL MARY BEST IN ÖSTERSUND
Daniel Redén trained Hail Mary (Googoo Gaagaa) was the bettors' first choice when the $110,000 Jämtlands Stora Pris was on the menu in Östersund, Sweden on Saturday (June 10) afternoon and after a quick start, where Örjan Kihlström pushed Hail Mary to the front after 500 meters, the race was basically over.
Hail Mary controlled the race in front and sprinted to a safe win in a mile rate of 1:53.1 over 1.3 miles.
Hail Mary was a finalist in the Elitloppet with Åke Svanstedt in the bike but finished last after a tough trip. The 7-year-old Derby winner in Sweden seemed to have benefited from the two heats at Solvalla as he looked very strong in the finish in Östersund.
Australian horse Just Believe had a great performance finishing third and Greg Sugars drive was flawless.
TOP TROTTERS IMPRESSED IN PARIS
Vincennes had a solid Saturday (June 10) program for the harness racing fans and several top horses showed up at the black track in Paris.
Thierry Duvaldestin trained Idao de Tillard (Severino), driven by Cleo Duvaldestin, was first out among the star trotters that visited Vincennes this day and the 5-year-old came home in a super strong mile rate in the $125,000 Prix Jean le Gonidec over 1.3 miles. Idao de Tillard would follow behind leader Izoard Vedaquais and attacked as the stretch approached. The pace was set high throughout the race and when Idao de Tillard hit the wire, the chronometer showed 1:52.1, in a race that started without a car.
Jean-Michel Bazire aimed for the lead with a kilometer to go in the $125,000 Prix Guy le Gonidec for 4-year-old mares as he sat behind Joumba de Guez (Carat Williams) and that was the winning position in the race. Joumba de Guez sprinted to the safe win in a mile rate of 1:56.4 over 1.3 miles ahead of Jazzy Perrine, who was passively driven by Eric Raffin.
Jean-Michel Bazire continued to claim the 4-year-old colts' showdown, the $125,000 Prix Jules Thibault over 1.6 miles with his Joshua Tree (Bold Eagle). Crop dominant Just A Gigolo had to do the heavy work outside of leader Joshua Tree and when Bazire gave the signal for speed at the top of the stretch, the Bold Eagle son flew to a safe victory in a mile rate of 1:56.3.
The winter queen of Paris, Ampia Mede SM (Ganymede), trained by Fabrice Souloy, dominated the meeting at Vincennes during the winter and claimed the titles in both the $425,000 Prix de France and the $425,000 Prix de Paris, after being runner up behind Hooker Berry in the Prix d'Amérique in January.
Her comeback at the track was scheduled in Saturday's $125,000 Prix Chambon P and driver Franck Nivard opted for a first over trip, outside of leader Harlem de Buzy when three quarters of a mile remained in the race. Ampia Mede SM had no problem in disarming the leader in mid-stretch and she won safely in a mile rate of 1:58.1 over 1.7 miles.
FRENCH HORSES IN POLE POSITION IN FINLAND
The French army of trotters is strong in the $215,000 Kymi GP over 1.3 miles in Kouvola, Finland on Saturday (June 17).
Elitloppet runner-up Go On Boy drew post 1 behind the gate while Etonnant will start from post 5.
KYMI GP 2023
2,100 meters
Horse — Driver
1. Go On Boy — Romain Derieux
2. Run For Royalty — Janne Korpi
3. Global Withdrawl — Santtu Raitala
4. Global Beware — Tapio Perttunen
5. Etonnant — Anthony Barrier
6. Ideal du Rocher — Charly Mottier
7. Ultion Face — Adrian Kolgjini
8. Hierro Boko — Iikka Nurmonen
9. Callmethebreeze — Gabriele Gelormini
10. Iznogoud Am — Jorma Kontio
FRANCESCO ZET IN DEBUT AGAINST THE ELITE
Last year's dominant 4-year-old Francesco Zet (Father Patrick) will face the older elite as he enters the $185,000 Norrbottens Stora Pris in Boden in northern Sweden on Saturday (June 17) night.
Daniel Redén's horse has 14 consecutive wins ahead of Saturday's task.Francesco Zet has swept clean in the big races during his 3- and 4-year-old seasons. Post position 1 behind the gate was surely not what Redén or driver Örjan Kihlström would have chosen, but it's a fact that the 5-year-old Father Patrick son will face that obstacle on Saturday.
Australian horse Just Believe will make another stop in northern Sweden after last week's success finishing third in the Jämtlands Stora Pris and he will begin from post 5 behind the gate.
NORRBOTTENS STORA PRIS 2023
2,140 meters
Horse — Driver
1. Francesco Zet — Örjan Kihlström
2. Castor The Star — Mats E Djuse
3. Mindyourvalue W.F. — Ove A Lindqvist
4. Power — Robert Bergh
5. Just Believe — Greg Sugars
6. Mandela Zon — Niko Jokela
7. Mellby Jinx — Daniel Wäjersten
8. Zeudi Amg — Alessandro Gocciadoro
9. Rackham — Christoffer Eriksson
10. Ferrari Sisu — Conrad Lugauer