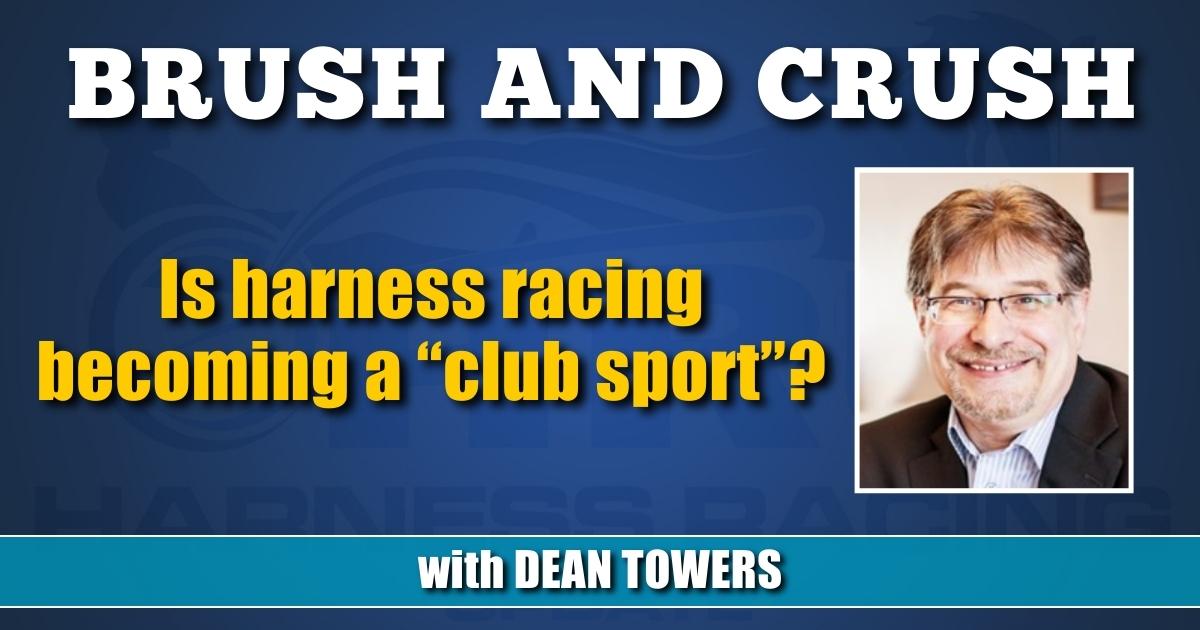 Is harness racing becoming a "club sport"?
Whether the perception is real or not, it could reach a tipping point.
by Dean Towers
I saw a tweet this week from long-time harness racing player Greg Schuler.
It's not the first time I have — and I expect you have, too — heard this point of view.
When we see line-up races at Yonkers — which I think we have more often than in the old days — I don't think anyone can deny it's the 'wait until we get a better post and race next week' phenomenon.
When we witness drivers who have live horses sit a three hole at Mohawk or Hoosier rather than pull a right line, I think we all believe it's cut from the same cloth.
When we watch a Meadowlands maiden race with eight horses off qualifiers with only one of the horses bet off the board, we often see all other drivers saying whoa off the car, which is not dissimilar.
Yes, we can complain and argue with Schuler, no doubt many will, and some of it is perception versus reality. But I think we have our heads fully deposited in the hay if we didn't grant at least some truth to his argument.
At the thoroughbreds, for the most part, we do not see these same complaints. Part of it is certainly because they race fewer times. A horse at Yonkers can take a week off with near impunity. If a thoroughbred racehorse does, the monthly bills don't get paid. But I think it's more than that.
In thoroughbred maiden races, for example, the connections of assorted starters haven't heard about Linda Toscano's high-priced yearling who has a ton of talent, nor have they qualified against her horse. This shows, because when that horse is in the box against eight or nine others on debut, those jocks and trainers are saying anything but whoa when the gates open.
Illustrated statistically, Bob Baffert, Todd Pletcher and Chad Brown are trainers who get the highest-priced yearlings, as well as six or seven figure horses from the 2-year-old sales who work bullets and have tons of talent. Over the past year, their first-time starters won only 18 per cent of time.
Even if these potential superstars are bet down to 3-1 or lower — where everyone from the clockers to hotwalkers seems to know something — they only win 29 per cent of the time.
No matter what the statistic, there are no races off, no passing lanes, no three holes to sit, and no horses to avoid. And I suspect it's one reason why the handle at the runners is so much more vibrant.
Maybe this is much ado about nothing. Schuler can play Churchill and we can simply forget about him, but as Bobby Chang a vice-president of the Hong Kong Jockey Club noted back in 2007 when their racing was losing customers: "when people stop betting the sport, many leave and don't come back." It was the catalyst for them to address the issues.
In our sport, we do have a few Bobby Changs, and they've been proactive.
People like John Campbell have been working on uniform racing rules for years, in part because this phenomenon is a threat to the sport.
Jeff Gural and The Meadowlands team have relentlessly tried an experiment regarding the giving of holes, slow quarters and eliminating the clogging of the flow, to combat exactly what Schuler speaks of.
We know of judges at some venues who have called up drivers for explanations when they took a well-bet horse back to last, or sat a three hole at 4-5 while climbing over the horses in front of them.
Folks like Gural may make moves that fall flat. The judges might be off-base and off-putting on something, and John Campbell might not choose the right rule to fix in the right way.
But each of them undoubtedly sees the danger of harness racing becoming a club sport. And I think by being proactive, they are not only addressing the perception, but the reality, too.