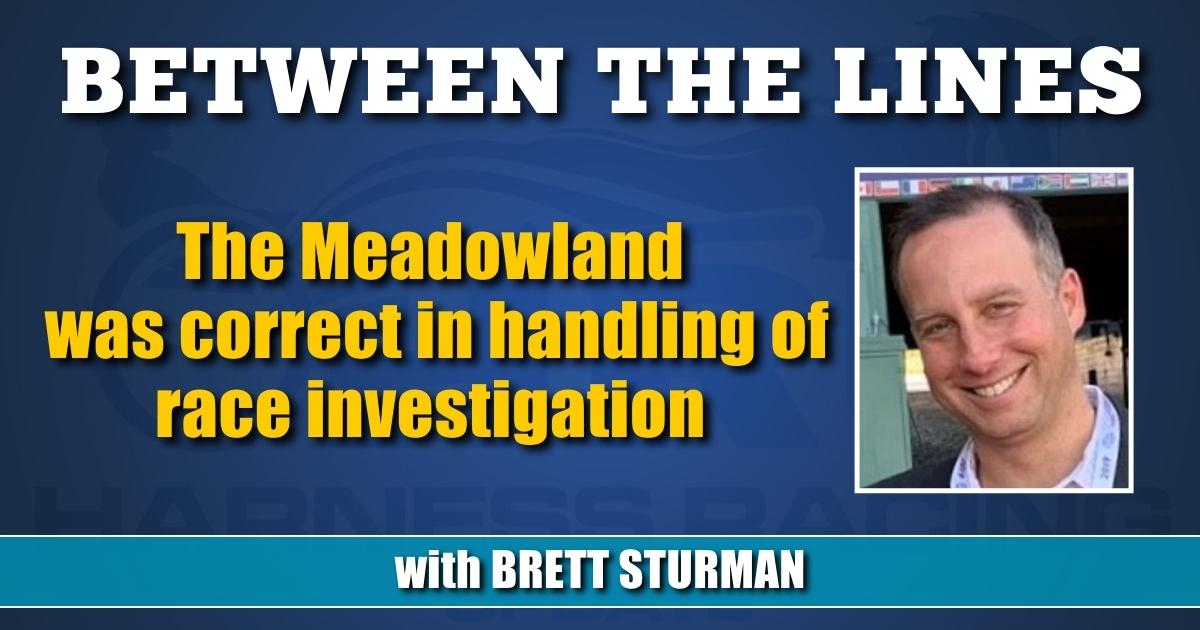 The Meadowlands was correct in handling of race investigation
Why The Big M was right to overturn its initial ban of Joe Bongiorno, Nicole DiCostanzo and Jenn Bongiorno.
by Brett Sturman
A firestorm was ignited on Wednesday (May 24) when news broke that The Meadowlands would be suspending Joe Bongiorno and Nicole DiCostanzo from driving, as well as suspending the barns of trainers Jenn Bongiorno and DiCostanzo from entering horses while The Big M investigated a race from last Saturday (May 20). Following a swift investigation, The Meadowlands issued a statement late Wednesday evening that cleared all parties of any wrongdoing, and noted they would be able to participate in racing at the track as of this Saturday (May 27).
In retrospect, one could argue that the suspensions were premature and unjust. But on the other hand, and in the interest of safeguarding its consumers, The Meadowlands shouldn't be faulted for acting out of an abundance of caution.
The race in question was race 14, the nightcap from last Saturday (replayhere). The winner of that n/w $5,000 conditioned race was a horse named Lyon's Pride, trained and driven by Dicostanzo. Lyon's Pride paid $31 to win, while the 6-5 race favorite named JK Standingovation, trained by Jenn Bongiorno and driven by Joe Bongiorno, was a never threatening sixth. The Meadowlands reported receiving several complaints about the late double payout that concluded in that race. While Lyon's Pride paid $31 to win, the late double which combined Lyon's Pride with the winner from the prior race 13, paid only $21.20.
The Meadowlands obviously didn't appreciate the optics of the situation and felt there was reasonable suspicion to at least warrant a deeper look into the matter.
Beyond the late double payout, which was most certainly the trigger for the investigation, a race may come under additional scrutiny whenever the relationships between key participants don't fall outside of an 'arms-length' with one another, in this case Bongiorno and DiCostanzo, who have a personal relationship.
Statistics show Bongiorno first drove for DiCostanzo at The Meadowlands beginning on May 31, 2022. Prior to that time at The Meadowlands, DiCostanzo's training statistics were 40 2-0-4 with a UTRS of .083. Since that time, DiCostanzo's training statistics are 78 13-9-14 with a UTRS of .303.
For the record, I'm in full agreement with The Meadowlands findings that there was no wrongdoing or irregularities in the race. While all above factors and statistics are true, I don't believe that it led to any type of predetermined outcome in the race.
For the most part, Lyon's Pride was a horse that absolutely was a logical figure in the race. While that would seem to undercut the notion that Lyon's Pride couldn't have won unless there was nefarious activity, the recent form spree of Lyon's Pride himself contributes to poor optics of the situation overall.
Prior to moving to the DiCostanzo barn earlier this month, Lyon's Pride had a career mark of 1:54.2 taken at Woodbine Mohawk Park last year. The 4-year-old had won 2 of 35 starts lifetime (one of which came recently at a county fair in Virginia in 1:59.2) and had generally been pacing his miles in the 1:53 and 1:54 range at The Meadowlands throughout much of the year up to May.
In his second start with DiCostanzo, both training and driving, Lyon's Pride won by over 12 lengths in 1:50.4, the fastest amateur race ever. Last week, with DiCostanzo still driving, this time against professionals, Lyon's Pride was parked about 6-wide into the first turn from post 10, didn't clear to the lead until past the three-eighths, and had enough to keep going to hold on and win in 1:51.2, on a track rated with a 2-second allowance for the track condition. A month ago, such a mile against superior competition would have been unfathomable.
Again, none of this implies any wrongdoing either and there could very well be plausible explanations that often come with a change in trainers; but these are simply details that may have played a role in how The Meadowlands perceived a bigger picture.
With all that said, The Meadowlands was correct to suspend those parties while they conducted their investigation. In most other areas of employment, it's customary to suspend or place on leave individuals who are the subject of an ongoing investigation. Such was the case here, and once The Meadowlands completed their investigation in a matter of a day or two, they issued a formal statement of their findings and cleared the matter.
If anything, why don't other tracks operate with such regard for their customers that The Meadowlands does? There're so many races at other tracks that come back with impossibly low payouts, and those races become ignored entirely. No one cares. There's very little respect given to customers at those tracks because they don't need to. But The Meadowlands operates under a slightly different business model, one where they are more reliant on handle, and in turn have some level of accountability to those who support the product vis-a-vis wagering.
Admittedly, it seems possible that if different race participants had been involved in a similar situation, maybe The Meadowlands would have handled the suspension news differently. Or maybe not, I don't know. But I do believe that The Meadowlands deserves a massive benefit of the doubt for ultimately acting out of a position of wanting to ensure they're running a comparably clean product.
They acted decisively and with transparency, issued their findings, and at the end of it all the race participants and consumers are better off for it.