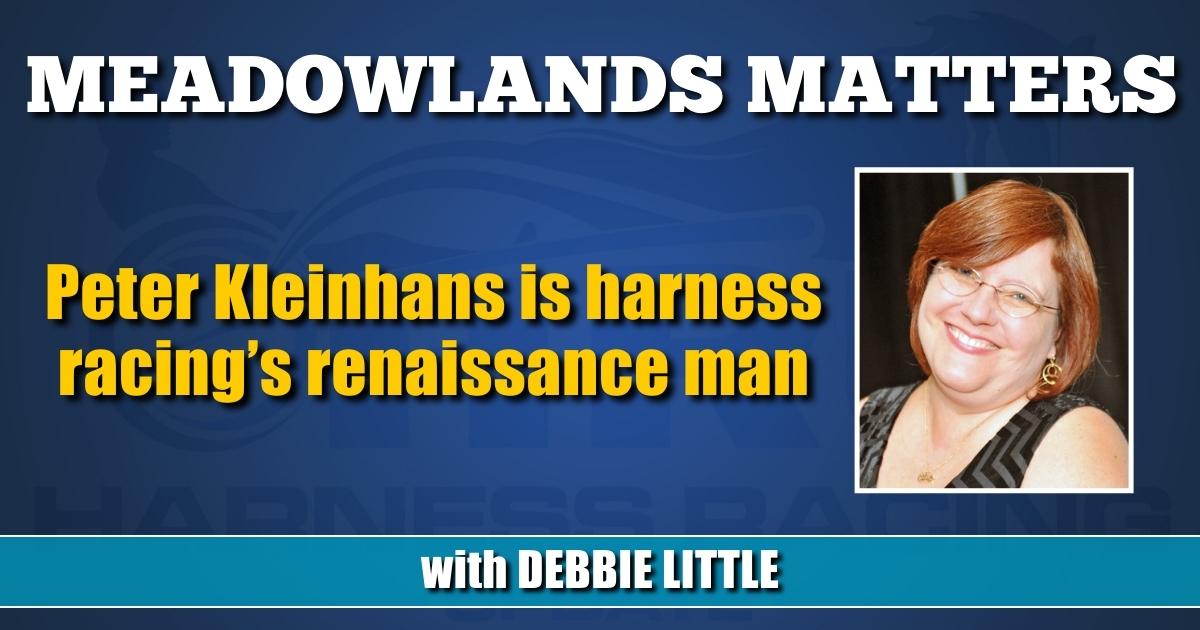 Peter Kleinhans is harness racing's renaissance man
by Debbie Little
According to Merriam-Webster, a renaissance man is a "person who has wide interests and is expert in several areas."
It would be hard to find a more fitting description for Peter Kleinhans, who is, or has been, an owner, trainer, driver, breeder, handicapper, TV talent and race caller, and that's just his harness racing resume.
Kleinhans, 57, will be donning the headset at The Meadowlands tonight (May 26) to call the races while Ken Warkentin is on assignment. He was given the option to call tomorrow night as well, but his significant other, Ivy, put the kybosh on that since they're getting married on Sunday.
Kleinhans got hooked on horse racing as a youngster when his parents took him to Belmont Park when he was just 6 years old. Prior to that, the only horses he had ever seen pulled carriages where he grew up in Lower Manhattan.
"And I was so in love with the whole thing, especially the announcer, it was Dave Johnson, who I am still friends with now," Kleinhans said. "I guess it was 1972."
A few years later, while visiting his grandparents in Pittsburgh, he was introduced to standardbreds at The Meadows. You had to be at least 10 to attend the races and since he was only 9, they had to sneak him in.
From that day, he was hooked.
"Then I found Sports Eye, which I would buy every single day on the way to school and read it on the subway," Kleinhans said. "Then I wanted to become an announcer. I started watching the Channel 9 show with Stan Bergstein and Spencer Ross and imitating the announcers, who at that time were Bob Meyer at Yonkers and Jack E. Lee at Roosevelt.
"Every night I'd watch it and I'd turn off the sound and I would announce the races."
Kleinhans was also a huge baseball fan and wasn't sure if wanted to be announcing for the diamond or the diamond gaiters.
"I made the decision to make horse racing my announcing focus, not baseball or a different sport which probably would have had a better trajectory for actual prestige these days, but who knew at that time," Kleinhans said. "I did fine at school and I enjoyed a lot of the subject matter in school, but I was really obsessed with racing from before I graduated high school."
Kleinhans graduated high school at 16 and attended college at Pennsylvania's prestigious Carnegie Mellon, chosen, in part, for its proximity to The Meadows.
"So, I basically went to The Meadows every single night that they raced during my college years," he said. "And when they didn't race, I would go to the thoroughbreds at Waterford, which is now Mountaineer."
Kleinhans got a big break thanks to the kindness of then-Meadows' track announcer, Roger Huston.
"I knew some guy who was a teller there and he gave Roger a tape of my race calls and Roger liked it," Kleinhans said. "Roger said, 'We don't have room here, but we're opening this new track Lake Shore Meadows, in Erie, which would be a sister track.'"
Kleinhans thinks Lake Shore Meadows was the first track in the country to have simulcasting.
"Because they'd have a card of six live races and six Meadows' races and was one of the first places to do that," Kleinhans said. "I announced all the live races. They raced two years, 1984 and '85."
In addition to race calling, Kleinhans wrote the tip sheet, delivered the programs and kept all the statistics on the drivers.
"I was doing like six jobs at once but it was heaven for me," he said. "They were $1,500 claimers racing for $800 purses, but that didn't matter to me."
The same year, the 18-year-old Kleinhans started calling in Erie, he unexpectedly became a horse owner.
"There was one horse [Flip Collins] that I'd been betting at The Meadows over the school year who I had a nice win on as a longshot once and he started making breaks and I could see he was getting sore," Kleinhans said. "And he showed up at Lake Shore Meadows. His first race, he finished fourth in a $1,500 claimer and then he kind of pulled up lame the next time."
People were telling Kleinhans that the fate of this lame horse was in question and that he should consider buying him.
"So, in this panic, I basically called my mother up and asked her if she could lend me $500 to buy this horse," he said. "So that's how I got going with the ownership.
"He had two bowed tendons so he had to be laid off for a year, but then he came back the next year and he actually won the final race they ever ran at the track. He only raced twice and he won his second start. And that was, to this day, my happiest moment."
For Kleinhans it was a tough choice between announcing and training because he loved both of them so much, but that choice was made easier when he got a full-time job in '94, as color commentator at The Meadows.
At that same time, he was hired by The Meadowlands' then publicity director Ellen Harvey as a part-time co-host for the track's in-house broadcast.
"I put Peter in the rotation and he did a great job," said Harvey. "He does a good job at anything he does."
Huston also had nothing but praise for his young co-host, but, in addition, he remembered a funny story.
"He can train a horse," Huston said. "He can drive a horse. He's got his musical career. He's very smart. He can announce horse races. He truly can do anything.
"One time he was with me as co-host and he bet a horse," Huston said. "Somebody else in the race was the heavy favorite and he couldn't see why anybody would have bet that horse that was the heavy favorite. He said something on the air like 'I can't see how this horse is the favorite.' After the race was over, he saw he had bet the wrong horse and made the horse that was supposed to be a longshot the heavy favorite."
Harvey remembers being contacted by Tammy Knox from Hoosier Park, who was looking for an announcer for the brand-new track and told her that Kleinhans would be a perfect fit.
"I got hired at Hoosier Park in Indiana in '95 and I worked there for four years," Kleinhans said. "I loved that job and I quit to go to law school, which I don't know if it was a smart decision. In fact, it definitely wasn't because I haven't used the law stuff at all. But I did really enjoy law school itself.
"But it cost me all my momentum with the announcing and that was unfortunate. I've had a lot of little gigs but I've never gotten a full-time job back. Partially, that's because I started going whole hog with the horses and I had 20 horses at one time."
The 2000s were great for Kleinhans as he would go on to be owner/trainer and occasional driver of top horses Lavec Dream, Wearable Art and two-time Dan Patch champ Enough Talk, the first sub-1:50 trotter.
In addition, he also welcomed his son, Quinn, in 2005, and daughter, Becky, in 2009.
In 2007, Kleinhans gave a home to a very special horse. Harvey's Starfish Stable had bid against the killers to rescue a chestnut mare at the New Holland sale, which she named January for January Davies, who had died earlier that year.
"I knew [January] well from working at the Red Mile and was devastated by the news," Kleinhans said. "When it turned out that the horse with her name needed a home, I was happy to help. She was already an older horse; she lived about 10 years at the farm before passing away."
When the barn area closed at The Meadowlands it was too tough for Kleinhans to continue training because his kids were in school in New York City. He still owns horses and competes with the Meadowlands Amateur Drivers Club but currently leaves the training to John McDermott, although he has had horses with Simon Spicer, Jennifer Bongiorno and Dan Smith.
Although training may not presently be monopolizing his time, Kleinhans found other projects to fill the void.
He became a songwriter, has released two albums with a third on the way and performs fairly regularly at The Bitter End in New York City.
He also raises chickens, beef and lamb at his farm in New Jersey that he says is "more organic than organic."
He and his daughter, Becky, recently competed in The Meadowlands Chili Cookoff Winter edition with their farm-raised beef. His daughter loves to cook and although they didn't win this time they plan to be back for the next competition.
Kleinhans will be calling several race cards at Yonkers starting in June on Mondays, Tuesdays and Thursdays for about a month and would have done more, but his son is getting ready for college, his daughter is going to camp and he's going on his honeymoon; after Hambletonian Day, of course.
He hopes one day to once again have a full-time gig calling races but with his new wife planning to go to law school, he knows he will need to be flexible for a while.
"If I'd have stayed at Hoosier Park I'd probably still be there," he said. "I loved that job."