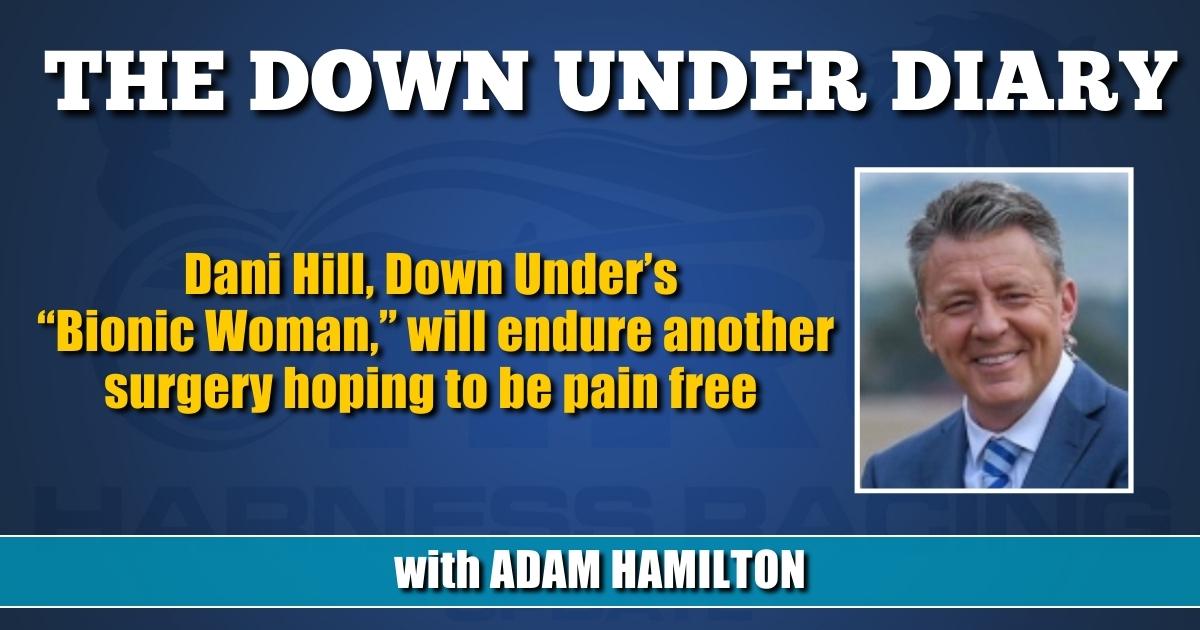 Dani Hill, Down Under's "Bionic Woman," will endure another surgery hoping to be pain free
by Adam Hamilton
Dani Hill is Down Under harness racing's bionic woman.
And the 38-year-old Hill, a seven-time champion South Australian driver, was "rebuilt" again earlier this week.
Nasty falls and horrific injuries have plagued Hill's career, but she's kept finding a way through to a remarkable 2,267 career wins at a fantastic strike rate of 21 per cent.
But, after six drives for two wins and three placings at Adelaide's Globe Derby last Saturday night (May 6), Hill downed tools for her biggest and most important surgery yet.
Then came some more heartbreak: yet another postponement to the surgery she needs so badly.
"I was originally scheduled for a month ago and cancelled at the last minute and now this," Hill said. "It's hard to take. They haven't set a new date, so now I'm just on hold again."
Such is the magnitude of the surgery, Hill conceded there is a chance she won't return to driving after it.
This time, her spine is basically being put back together and her surgeon says it'll be at least six months recovery.
It's something Hill has been waiting for since her latest fall on Jan. 21, when she suffered a compound fracture of the spine and herniated discs.
"With all the falls I've had and some of them have been nasty, I thought I knew what pain was… but I didn't until this one," she said. "It's agony, day-in, day-out. I can't sit and lying down makes it almost impossible to get comfortable. Many nights I just don't sleep at all.
"I've tried everything… chiro, physio, rehab, you name it. I did have this amino acid injection a while back and I was pain free for 24 hours, but it never worked again after that first time. Still, that was an amazing 24 hours and it's given me hope for what things could be like after this operation."
Surgeons will put screws in the front of Hill's spine and then turn her over and insert rods along the back.
"They said they couldn't just put the screws in because my spine is so damaged, it could just collapse, so they need the rods in the back as well, to hold it all together," she said. "I know it's a huge operation and there are risks associated with it, but all the recovery will be worth it if I can get some sort of quality of life back."
That's why Hill won't commit to a driving return.
"Mostly because it's not my priority," she said. "It's not the reason I'm having the surgery. I'm mindful of the hardware I've got and will have in me, along with the head injuries I've had. Just recovering from the operation and my long-term health is the most important thing. It's time to put my mind and body first.
"If it all goes really well and I'm feeling great, then I'll think about driving again. I do love being out there, but there's a lot more to life."
That's the perspective gained from a horrific fall in 2010 which left Hill, then just 24, with a broken jaw, cheekbone and nose, nasty facial injuries and a severed optic nerve which left Hill blind in her right eye.
It came just months after she was the toast of Down Under harness racing following her victory in the Australasian Young Drivers' Championship. The then New Zealand-based Dexter Dunn finished third in that series.
Hill doesn't recall much of the fall in 2010, but squirms at the thoughts of the months that followed.
"There wasn't a mark on my helmet," Hill said. "The horse stepped on my face. It was a horrible experience at such an early age, looking in the mirror and seeing my face through all the operations and navigating life without sight in one eye.
"The one thing I've got to be grateful for is how it made me appreciate the things that matter most."
Hill's daughter, Brooke, was born soon after. She turns 12 this month.
"I want this surgery as much for the things I want to do with Brooke, as well," Hill said. "She's right into showing horses and I take her to shows and love every part of it. I want to be more involved.
"I'd love to do more with Brooke, things like riding and exercising together, but I can't do those things now."
This latest operation may be Hill's biggest and most important, but it's certainly not the first where she's had plates and screws inserted.
"Hell no," she said with a laugh. "When I had the fall in the 2019 (SA) Derby, my leg was shattered. I had 13 screws in the tibia and a 'tech' screw put in to hold the patella tendon to my knee cap. I'm used to this stuff."
Through all the challenges, Hill still hasn't lost her sense of humor.
"They'll call me 'Tin Man' after this [operation] with all the screws and plates they're putting in me, along with everything from my previous operations," she said with a laugh.
As Hill prepared for surgery earlier this week, she had time to reflect on her career and it's the little things she cherishes the most.
"Just a week or so back, I won a race on Paulis Pride for owner Paul Cormack, who's been really unwell, and trainer Ben Loades at Port Pirie," she said. "It meant the world to them and that's the stuff that really makes it all worthwhile for me. Don't get me wrong, winning three of the Southern Cross finals at our biggest [feature] meeting last year was also a real buzz.
"And winning that [Young] Drivers' Championship all those years ago, which included winning a race on Inter Dominion final night at Globe Derby on Smarty Jones. I'll always treasure that. Then there's the time I got flown to Sydney to drive Majordan to win a race at Menangle [in 2018]. But, for me, it's being able to win races for good people who really love the game and may only have a few horses which I get the most satisfaction from."
History says Hill's courage and tenacity is likely to see her return to the sulky, but she certainly won't be lost to the game however it plays out.
"No, no way," she said. "I've spent my whole life in it. If it's not driving, I'll stay in it. There's lots of other things I can do in this game."