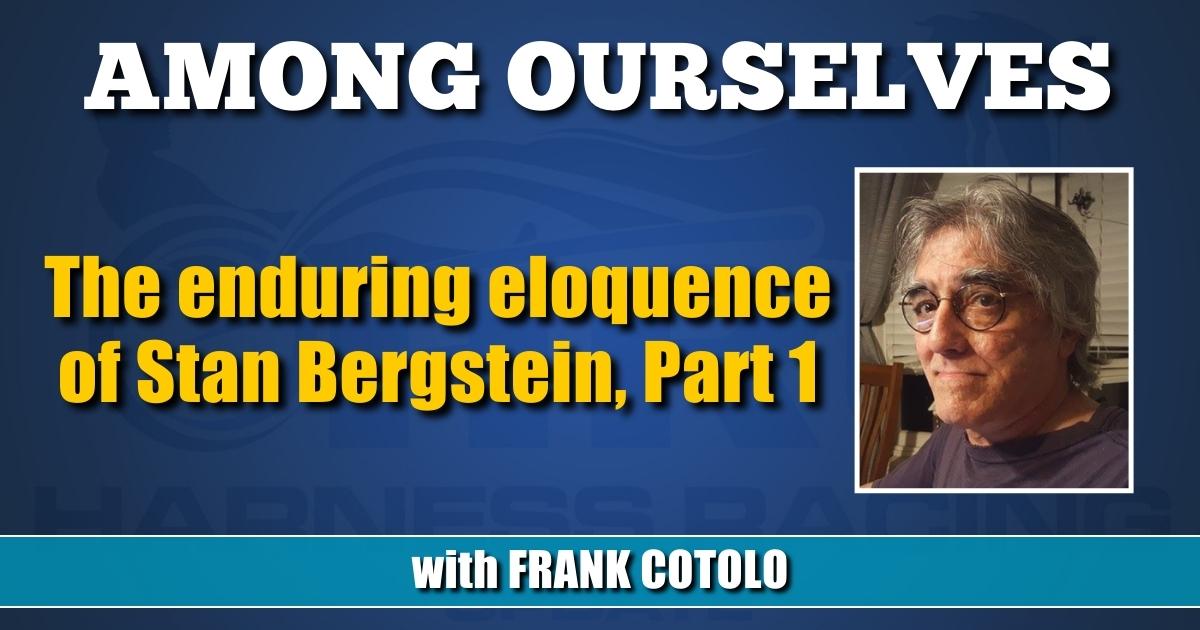 The enduring eloquence of Stan Bergstein, Part 1
by Frank Cotolo
In New York City, circa 1960s, nighttime horse racing belonged to "The Trotters." I was in my teens when I heard about The Trotters. Uncles and other elders around the neighborhoods mentioned them. At first, I thought they were one of the street gangs, like "The Phantoms," a Brooklyn group of delinquents that were also nocturnal. When I asked around about The Trotters, I received sloppy definitions. "They're horses racing at night," and "Those're the ones where guys sit in carts tied to them and people bet on their races" and "Harness races, you bet on them at racetracks Yonkers or Roosevelt" and "It's long drives to get to harness racetracks; they ain't even in New York City." Right. They were in Yonkers and Roosevelt.
No one ever mentioned "The Pacers" but I learned The Trotters shared nighttime horse racing with them and The Phantoms had nothing to do with either.
It was all in passing, so to speak. After all, none of my friends cared about The Trotters or The Pacers or any recreational wagering at racetracks far away. Our interests were artistic and commercial. By 1967, our Rock 'n Roll band was popular and working before we graduated high school and then we were thinking about college: if only to earn 4-F military exemption status which was more valuable to us than any college degree.
I do not recall the first time I went to Yonkers or Roosevelt, but I remember seeing my first harness race on WOR-TV, in black and white, with hosts Stan Bergstein and Spencer Ross. It was also the first time I heard George Benson's instrumental, "Breezin" which was the theme of the program. To this day when I hear it, nothing, but that TV show comes to mind..
The show was produced by the New York City Off-Track Betting (OTB) Corporation, which began operating in 1971, offering betting on horse races during the day for thoroughbreds and at night for The Trotters (and The Pacers).
OTBs appearance on the urban landscape had a number of cultural affects. It naturally attracted veteran horseplayers; mostly men forced to borrow time from their full-time jobs and full-time families to get to the track. Every neighborhood had an OTB parlor or two. The vets were happy; OTB parlors were within walking distance of their homes and that saved the expenses — gas, parking, admission, food — of going to the track.
However, legal horse-race betting in neighborhoods ended the relationship vets had with illegal bookies. Before OTB illegal bookies handled all off-track wagers. Suddenly, they did not anymore. And that was not the worst thing to happen to the illegal monopoly; the worse thing was OTB created new bettors and many prospective customers who never gambled illegally.
Getting back to that OTB show, Bergstein explained the differences between The Trotters and The Pacers and that the carts they pulled were called sulkies and the men sitting on the sulkies were called drivers and not jockeys and every other basic element of the sport. In essence, the author of my harness racing affinity became the information that came from Bergstein; his authoritative presentations on the "Racing From Roosevelt" (et al Yonkers) TV show compelled me to visit my local OTB parlor and make the betting plunge.
I was a busy fellow coming out of college. I married (and during my honeymoon I watched Bergstein's show) and juggled my income sources. I started a mail-order joke-writing business for disc jockeys with a college/musician friend and I was a musician for an organization serving musical entertainment for wedding receptions throughout the five boroughs. And, thanks to Bergstein, I imbibed harness racing knowledge leading me to cashing bets while learning more about the sport. I read zero books about handicapping or betting and I gave up expecting any education from anyone but Bergstein.
Though there was no way to imagine my itinerant Brooklyn-based lifestyle in the 1970s could pave even a convoluted trail to Delaware, OH, it was two decades later on Little Brown Jug Day when Bergstein interviewed me on TV and I told him the mighty favorite Western Hanover would not win the historic event. I reminded Bergstein my prediction was the product of his teachings.
"What did I say?" Bergstein said.
"You said, 'Never love a horse.'"
To be continued.