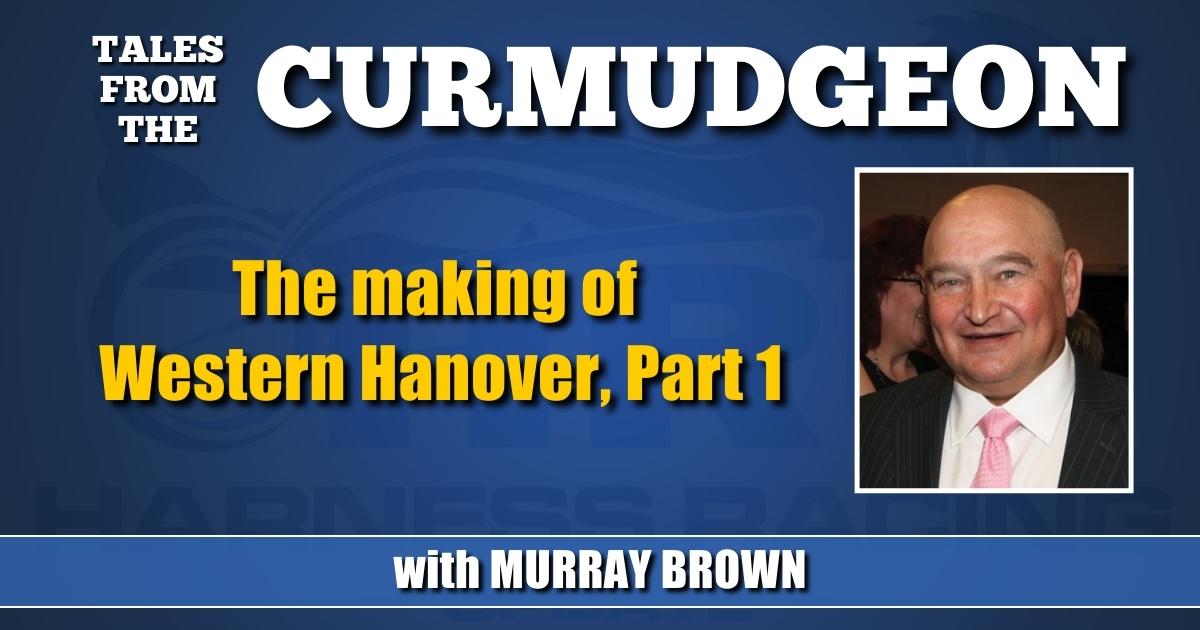 The making of Western Hanover, Part 1
by Murray Brown
I have sometimes been asked "Who is your favorite horse, ever?" The answer without giving it too much thought would undoubtedly be Super Bowl. Maybe more about "Soup" in a column somewhere down the road.
If I were asked that question about my favorite pacer the answer would likely be less assertive. There were several including: Tar Heel, Bullet Hanover and Albatross. But when push came to shove, the answer would be Western Hanover. It could be argued that the genesis of my story with Western Hanover at Hanover Shoe Farms began in 1967.
The yearling crop of '67 coincided with my first year at Hanover. There were some who might suggest that group of yearlings might have been as good an offering as Hanover had ever brought to sale.
Included among them was the trotter who was destined to win the Triple Crown: actually the big five when The Colonial and the Vernon Gold Cup were added to the Hambletonian, Yonkers Trot and Kentucky Futurity. His name was Galahad Hanover. It was soon to be changed to Lindys Pride. He was my favorite of all the yearlings of that group. I fully expected him to top the sale. Not only was I sure he would top the sale, but I felt certain I knew who would own him: the partnership of K.D. Owen and Clarence Gaines. I was wrong on both counts. 
Galahad Hanover was sold to Howard Beissinger as agent for the Antonacci and Lomangino families. His price was a disappointing $15,000. I remember Beissinger coming to me after the sale and asking "What is wrong with that colt? I fully expected him to bring at least twice what he brought." I was crestfallen. I agreed with Beissinger.
I was soon to find out that the Gaines-Owen partnership was prepared to buy him, whatever price he would have brought. However, before the sale, they had Dr. John Steele check him out. Dr. Steele's verdict was that he questioned the colt's hocks and doubted that he would stay sound. The two gentlemen changed their minds about buying and didn't even bid on him.
To my knowledge, Lindys Pride might have had problems with his feet, but his hocks never bothered him.
Among the pacers in the consignment was a smallish Tar Heel colt named Laverne Hanover. Billy Haughton bought him for a price in the area of, or maybe an actual price of $20,000. He was purchased for the account of Thomas W. Murphy Jr.
Laverne Hanover was destined to become a world champion and to be his sire's richest foal with earnings of $868,557.
Some other better-than-average performers from that consignment were stakes winners Crain Hanover, Penn Hanover, Nevele Major, Maneros Pride and Parula.
The entire consignment was to average $12,137, an all-time Hanover record. The next year, the first consignment since the passing of Hanover's owner and co-founder Lawrence B. Sheppard, eclipsed that average by a staggering 50 per cent, averaging $18,205.
Among the filly foals of 1966 was a Bullet Hanover filly named Wendy Hanover. I recall her as being the only yearling in the consignment that could pace alongside the lead pony. Could she ever. She could pace as fast as any lead pony Hanover owned could run. She did it in an ambitious manner with her ears pricked, always looking for more racetrack. I recall her as selling somewhere in the area of around $15,000. She was purchased by Lofty Bruce for the account of his principal owner, the Mullins Construction Company.
She didn't star on the racetrack as I hoped she would, but turned out to be an acceptable race filly at Saratoga Raceway. She ended her career with a 3-year-old time trial record of 2:00.2 and earnings of $9,114 — acceptable for the time — but far from great. When her racing career was over, she was offered for sale to Hanover. If my often-faulty memory is correct, I believe the price was $10,000 in yearling credit.
There was very little in her pedigree that indicated she might become the founder of a top pacing family. Her dam, the Kings Counsel mare Wayblaze, went south quickly through her maternal family.
She had shown she was capable of producing good raceway performers such as Iron Rail ($103,236), Nevele Blaze ($62,558) and Post Rail ($57,813), all good for that era, but there was nothing evident to indicate that she was destined to become the founder of a significant family of stakes horses. One of the lessons this scribe learned from this mare was that all families do not begin way back in history. They start at various times. There may even be one in the offing as this is written.
At Hanover, Wendy Hanover produced the very fast, but erratic Wellwood Hanover ($253,191), Warren Hanover ($267,655), Wrangler Hanover ($106,974) and two fillies who were destined to become excellent broodmares: the Cams Card Shark mare Caroline Semalu, who produced Semalu Express ($644,392) and Imagine Semalu ($173,378) and more importantly, the Best Of All mare Wendy Sue Hanover who had Walton Hanover ($802,741), Walt Hanover ($239,086), Wheels Hanover ($128,174) and most importantly an Albatross filly named Wendymae Hanover who didn't accomplish much on the racetrack, but was destined for immortality through the feats of one of her sons.
Wendymae Hanover was a drop dead, gorgeous yearling. Like Wendy Hanover had been two generations previous, she could fly, pacing on the leadstrip. She was offered as one of the pair of fillies in the Hanover Yearling consignment of 1984. She was sold to "Wild" Bill Perretti for an eye popping $380,000. Perretti had her trained at 2 and 3, where she showed some ability, but was plagued by a respiratory condition which never left her.
After her 3-year-old season, Perretti had enough. He called John Simpson and sold her to Hanover for $200,000. That was probably more than she was worth at the time. But it could be argued that her yearling selling price of $380,000 might also have been more than she was worth then. But Perretti was a good customer, so Simpson bit the bullet and paid Perretti's price. Simpson put her in training. She trained well, but her respiratory problems persisted. They finally quit with her after she secured a time trial record of 1:57 with minimal earnings.
For her initial breeding, No Nukes was chosen as her consort. At the time, No Nukes was at or near the top of the pacing stallions in the country. Hanover had purchased a small piece of the horse and they had breeding rights to him.
Wendymae Hanover was one of the first mares they sent to his court. Her first foal was a smallish, very sharp, dark, almost black colt, to which they gave the moniker Western Hanover. From the day he was foaled, he was a beauty. The only fault he appeared to possess was a capped left hock. That perceived fault was nothing but cosmetic. It would never bother anything other than his appearance.
To be continued.