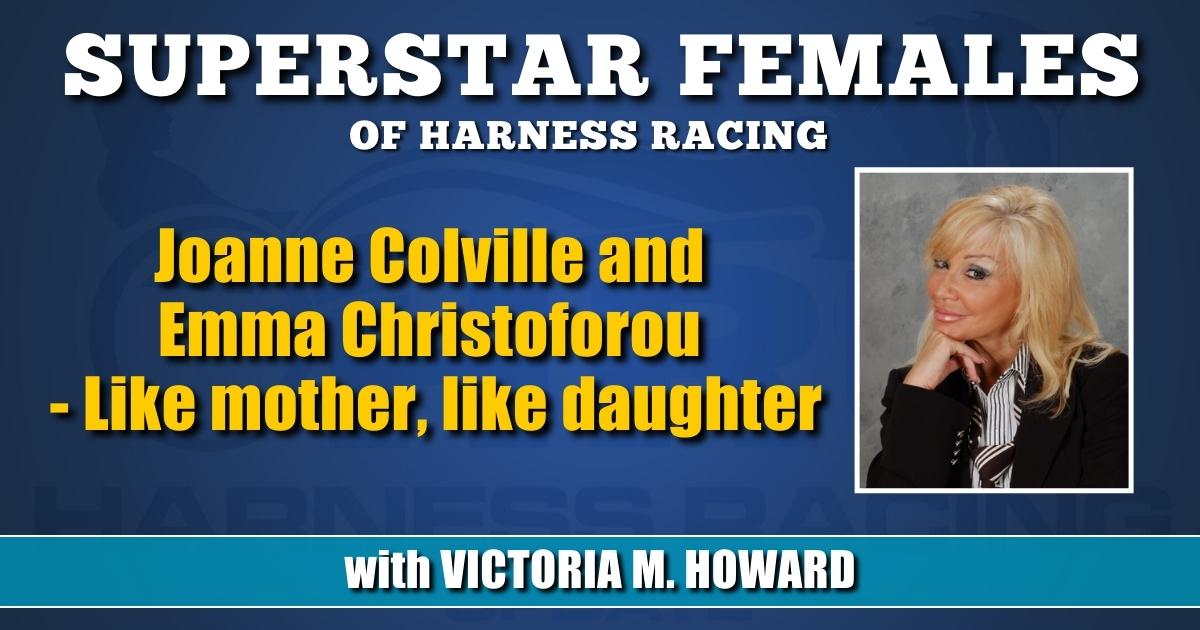 Joanne Colville and Emma Christoforou – Like mother, like daughter
by Victoria Howard
Ever since the day Emma Christoforou was born, the independent, bubbly girl had a deep love for horses. It was inevitable, for her mother is Joanne Colville and her father is Chris Christoforou, both who came from heavily involved Canadian harness racing families.
One day while visiting the racehorses her father had with trainer Charalambos Christoforou, Colville was introduced to Charalambos' son Chris. That union would eventually bring the couple the greatest gift of all — the birth of a daughter — little Emma.
Although the relationship eventually ended, the parents remained close.
Several years later, when American driver Jack Moiseyev came to Canada to drive stake horses, Colville and Moiseyev met and began dating. That was 20 years ago and they are still going strong.
Moiseyev, aka "All you gotta know is Jackie Mo", became one of Emma's mentors; jogging, training and learning the ins and outs of the sport from the famous horseman.
Emma's father, Chris, also supports his daughter along her journey, always offering a tip or two.
"I was born in Oakville, Ontario, and grew up on the family farm," Emma said. "We always had foals being born. One of my favorite things is being the first one to bring a new life into the world. It is beyond a miracle."
Today, Emma is 21 and currently enrolled in Brock University, which she attends after working with her horses in the morning.
Although athletic — Emma was involved in baseball, soccer, tap, ballet and swimming — her love for horses and harness racing only grew stronger throughout the years.
"From a little girl showing horses, to now, Emma has attained her RUS license [although there aren't many opportunities to continue at the moment]," Colville said. "My daughter has gotten a trainer's license and recently passed her driver's exam.
"Emma is a natural. She is a well-balanced rider and loves jumping with her standardbred, The Painted Pony."
After Emma's grandfather signed the horse Millenium Seelster over to her, Emma now has the horse showing in flat classes and low jumps and racing.
"Emma has always been competitive and loves to stay busy, just like me," Colville said with a laugh. "Emma can do almost anything I do: from delivering foals to racing horses."
This past summer, Emma started racing some of her younger horses at Leamington Raceway.
"Leamington Raceway has a wonderful atmosphere there and coincidentally I also got my start at the smaller tracks [Kawartha, Barrie, Belleville and Kingston]," Colville said. "I did race periodically at Greenwood/Mohawk, but with the better-quality horses."
As proud as Colville is of her daughter, Emma is just as proud of her mom.
"I always looked up to my mom as the perfect role model, and still do," Emma said. "That is until she makes me mad: then I typically hide it..
"My mom laid the groundwork for me to be anything I wanted to be in life, but the horses as they say, are in my blood and it's all I want to do."
A typical day in Emma's life:
"Every day starts with the farm work at the training center. I try to be involved in every aspect of the industry. Today I am an owner, trainer, groom, RUS rider and recently passed my driver's test.
"My life is pretty hectic to say the least while I'm in school, but somehow, we make it work.
"I wake up and head straight to the training center, then head home and start doing my studies. I am in an honors program for a Bachelor of Science [degree] with biology as my major.
"From there I head to our farm or go race our horses or take a catch paddock for others. If I ever have a night off, I'm typically in the barn riding or doing something horse related.
"Having the opportunity to do what I love, while learning under one of the best in the game (Moiseyev), has truly been a blessing.
"I worked part-time at Woodbine/Mohawk Park as the equipment judge and parade marshal on big race nights.
"I also host the annual National Caretaker Appreciation Day once a year, which allows us to celebrate the importance of our hard-working caretakers.
"I'm also a volunteer for The Ontario Standardbred Adoption Society (OSAS): a program in place to find standardbreds their forever second home."
Colville also is involved with OSAS.
"It is a wonderful program that gives us a warm feeling seeing a horse that we have had end up in OSAS," Colville said.
Emma said, "A horse called JC's Royal Tease got me my first ever Woodbine Mohawk Park win and he just recently got adopted through OSAS."
Currently there are 20 horses in training at their stable they keep at the training center, with six anxious yearlings waiting to be brought in, and a few 3-year-olds who have been turned out to mature and grow.
"Emma is a God-send," Colville said. "She will always do whatever is needed as far as having a horse at a track or an event, post parade on larger days if I have a conflict, and she's been very instrumental with the Toys For Tots drive between Mohawk and Western Fair. That saying, give a busy person something to do and they will always get it done rings true here."
Like mother, like daughter, indeed.