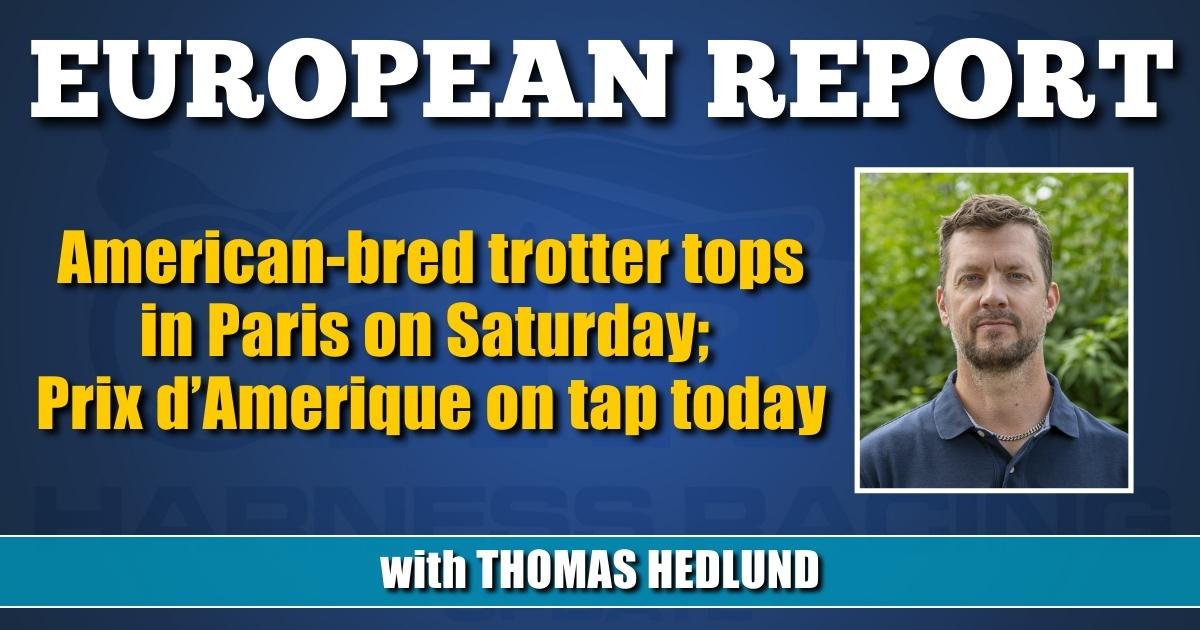 American-bred trotter tops in Paris on Saturday
On the eve of today's Prix d'Amérique, Beads won the $105,000 Prix du Luxembourg.
by Thomas Hedlund
American-bred trotters are not that common when races are held at Vincennes in Paris, but since the end of last year, 6-year-old Beads (Archangel) has spent his time in Jean-Michel Bazire's barn. In Saturday's (Jan. 28) $105,000 Prix du Luxembourg, the trainer himself sat in the bike behind the horse for the first time in a race.
Beads became the bettors' choice in the Prix du Luxembourg and from post 7 behind the gate, Bazire seemed to have an optimistic tactic in mind. Beads was sent to the front, got passed by Bleff Dipa after a while only to re-take the lead midway through the race.
Bazire and the bettors knew what they were doing. In the last turn, when several horses disappeared for different reasons, Bazire stepped on the gas pedal and Beads flew away to safe win in a mile rate of 1:53 over 1.3 miles.
Replay here.
Beads has tried some of the preparation races ahead of the Prix d'Amérique without reaching the big race itself. Instead, he got his acknowledgement in Saturday's race, where the winner often shows up in more prestigious races for elite trotters later on during the season in Europe.
Dear Friend finished well as runner up and Cash du Rib claimed third place.
Vincennes' Saturday card also featured two big races for 3-year-old trotters.
In the $160,000 Prix Roquepine for fillies, William Bigeon-trained Kana de Beylev (Express Jet), paired with talented driver Benjamin Rochard, proved to be the best. Rochard was eager to fight for the front positions at an early stage of the race, but when the drivers found their seats, Kana de Beylev had to settle in third on the inside, which could have been a position too far back to fight for the win. But Rochard found space between horses in the last turn and placed his horse with perfect cover from the race's first choice, Kracovia, throughout the last turn. Kracovia and Kana de Beylev battled side by side in the stretch and the latter had the longest nose when the wire was hit.
The mile rate for Kana de Beylev was 2:00.1 over 1.6 miles.
Replay here.
The 3-year-old boys had a battle in the $160,000 Prix Paul Viel and it ended with a big upset win for Alessandro Gocciadoro and his Maharajah son Elton Wise.
Elton Wise got a perfect third-over trip and Gocciadoro waited, with full attack, until the top of the stretch. Leader and first choice Koctel du Dain had to defend himself throughout the entire last turn when outside trotter Kompostel put hard pressure on him and he couldn't fight for the win as the wire approached. Elton Wise finished strongly and disarmed Kompostel shortly before the finish line.
Gocciadoro has had a very strong meeting in Paris this winter. This wasn't the first time he upset in a big race and today (Jan. 29) the Italian top trainer has two shots in Prix d'Amérique.
The mile rate for Elton Wise was 1:59.2 over 1.6 miles.
Replay here.
ONE OF THE FAVORITES IS OUT OF TODAY'S PRIX D'AMÉRIQUE
Today is a big day for racing fans all over the world. The $1,075,000 Prix d'Amérique has a history that few other trotting races on this planet can match. The fact the race is held on an almost two kilometer long track with uphill and downhill parts makes the Prix d'Amérique even more special.
Though, there was some bad news on Friday (Jan. 27). Elitloppet winner Etonnant has to stay in his barn due to Lyme disease.
Etonnant was in the crowd of favorites in last year's Prix d'Amerique and Richard Westerink's trotter would probably have been many fans' choice today.
The French team is strong this year and it wouldn't be a surprise if Bazire has peaked the form with his weapon Hooker Berry. Bazire is the master of Vincennes, both as a driver and as a trainer. He won his first Prix d'Amérique as a driver with American-bred super mare Moni Maker in 1999 and after that day, he has collected three more wins in the race. In 2004, he sat behind Kesaco Phedo, who gave him his first victory as a trainer in Prix d'Amérique. Eleven years later, in 2015, Bazire was entrusted behind Franck Leblanc-trained winner Up And Quick.
In 2019, it was Belina Josselyn's year and Bazire captured his fourth and most recent victory in France's biggest harness event.
But beside Bazire, Eric Raffin and his horse Horsy Dream, have many fans. Raffin is still gunning for his first win in the Prix d'Amérique, which seems odd since his resume contains several Group 1 victories in his home country. This could be his year and Hooker Berry and Horsy Dream are the two hottest horses in the 2023 Prix d'Amérique.
THE DRAW FOR SUNDAY'S PRIX D'AMERIQUE
Here's the draw for today's (Jan. 29) Prix d'Amerique, which will start at 4:25 p.m. (Paris time) or 10:25 a.m. ET. It is believed the races can be streamed here.
2023 PRIX D'AMÉRIQUE
2,700 meters
Horse – Driver – Trainer
1. Hip Hop Haufor – Christian Bigeon
2. Horsy Dream – Eric Raffin – Pierre Belloche
3. Hussard du Landret – Benoit Robin
4. Ampia Mede Sm – Franck Nivard – Fabrice Souloy
5. Decoloration – Gabriele Gelormini – Jean-Michel Baudouin
6. Idao de Tillard – Clément Duvaldestin – Thierry Duvaldestin
7. Honey Mearas – Örjan Kihlström – Daniel Redén
8. Italiano Vero – David Thomain – Philippe Allaire
9. Hooker Berry – Jean-Michel Bazire
10. Moni Viking – Björn Goop
11. Hohneck – Francois Lagadeuc – Philippe Allaire
12. Vernissage Grif – Alessandro Gocciadoro
13. Don Fanucci Zet – Yoann Lebourgeois – Daniel Redén
14. Flamme du Goutier – Théo Duvaldestin – Thierry Duvaldestin
15. Cokstile – Vincenzo P Dell'Annunziata – Gennaro Casillo
16. Delia du Pommereux – Pierre-Yves Verva – Sylvain Roger
17. Etonnant – Anthony Barrier – Richard Westerink — SCRATCHED
18. Vivid Wise As – Matthieu Abrivard – Alessandro Gocciadoro
Program for Sunday's races at Vincennes
KENTUCKY FUTURITY WINNER RETURNS TO AMERICA
Snowstorm Hanover (Muscle Massive), the winner of the 2017 Kentucky Futurity, will return to the U.S. after five years in Sweden.
Stefan Melander paid $180,000 for Snowstorm Hanover in January 2018 and the horse's first season in Europe featured a world record performance in the Big Noon Pokalen at Solvalla.
Snowstorm Hanover was moved from Melander's barn to Daniel Redén in 2021 and during the spring of 2022, as an 8-year-old, the Muscle Massive son took a place among 16 horses in the Elitloppet at Solvalla.
According to Sulkysport.se, Snowstorm Hanover is now sold to Gregory Peck in USA.
Lifetime, 119 starts have resulted in 14 wins and a lifetime earnings of $721,000 for Snowstorm Hanover.