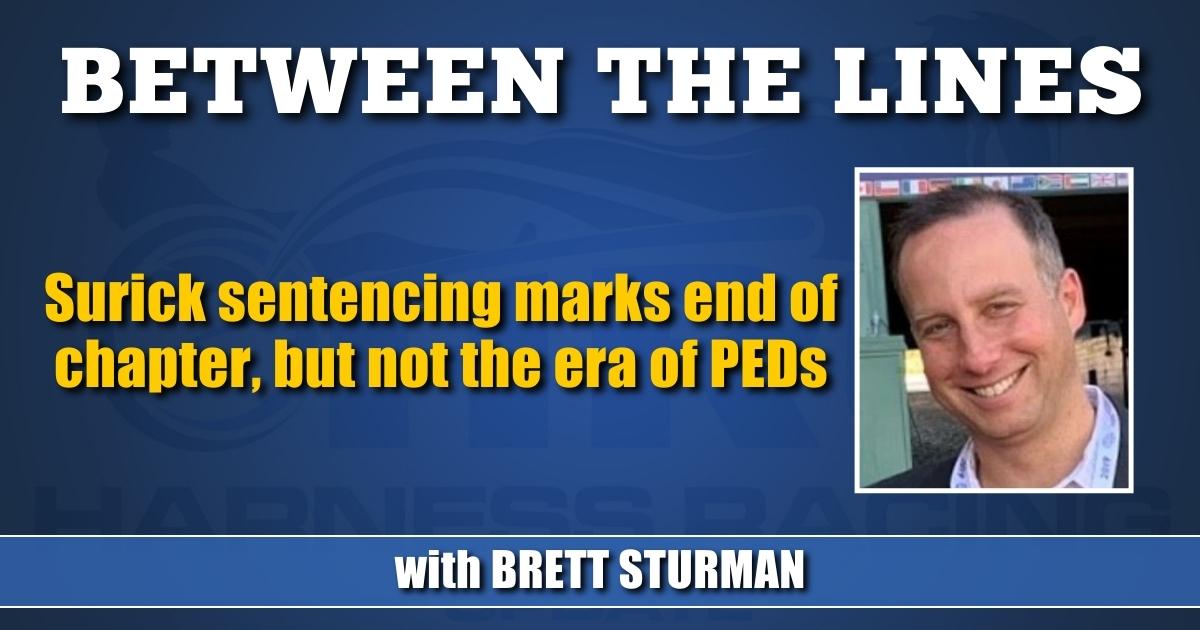 Surick sentencing marks end of chapter, but not the era of PEDs
by Brett Sturman
With the sentencing of trainer Nick Surick on Thursday (Jan. 19), it concludes all the higher profile cases tied to the standardbred industry first announced in a series of indictments nearly three years ago.
For a second, I wanted to compare the end of this saga in harness racing to that of the steroid era in Major League Baseball throughout the 1990's. But the flaw in that comparison would have been that while there is still the sporadic use of performance enhancing drugs (PEDs) in baseball and other professional sports, you no longer have journeyman players launching 50 home runs in a season out of nowhere. Statistically, one can see when PED-use was most rampant. For the harness racing equivalent, it's far less clear.
The federal investigation asserted the distribution and use of customized PEDs between at least 2017 and its announcement of the indictments in March 2020. The operative words in that sentence are "at least," because performance enhancing actors at a widespread level long pre-date 2017. Every year prior to and since, there's obvious examples of miraculous turnarounds in performance, both in human and equine.
Coincidentally, in March 2017 I wrote a column that detailed Surick's success at the time. The column noted his .641 UTRS training percentage at Freehold, at which time he had 62 wins and 30 seconds through 131 starters. Around the same time, other now-convicted trainers such as Chris Oakes, Rene Allard, Richard Banca, and others were sporting similarly impossibly high training percentages across multiple tracks. In Banca, it brought a flashback to the infamous Devonshire Hanover race in 2006 when he took a $20,000 claimer and bottomed out a field in 1:49 after setting fractions of :25.2, :51.2, and 1:19. Most of this is nothing particularly new.
What's maddening is that opposed to industry regulation, it took a privately led coordination to uncover the depths at which these individuals were using customized PEDs. Throughout the time covered in the investigation, some of the jurisdictions in question reported the issuance of fewer drug violations. What it speaks to is the inability for the industry to regulate itself. That, to at least some extent, is where the much-fought-against Horse Racing Integrity and Safety Act (HISA) was born.
With deserved remaining skepticism given all that has occurred over the past three years, transparency remains little.
It still remains easy to see improbable performances — even if there were no wrongdoing; and I'm not implying there was any in this case – that should at least warrant a public explanation because of a pattern they resemble. Towards the end of last year, for example, an 11-year-old gelding showed race lines for one trainer of 6th in 1:54.4, 7th in 1:52.2, 3rd in 1:52.4, 7th in 1:53.2, 7th in 1:53.2. Then, next out with a new trainer, was 1st by 6 lengths from post 10 in 1:50.3, easily taking a new lifetime mark. At least to me, it jumps out. Based on all that's transpired, there should be even more of a willingness from regulatory bodies to communicate to what one can attribute similar incredible improvements in performance.
The convictions of those individuals who admitted to or were proven to have cheated are certainly something to be celebrated. For the time being, they are removed from the sport.
But, it's not like any of these longstanding issues around PEDs end there.
This might have been the first time many of us have directly heard explicit terms such as "red acid" being administered to horses, but it would be naïve to think that the use of similar concoctions now suddenly ends just because the names of the people change.
And perhaps one of the biggest takeaways ends up being an acknowledgement that there will always be those participants that push the envelope. And with that, there needs to be a higher level of accountability. Still today on the weekly fines and suspensions (FAS) rulings, penalties such as suspension of a few days and a fine of a few hundred dollars seem comically light compared to the types of prohibited substances found in horses' systems. Those types of light penalties actually do more to incentivize the boundaries of drug use more than deter it.
The goal shouldn't be to stop with only the most recent individuals found guilty of using PEDs, but to remain vigilant and work tirelessly to reduce the use of illegal drugs throughout the sport.