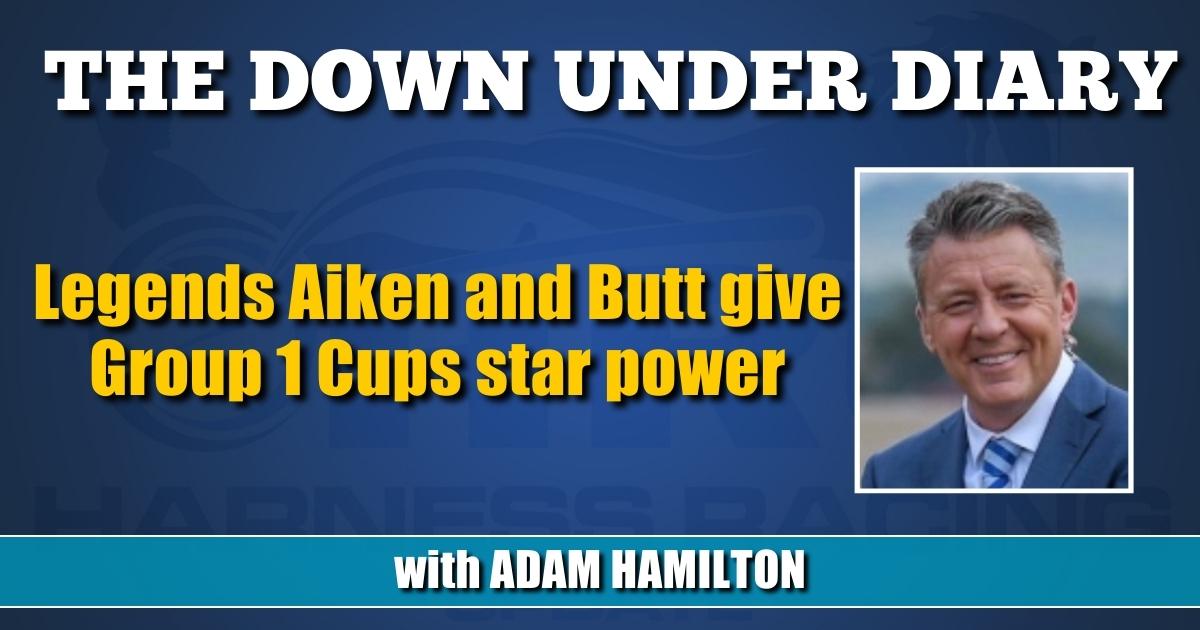 Legends Aiken and Butt give Group 1 Cups star power
by Adam Hamilton
A pair of Down Under legends have added a whole new layer to two upcoming major races in Victoria.
Former Kiwi Hall of Famer Anthony Butt and decorated Aussie horseman David Aiken – both well-known to many U.S. participants – have burst into the picture for Saturday night's (Jan. 21) Group 1 Ballarat Cup and the Group 1 Hunter Cup on Feb. 4.
And it's just what the races needed.
Let's start with Aiken because his story has a very strong U.S. link.
Aiken, one of Australia's most successful trainers, is good friends with wealthy New York owner Steve Finkelstein.
It's a friendship that started back in the early 1990s when Finkelstein sent one of his pacers, Ultra Jet, across to Australia for Aiken to train and it proved a resounding success.
Ultra Jet became one of Australia's top pacers of the time.
The son of Niatross banked almost $A1 million with 139 starts netting 33 wins and 44 placings.
He came so close to winning Down Under's biggest race when second to Weona Warrior in the 1994 Inter Dominion final at the now defunct Harold Park track in Sydney.
"Steve and I became great mates through Ultra Jet and remain so today," Aiken said. "He's a great bloke and I catch-up with him every time I go back over to the US."
That endearing relationship saw Aiken buy a pacer called Leonides for Finkelstein a couple of years back and his success since moving to the U.S. has been terrific.
"We've been on the lookout for another horse since then," Aiken said. "I found one in NZ, told Steve about him a few weeks back and we snapped him up." 
That pacer is the sparingly raced 6-year-old Cranbourne, who won 12 of his 44 runs in NZ for the White family before Aiken made the owners an offer they couldn't refuse.
It's a matter of time before he jets out to the U.S., but Aiken and Finkelstein could have some serious fun in Australia before then.
Cranbourne kick-started the new chapter of his career with a narrow but impressive win in last Saturday night's (Jan. 14) $A75,000 Group 2 Shepparton Gold Cup where he beat recent Inter Dominion winner I Cast No Shadow and some other quality rivals.
It convinced Aiken to step him up again to tackle many of Down Under's best pacers in the Ballarat and Hunter Cups.
"That (Shepparton) win was the perfect start. He had a pretty easy run once he burned to the front early. It was really just an 800m sprint home and he's come through it well," Aiken said."It showed me he's up to these horses and he should only be improved by the run.
"We don't have a standout horse over here at the moment, just a good even bunch, and I think he can be very competitive with the best of them. We'll go to Ballarat and the Hunter Cup, then he will go to Sydney and we'll try and get into the Miracle Mile (March 4)."
Aiken said Cranbourne is booked on a flight from Sydney to the U.S. on March 24.
"The timing is great. It gives us the chance to have a crack at these big races and maybe pinch one," he said.
But Aiken's excitement is broader.
"I wanted to find Steve a really nice horse, a potential top one, and I think we've got a really good one in Cranbourne," he said. "He's been really well looked after in New Zealand, not overly taxed. He's fast, but he's strong, too. I think I've got a pretty good idea of what sort of horse will be suited in the U.S. and Cranbourne ticks the boxes.
"His best is ahead of him and this racing against the good horses down here in the top races will only help develop him even more."
One of Cranbourne's major rivals in the Ballarat and Hunter Cups, along with the Miracle Mile, will be reigning Victoria Cup winner Rock N Roll Doo.
But a freakish mishap will see trainer/driver Mick Stanley watching his stable star from the sidelines and in quite some discomfort.
Rock N Roll Doo choked down as the favourite in the Group 2 Bendigo on Jan. 7 and just as Stanley was easing him out of the race, a rival cannoned into Stanley's back, fracturing two vertebrae and sidelining him for a couple of months.
Enter Anthony Butt.
"Mick rang asking if I'd drive the horse while he was out. If you could pick one horse to drive in these big races, he'd be top of the list I think," Butt said.
While the Ballarat Cup is first, Butt's record in the Hunter Cup makes his engagement on Rock N Roll Doo such a great story.
Butt's seven wins in Australia's greatest staying races is a record by a driver.
But it's a decade since he last won the race driving Mah Sish.
"I reckon I'm due to win an eighth and this is the right horse," Butt said, laughing.
Butt is well known in the U.S. as the former driver of champion trotter Lyell Creek and he also drove former star Kiwi filly Under Cover Lover during part of her U.S. campaign in 1999.
Butt, now based in Victoria after a decorated career in New Zealand, first drove Rock N Roll Doo almost a year ago.
"Mick couldn't drive him a trial and I did, to get him back in the draw after he galloped in a race," Butt said.
"I then drove him in a Geelong trial last week, which he needed to do after what he did wrong at Bendigo the night Mick got hurt. The difference in the horse was amazing.
"We know he's strong because he's driven tough so often, but it was his speed which really impressed me. I drove him off the pace and when I said 'go' he picked-up really quickly and just put them away. He felt like a really, really nice horse. I can't wait to drive him at the races."
The Ballarat Cup shapes as the best open-class race run in Australia for a number of years because of the travel hassles associated with the pandemic.
Rock N Roll Doo and Cranbourne will be joined by Inter Dominion winner I Cast No Shadow and his exciting stablemate Major Meister.
Star New Zealand pair Copy That, winner of the past two Group 1 NZ Cups, and Old Town Road will be there, too.
And proven Group 1 performer Spirit Of St Louis may make the trip down from Team McCarthy's NSW base as well.