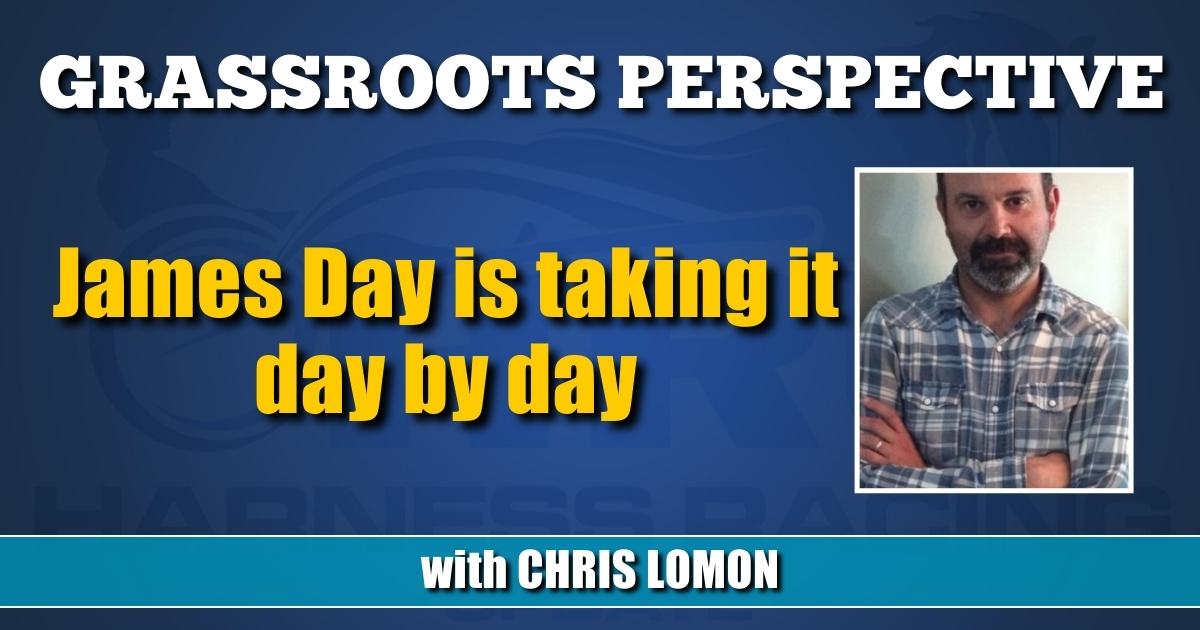 James Day is taking it day by day
by Chris Lomon
James Day's best skill as a driver? The answer will likely surprise you.
The 26-year-old's response to the question came quickly, an honest self-assessment that speaks to the horseman's constant pursuit of excellence.
"I haven't been driving that long, so I don't think I have one particular thing that really stands out. I want to have that, but I suppose that will be a conversation for down the road."
Talk, for the time being, is a mix of how he came to be part of the standardbred scene, personal goals, a milestone victory, and his life away from the racetrack.
Born in Virginia, Day had experience with riding horses before he was introduced to pacers and trotters through his wife, Hannah.
A welder by trade, when opportunities in that field began to wane during the pandemic, Day, after much deliberation, made the decision to pursue a career in racing.
It was a much different world than the welder had ever known. But he did see some similarities between the two roles.
"When I was welding, I was very competitive in what I did. I wanted my work to be the best and I didn't want to fail. Anything you do is competitive because you are constantly challenging yourself to be better. And that's what I have always done."
Two years ago, he started his own stable and earned his first training triumph in September 2021, upping that number to seven victories the following campaign.
Day posted a second in his first two official starts in the sulky in 2021 and recorded three seconds and five thirds from 57 races last year.
He opened 2023 in style.
On Jan. 1, at Northfield Park, Day and his seven-year-old pacer Mancino, breezed to a 4 ¼-length score in a time of 1:54.1.
Bred by Seelster Farms (Lucan, ON), the $30,000 purchase at the 2017 London Select Yearling Sale is a son of Sunshine Beach—Ladycino.
"It couldn't get any better than that," said Day. "It was something else. But I can't really say I planned it out that way. I thought there was a shot we could win, and we were able to do it. He raced really strong. When you're driving, that thrill of winning is what you are always chasing."
A trip to the winner's circle or not, Day never tires of the rush he gets from sitting behind a horse.
He reveled in the adrenaline rush the very first time he took to the racetrack.
"They are just amazing animals. They are so strong and athletic, and so full of talent. I was nervous the first few times I drove, but once you get more experience and more of that comfort level, you start to gain more confidence in yourself."
It's also exactly where he wants to be.
"I hope this is something I can do for the rest of my life. That's the goal. In the short term, I want to get better and keep pushing myself. You can always learn something new, things here and there that can help you, so I always keep an open mind when it comes to training and driving. I want to learn as much as I can."
As for his colors, Day called in a couple of experts to help him create a winning look.
He didn't have to go very far to get the sound advice.
"Both of my sons, one is five and the other is three, I asked them what they liked. My stable is red and black, but I gave them some ideas and that's what they came up with. They helped me with it and they liked it."
Day smiles at the thought of seeing those colors passed on to his sons one day.
"I put myself in a spot where hopefully one day they can carry it on. That would be nice. But for now, they love the horses. Who knows where that can take them?"
Unwinding from the hectic pace of the racing world centers on family life.
Day does his best to leave behind a tough day at the office the moment he walks through the front door. Not that it is always easy.
"We just enjoy hanging out together. I'm tough on myself, so if I feel I could have done something different to have a better result, it sticks with me. But I do my best to put that behind me when I come home. That's our time, no matter what happens. I just want to give my time to them."
He puts on his game face once he sets foot in the drivers' room.
"When I get there and I put on my colors, I definitely start thinking about the drives I have that night. I plan things out in my head, but most of the time it doesn't work. You go with an original gameplan, but you have to be ready to change that in a second once the race starts. So many things can happen quickly, and you have to adapt. But that's a challenge I like."
The top priority, in terms of 2023, is to eclipse the numbers he posted last year.
It's what motivates Day each time he walks into the barn each morning.
"I think the majority of horse people would say that is what you want to achieve, to always move forward and do better than you did the previous season. When you win one, you want to win the next one. And if you don't, you just keep looking at ways to improve."
And, if you happen to be James Day, you remain committed to acquiring those difference-making driving skills.
For the time being, it's a work in progress.
If New Year's Day is any indication of where he's at, the horseman, who now calls Ohio home, might have something to talk about sooner rather than later.
"I've always been the type of person to push myself and to never be satisfied with what I did the day before. I would like to be a catch-driver. But to achieve that, you have to constantly up your game. That's what I'm going to do."