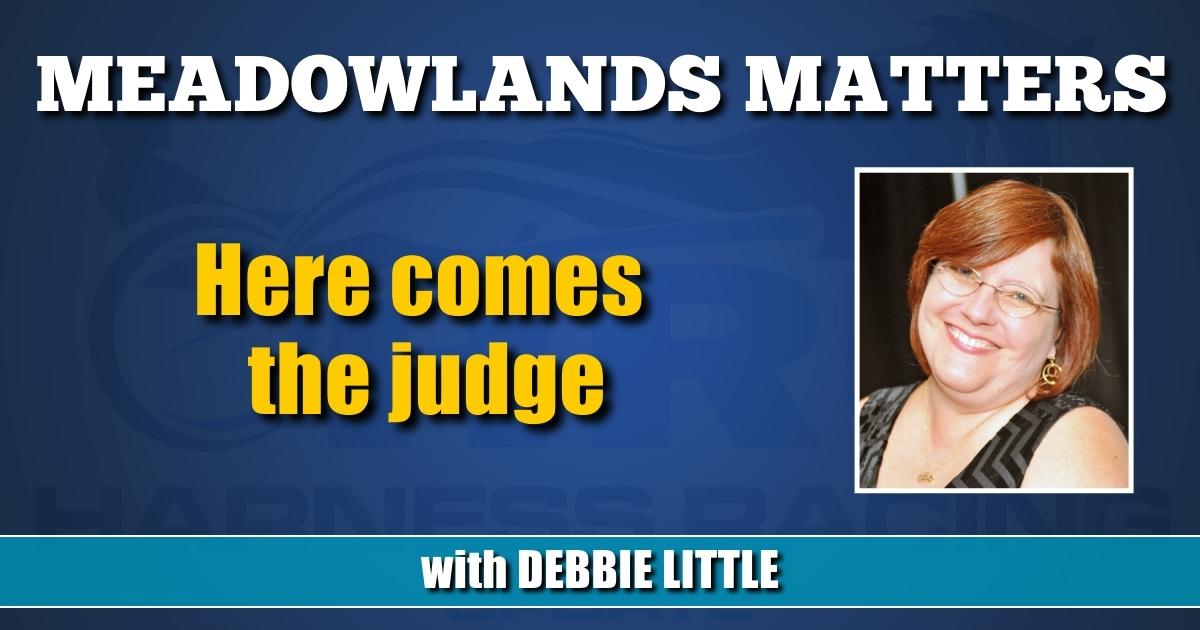 USHWA Amateur Driver of the Year Tony Beltrami spends his days dispensing justice as a Pennsylvania state trial judge.
by Debbie Little
For most drivers, the decisions they make in their job aren't life or death ones, but that's not the case for Tony Beltrami.
When the 2022 United States Harness Writers Association (USHWA) Amateur Driver of the Year isn't dispensing with his competition on the track, he's delivering justice as a Pennsylvania state trial judge.
"I'm the only amateur driver that's ever imposed the death penalty," said Beltrami. "That was during a murder trial where this guy was eventually convicted. He shot a responding police officer in the head in his home and he actually got the death penalty, which I had to impose."
Beltrami is a second-generation horseman who was introduced to the business by his dad, Louis, who used to take him and his three brothers to Pocono Downs as children.
"And sometimes on Saturdays, we'd go to the stable area at Pocono Downs and walk around and eventually someone would throw us on the jog cart in their lap," said Beltrami. "So, I've been around horses for a long time."
As a 13-year-old, he remembers being at The Meadowlands for opening night in September of 1976.
"I went to the races with my dad and my brothers," said Beltrami. "And the opening night at The Meadowlands, it was the most crowded place I'd ever seen at a track. It was insane. And I was also there the next year for the Meadowlands Pace, the first one. In fact, my dad had a horse racing in the first Meadowlands Pace. He had a horse called Mostly Cheer, Vernon Dancer trained and drove. There were two heats that night and I think he was fifth in the elimination, and then fourth in the final against Escort. So, I've always loved The Meadowlands."
Beltrami wanted to follow his dad into the business, but fate stepped in.
"I think I was 16 when I got my license and started working for Earl Beal in the summers," said Beltrami. "In 1986, I had worked up to be doing training miles with him. Then I decided to go to law school so I'd have something to fall back on, but I was going to go into harness racing.
"But I ended up like third in my class and I'm like, 'Eh, I should probably do the law and fall back on harness racing.' So, I flipped it and got a job with a judge as a law clerk and then I opened my own law practice."
From law clerk to part-time public defender to part-time in the district attorney's office, harness racing remained a part of Beltrami's life as he owned horses on and off throughout that timespan.
"Then I ran for judge in 2003 and I lost. Then I reran in 2005 and I won for a 10-year term," said Beltrami. "And then, in 2015, I ran for retention [and won, which gave me another 10-year term]."
Beltrami presides in Pennsylvania's Northampton County Court of Common Pleas.
"Our court is so old it used to be a British court," said Beltrami. "And then after the Revolutionary War, it was converted to an American court. And in the big courtroom, we call it courtroom number one, are the portraits of all the past president judges of our court and they're all in their colonial garb. That's how old it is."
Beltrami was raised in Drums, PA, about 12 miles from Pocono Downs and currently resides in Bethlehem, about 30 minutes south of Wind Gap, PA.
"When Carmine Fusco opened Wingate Farm in Wind Gap, I think that was like 2013, he called me and said, 'Do you know where Wind Gap is?' And I said, 'Yeah, it's in the county I live in. Why?'" said Beltrami. "He said, 'I'm thinking of building a training center there.' And then he did and I started going up there whenever I could on a day off or in the summer and on weekends. And I would just jog and train. Then I decided to get my license to drive and started driving a year later. He helped me find horses to qualify and get my license."
From the time he got his license in 2014, Beltrami never had more than 18 starts in a year, until 2021, when he found the winner's circle 22 times with a win percentage of 21. In 2022, he equaled his outstanding win percentage from the previous year with a total of 36 trips to the winner's circle.
Beltrami credits trainers Fusco and his brothers, as well as Maria Alvarez and Williams Hernandez, with helping him get to where he is.
"If it wasn't for Williams and Maria, I don't think I would have been as successful because they started giving me drives before anybody else," said Beltrami. "I mean the Fuscos obviously did, too. The Fuscos really helped me get started, but Williams and Maria helped me move to the next level."
Beltrami's colors pay homage to his dad, who drove in something similar.
"My dad had horses with Mike Gagliardi and my dad got his "P" license at some point in his career," said Beltrami. "So, when it was time for him to make his first start, he just borrowed a set of Mike's colors. And he won a couple of races, so I had winner's circle pictures with my dad with those colors.
"I always liked those colors. And I took that color scheme but I just changed the design. Unfortunately, he passed before I had my first win. He would have loved it. He passed in 2016, I started driving in 2014, but I didn't win my first race until 2017."
Beltrami follows in the footsteps of Tony Verruso, who won this award in 2021, making it two in a row for the GSY (Gural Settlemoir Yarock) Driving Club.
"We are very proud that two mainstay drivers in the GSY club have won this prestigious award in back-to-back years," said GSY president Dave Yarock. "As the song goes, 'If you can make it there, you can make it anywhere.' The Meadowlands is the world's showcase for amateur racing."
Beltrami, who also has a trainer's license, turned 60 in December and plans to continue to drive as often as his schedule allows.
"My term expires in 2025, so I'll probably stay until then and become a senior judge and just work when I want to," said Beltrami. "And then, probably train a couple of my own on the side."