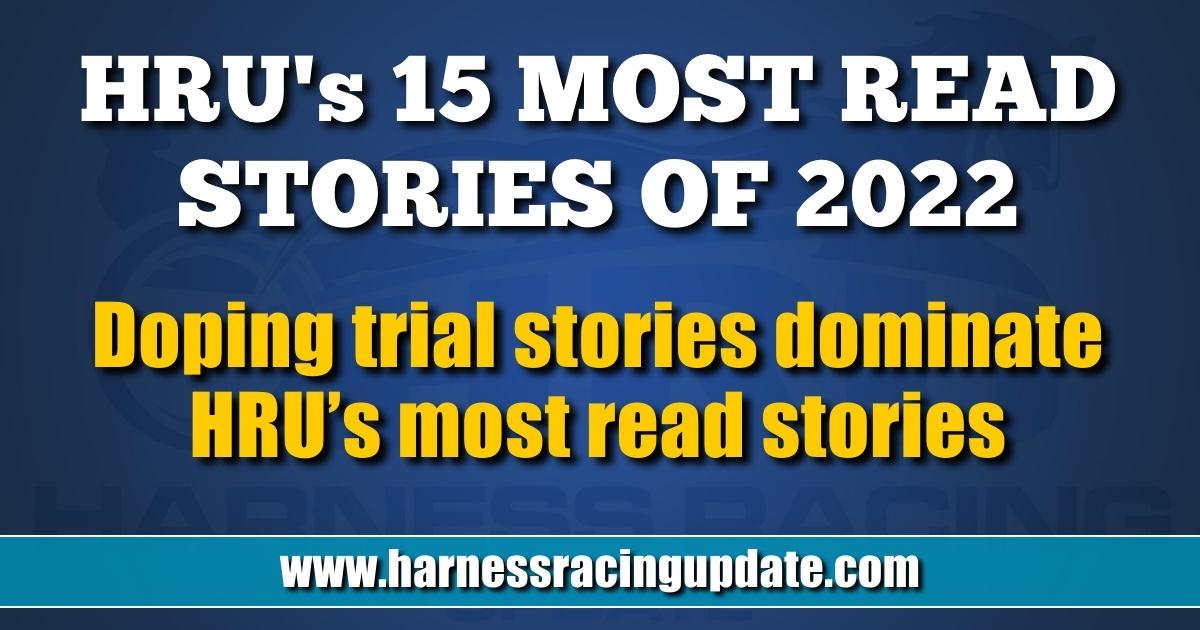 Doping trial stories dominate HRU's most read stories
You'll notice a definite theme in our most read stories of 2022.
by Dave Briggs
Before we get to our most read stories of 2022: Happy New Year! All of us at Harness Racing Update (HRU) send our deepest gratitude to our advertisers, readers, and contributors for the support in 2022.
This week marks seven years since the new management took over HRU in January of 2016. Since that time, we have gained a little over 2,700 HRU subscribers, an increase of 46 per cent.
In 2022, specifically, we increased our number of subscribers by 2.5 per cent in a year.
We are extremely proud and thankful to continue to show year-over-year growth.
Even more important, HRU's average click and open rates continue to greatly exceed industry standards.
In 2022, our average open rate improved over 2021, exceeding 51 per cent, which is 23 per cent higher than the industry average. our click-to-open rate of 33 per cent is 14 per cent higher than the industry average.
HRU continued to post steady growth in other areas, as well. In 2018, we launched our popular broadcast division
with 2-year-olds in Training and sales coverage. In 2022, our YouTube subscribers nearly reached 2,000, up some 400 subscribers from the end of 2021.
Also, the number of people that like our Facebook page (harnessracingupdate.com/facebook) has organically grown (not paid) by over 500 (up almost 5 per cent) just in 2022.
Finally, our number of Twitter followers increased by 361 followers in 2022.
All that means HRU is showing growth in virtually every category.
Now, to the stories and, first, a note. These are the stories that simply had the most views. They are not the "best" stories or our picks for the top 15. Rather, they represent the stories you the readers read most.
Given that metric, it's fairly obvious why one particular story dominated. Nine of the top 15 involved coverage of the federal government's horse doping trial.
The 15 most read HRU stories of 2022 were:
15. SHORT PAYOUT IN YONKERS EXACTA DEMANDS TRANSPARENCY
by Brett Sturman – June 30
14. CONVICTED DRUG DISTRIBUTOR ROBINSON: "I SOLD TO EVERYBODY"
by Bill Finley — Feb. 4
13. ADRIENNE HALL: "I DID NOT IN ANY WAY HAVE TO TESTIFY… I WAS VOLUNTARILY HELPING THEM"
by Debbie Little — Feb. 11
12. COMPLETE COVERAGE OF THE DR. SETH FISHMAN TRIAL TO DATE
by Robert Gearty — Jan. 9
11. FEDS CHARGE THAT PED CASE INVOLVES 30 HARNESS TRACKS
by Bill Finley — Feb. 26
10. END OF THE LINE FOR FLORIDA HARNESS TRACK BILL
by Melissa Keith — March 18
9. BULLDOG HANOVER EXITS WITH US WANTING MORE
by Dave Briggs — Nov. 27
8. JURY FINDS DR. SETH FISHMAN GUILTY, COULD FACE 20 YEARS IN PRISON
by Robert Gearty — Feb. 4
7. TRAINERS TESTIFY TO RACING HORSES ON PEDS SUPPLIED BY DR. SETH FISHMAN
by Robert Gearty — Jan. 28
6. THE METEORIC RISE OF DOUBLE D DRIVER DEXTER DUNN
by Murray Brown — Jan. 22
5. DRIVER 'CELEBRATION' PROMPTS MAJOR INFRACTION STATUS AT THE MEADOWS
by Brett Sturman – Jan. 28
4. LIST OF SETH FISHMAN CLIENTS RELEASED
by Bill Finley — Feb. 6
3. POMPANO PARK TO GO OUT WITH ITS HEAD HELD HIGH
by Brett Sturman – April 15
2. RENE ALLARD LATEST TO PLEAD GUILTY TO DOPING CHARGES
by Bill Finley — June 4
1. HARNESS TRAINER ROSS COHEN ADMITS TO FIXING BETWEEN FIVE AND 20 RACES BY BRIBING DRIVERS
by Robert Gearty — May 1