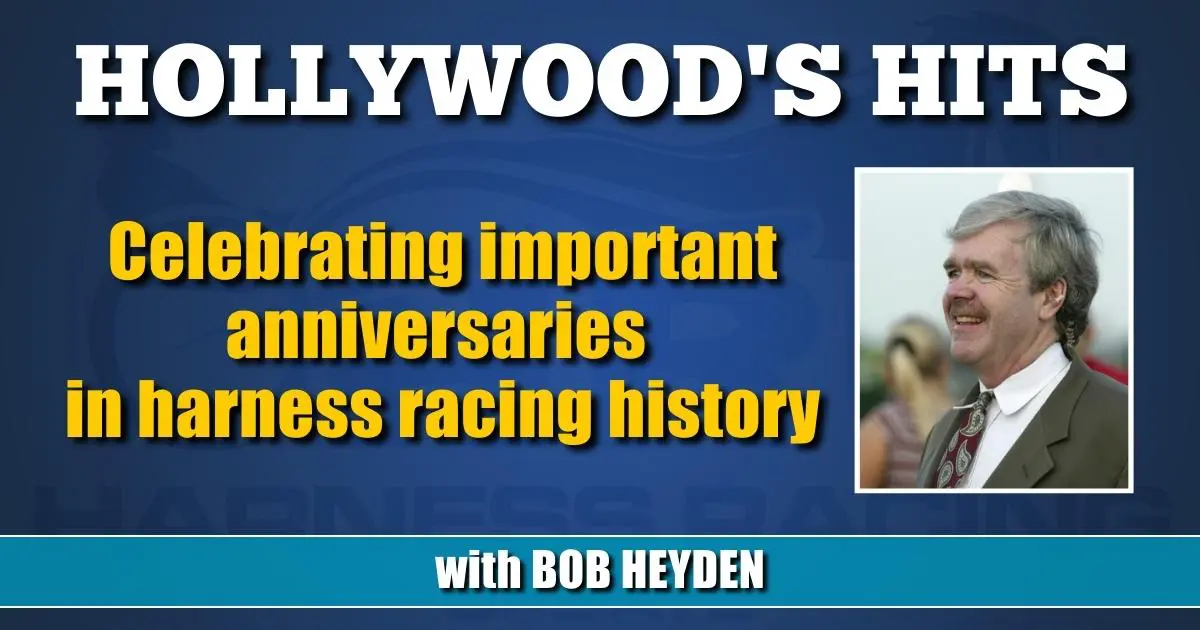 Celebrating important anniversaries in harness racing history
by Bob Heyden
Now that it's 2023, it's time to look through some notable standardbred history notes that fall on anniversary years:
170 years ago in 1853 Freehold Raceway opened.
130 years ago in 1893 the inaugural Kentucky Futurity was won by Oro Wilkes.
100 years ago in 1923 both Billy Haughton and Howard Beissinger were born.
90 years ago in 1933 Glen Garnsey was born on New Year's Day. Garnsey did something never seen before or since. He raced three $100 million sires in a five-year span: Abercrombie (1978-79), Balanced Image (1981-82) and No Nukes (1982).
80 years ago in 1943 Adios turned 3 and Victory Song, the very first Horse of the Year winner was born. Also, Yonkers played host to the Hambletonian for the one and only time.
70 years ago in 1953 Helicopter won the 1953 Hambletonian, trainer Jack Darling was born and Scott Frost became the first yearling sold publicly to win a Triple Crown.
60 years ago in 1963 Bret Hanover topped the Harrisburg sale at $50,000 and went on to a three-time HOY career. Also, Mohawk Raceway opened on April 28 and The Meadows opened on June 28, 1963.
50 years ago in 1973 John Campbell was 18 and is in his first full year as a driver. Plans to build a Meadowlands in East Rutherford were also finalized.
40 years ago in 1983 Ralph Hanover won the Triple Crown and the Meadowlands Pace (not done since). He also rewrote the record book for 3-year-old earnings at $1,711,990. But Cam Fella was the HOY, again, and to this day no pacer has won it back to back since. The same year, the first million-dollar trot was held (the Hambletonian won by Duenna and Stanley Dancer). Also, simulcasting debuts mostly on a limited basis to and from Atlantic City Racecourse and the Meadowlands.
30 years ago in 1993 Presidential Ball had the biggest money season ever for a non-Horse of the Year: $2,222,166. Also, both Moni Maker and Continentalvictory were born.
20 years ago in 2003 the entire trajectory of Brian Sears' career changes on April 30, 2003 when he enters the driving room full time at the Meadowlands. No Pan Intended won the Breeders Crown and the Triple Crown — still unmatched. Eternal Camnation won her third Breeders Crown and would retire the following year as the richest pacing female ever ($3.7 million). Stephane Bouchard led North America in wins (656) aided by 11 in a row on March 8.
10 years ago in 2013 Bee A Magician went unblemished (17-for-17) and set the all-time single-season money record (over $1.5 million) in the Moni Maker set by Moni Maker en route to the Horse of the Year award.