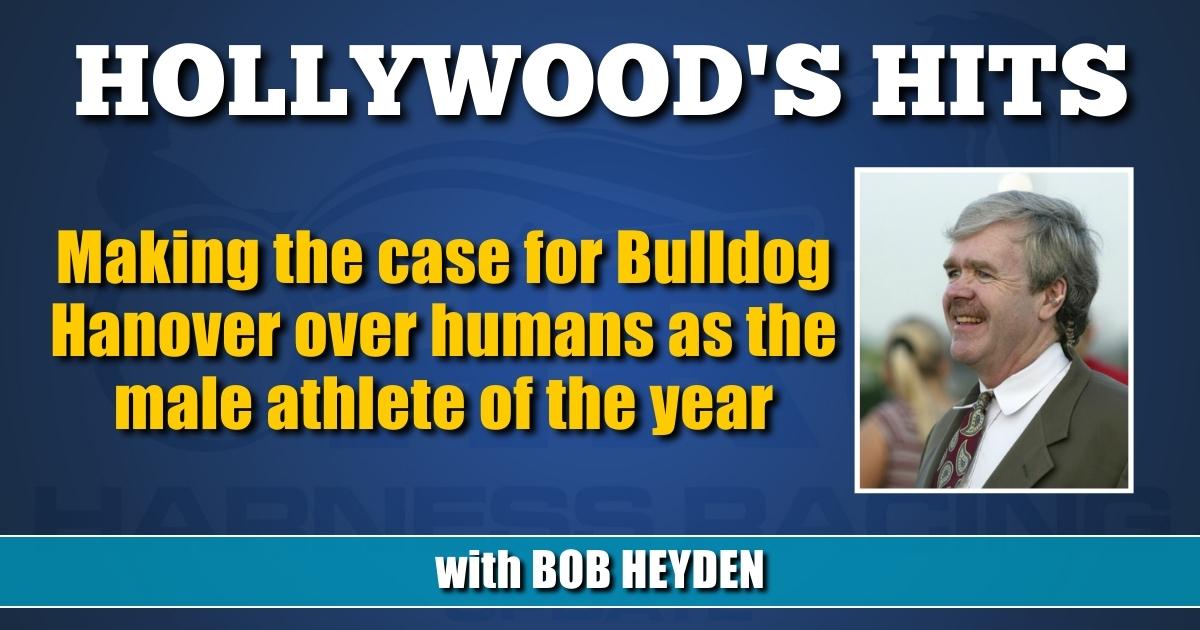 Making the case for Bulldog Hanover as the male athlete of the year
Yes, that means against human athletes.
by Bob Heyden
I'll say it: superstar pacer Bulldog Hanover — a slam dunk for Horse of the Year in both the U.S. and Canada — deserves at least consideration for overall male athlete of the year for all sports.
In 1980, Niatross was the New York Post's Athlete of the Year.
In 1973, Secretariat was on the cover of Time, Newsweek and Sports Illustrated and was #37 in the Athlete of The Century poll.
Tiger Woods, Lebron James and Tom Brady are the three Athlete of the 21st Century candidates. None of the three had a standout 2022. 
Put simply, no male athlete in 2022 had a year like Bulldog.
Here's 11 reasons why he deserves consideration:
1. The key to winning an award like this is maintaining and sustaining. You have to do it for the season. You have to play all four quarters. You must be on the field for the last out. Bulldog Hanover electrified the entire harness world — and many others with a huge spillover effect all season. We've never seen the likes of any horse ever at this level dominating for six plus months on the grandest stage, the free-for-all class. Yes, I know, Somebeachsomewhere, Niatross and Muscle Hill all thoroughly dominated. But they all did so at 2 and 3. We were — and are — left to wonder what might have been at 4 as they went to stud. Not only did Bulldog take over the sport at age 4, he bred 79 mares — 20th most in North America among pacers. He truly did it all.
2. From early summer on, Bulldog Hanover's races were must see/appointment TV — or live. You had to know. Did he do it again? Did he break any records? 1:45.4? Oh, he did it. Let me bring you back to the parking lot backstretch Friday at the Red Mile for their final weekend. We had just spent 45 minuets with Jack Darling, Johnny Mallia and Bulldog in backstretch. On the way to the track, we bumped into a couple of old timers from Canada, each knocking on the door of age 80. They just arrived from Canada after 14 hours on the road. They were there to see Bulldog.
3. I think we are accustomed to seeing standout moments in flashes. Does anymore remember Cambest's second greatest feat? With Bulldog, he simply refused to disappoint. And he was a good sport about it, too. He'd roll up alongside of you mid-backstretch and say, 'See ya later. I'm taking the wheel.' No spiking the ball, no taunting, no disrespecting. None necessary. He was the world's most polite butt-kicker.
4. You wanted to see Bulldog and get a picture maybe? Done. Jack Darling has long been an extreme advocate for the business and he bent over backwards to make sure everyone left happy. Demands? Met. Non-stop notoriety came with this unchartered territory. Bulldog was more than happy to oblige. Whoever thought that the sport's biggest intimidator would also be its foremost accommodator?
5. Johnny Mallia — caretaker to the stars. He brought a combo platter of decency: quiet assurance, dedication and a caring bond that Bulldog came to count on each and every day.
6. Just in case anyone is talking about the competition in 2022 being anything but top-notch. Think again, or even better, pay closer attention. There were more sub-1:47 wins in 2022 by horses not named Bulldog Hanover than in any other year. Allywag Hanover had a 1:46 mile and also a 1:46.4 world record at Rosecroft and was the first sub-1:47 winner in back-to-back years. Rockyroad Hanover had a 1:46.2 mile. And don't forget Catch The Fire's 1:46.4 Hambletonian Day. A full and deep free-for-all crop.
7. You got the feeling watching Bulldog — especially after he crossed the wire and wanted to keep going… and going…and going — that he wasn't quite sure what all the fuss was about. Doesn't everybody do this? Likeable? Big time.
8. In order to capture the imagination of those non-standardbred fans, you have to win big and look like you're having fun doing so. Remember Usain Bolt? Can you even name another sprinter in history who would set a world record in the 100 meters and 200 meters while smiling at his rivals and having a blast? Check, check and check-for the Bulldog. You finish faster than you start. Secretariat is the only horse to ever race each quarter of the Kentucky Derby faster than the prior one. In Bulldog's 1:45.4 world record, the last quarter was :25.1, by far the fastest in the race.
9. No need to tip-toe around Bulldog Hanover's stall, especially if you had something in your hand. Bananas are his personal favorite. He may not have bowed to the crowd Bret Hanover-like, but nobody could tell me he wasn't enjoying every single moment.
10. Flightline was a devastating 3-for-3 this year and the same at 3 as thoroughbred racing's standout. But, three starts compared to Bulldog's 16? Come on now. No other sport has a jump-off-the-page star that I can think of that must be in the shake.
11. On Dec. 8, 1940, the Chicago Bears beat the Washington Redskins 73-0 in the NFL Championship game. Rocky Marciano went 49-0 and retired undefeated as the heavyweight champion mid-last century. Usain Bolt dominated three straight Olympics in the sprint when no one else had done it twice. Gretzky had nearly 900 goals. Jordan had 6 NBA finals wins and MVPs. Babe Ruth had 60 home runs in 1927 when teams were averaging far less. Tiger Woods from age 21-35, Lebron James and Tom Brady for most of their careers. Bulldog Hanover had that kind of impact in 2022. Nobody wanted to test him past the 5/8ths for fear of losing position and/or a check. He was Michael Phelps in the 2008 Olympics where he won a stunning eight gold medals. We are not going to see this again anytime soon folks. He leaves us now to continue his career as a stallion. His buffet of boundless and breathtaking moments on the track are over. Let's give him something back and call him the male athlete of 2022. No matter what you think of a horse as an Athlete of The Year, Bulldog Hanover to be considered.