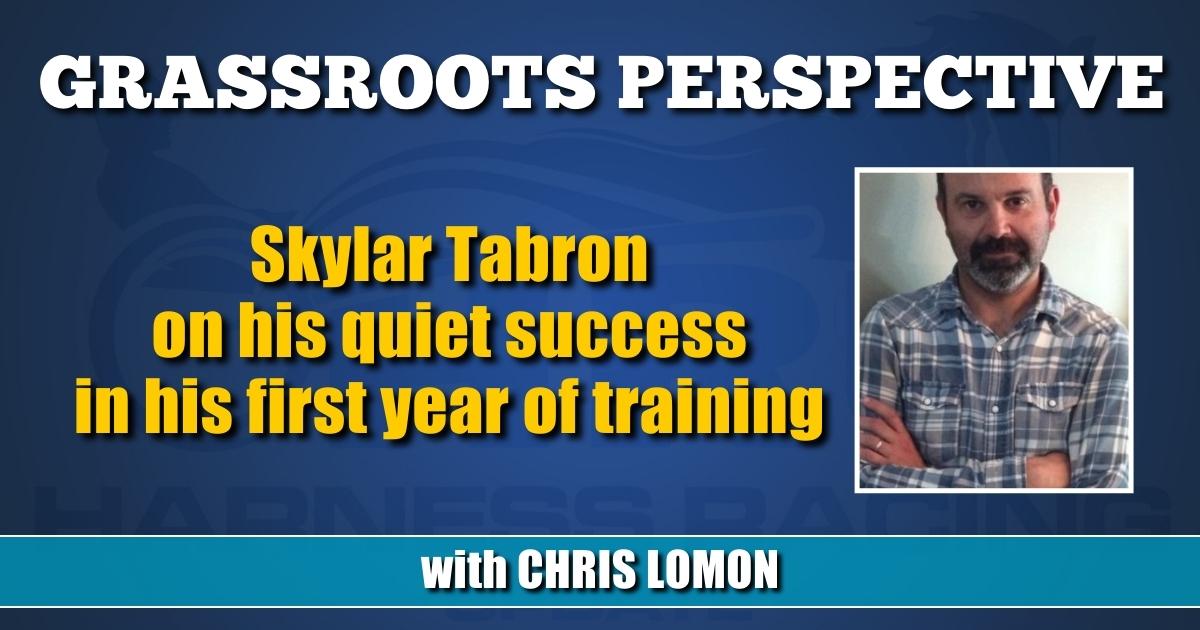 Skylar Tabron on his quiet success in his first year of training
by Chris Lomon
Skylar Tabron may be a man of few words, but he's also a man of many talents.
If the Pennsylvania horseman opted to let his horses do the talking, he would no doubt be happy with what he saw on their respective stat lines.
In his first season as a standardbred trainer, Tabron has exceeded his own expectations, producing a record of 7-6-3 from 28 starts.
"I'm very happy with how things have gone. You don't know quite what to expect in your first year, but I feel extremely fortunate to have had a pretty good start to my career."
Tabron points to a quartet of horsemen, namely, Jimmy Daumit, Jeff Indof, John Porter, and Dirk Simpson, for helping further his interest in the sport, and to feel comfortable in making the jump to the standardbred training ranks.
"It started out when I met John and he was the one who got me started in the sport, along with his buddy Jimmy. Eventually, I worked my way up to working with Jeff, and then, after that, I began working with Dirk, who has given me a lot of opportunity."
On June 23, Tabron notched his first training victory, the milestone coming on the hooves of Irish Daydream.
Owned by Frank Indof and Howard Balis, the 4-year-old daughter of Vintage Master—Irish Day was driven to victory by Jeremy Indof.
Bred by Winbak Farm, the bay mare has been a consistent money-earner for Tabron, sporting a mark of 8-9-6 from 31 starts on the campaign.
"That win, it was one of biggest highlights of my life," he said of the one-length score in 1:53.3 at The Meadows. "It wasn't a close one, so that makes it a little easier on your nerves. I just couldn't believe it when it was happening right in front of me. About half the track reached out to congratulate me. By the time I woke up, my cellphone and my Facebook page was flooded with over 100 messages."
Not surprisingly, Tabron has no shortage of superlatives when talk turns to Irish Daydream.
In her past 10 starts, the mare has posted six wins, three seconds and a third, all of them coming at The Meadows.
"She's just so easy and fun to work with. She always wants to do her job, is so easy train, and doesn't give you any attitude. She's a pleasure to be around and she shows up every race. I'm very lucky to be able to train her. Getting her to the Open was a huge highlight for me."
Tabron has also established a bond with the broodmare Dontstepontheflowers.
"We all call her 'Flower.' She's very sassy. But I enjoy it though. All the horses have different personalities, but to me, that's a good thing. Some are tougher to work with, others are easier, but they all help you learn and get better at what you do."
With the 2022 season soon coming to a close, Tabron will soon turn his thoughts to 2023 and what he would like to accomplish in his sophomore campaign.
Overall, the 27-year-old said he is happy with what he was able to achieve this year, including the chance to sit in the sulky.
"Dirk Simpson, he's been letting me drive a couple for him in qualifiers, which is one thing I was able to knock off my bucket list. It's awesome. When you get off the bike the first time, you're nerves a little jumpy, but after that, I got used to it. It's a big rush to be able to do that."
Surpassing his year-one numbers is at the top of Tabron's short-term goals. Starting his own stable and taking in some of the industry's highest profile events are some of his longer-term objectives.
There's also one major racing event Tabron hopes to see in person sooner rather than later.
"I have five horses right now, and I think about eight would be the ideal number for me. I want to do better than I did this year and just keep that momentum going. That's important, to build on what you able to do, and then improve going forward. I'd also like to own my own horse one day. Hopefully, I can do that next year, but if not, there is always down the line. I'd also like to go to the Little Brown Jug one time. I had some buddies go and they loved it. I've never been because I've always been busy with the horses, which I've been doing since middle school. So, here I am."
When he isn't tending to his band of horses, Tabron appreciates any chance to take in the great outdoors.
He also doesn't mind getting a good night's sleep.
"I usually go hunting or fishing each year for a few days. That's always something I look forward to. It's a nice way to unwind, even if it's not for a long time. Racing requires a lot of work and dedication, so when you do get those moments to come up for air, you take them. I don't really watch sports. I find it boring, to be honest. For me, I like the outdoors. But I also don't mind coming home from a long day and just jumping into bed. And that's okay too."
Whether he's reeling in a pike or resting up for the next morning's tasks, racing is never far removed from Tabron's thoughts.
And although he isn't a big talker when it comes to his early successes, the trainer's numbers speak volumes about his dedication to the craft.
He's hopeful even bigger and better days are ahead.
"It's a sport of ups and downs where you lose more than you win, but there is always something to look forward to, something to chase after and hope for. Every day, I feel very fortunate to be able to do what I do. I love the sport and I love the horses. I'm going to keep pushing to get better and hopefully, the results will come. That's what I'm working for."