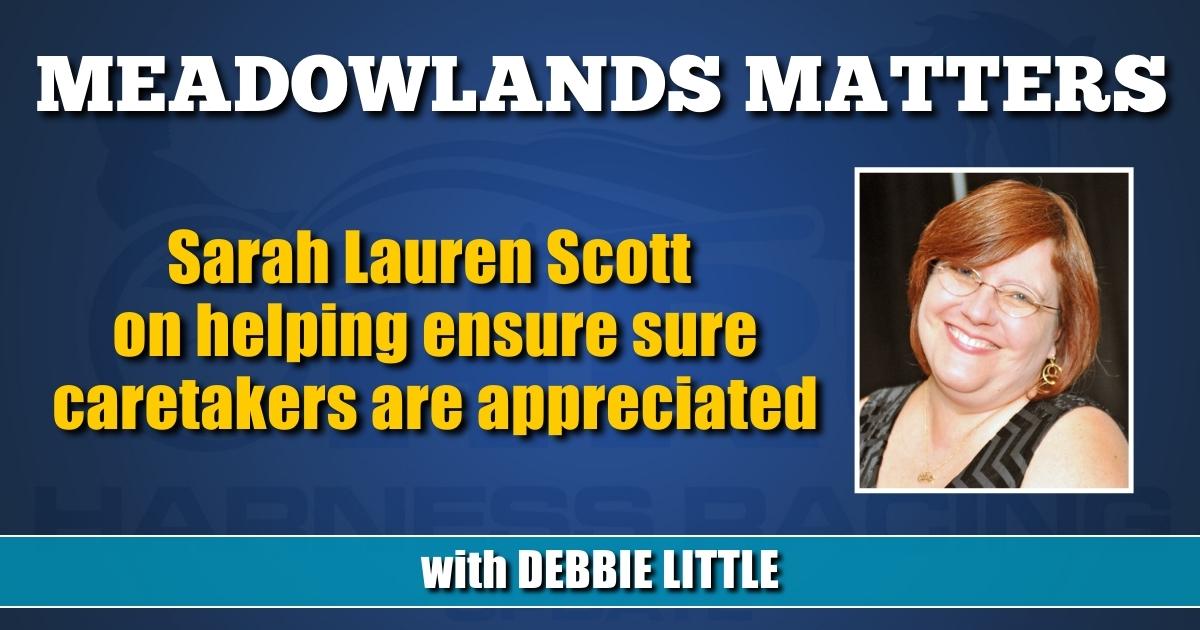 Sarah Lauren Scott is making it her mission to make sure caretakers are appreciated for the critical role they play.
by Debbie Little
"If something doesn't exist, create it," could be a motto for Sarah Lauren Scott.
Scott is the owner/operator of SLS equine, a leader in equine therapeutics and custom race equipment. She has worked on many champions, and has designed custom race equipment worn by Atlanta, Captaintreacherous and Wiggle It Jiggleit, among others, and is the sponsor for the Caretaker of the Month Award at The Meadowlands.
A former caretaker for Rocknroll Hanover and Syrinx Hanover, Scott moved to New Jersey from Canada in 2020 and was inspired to action when watching The Big M pregame show.
"I would see Trainer and Driver of the Week come up time and time again, but no mention of caretakers," said Scott. "The message was loud and clear for me that sponsorship was required for the caretakers, and I committed."
Wanting to recognize caretakers is not new for Scott, who helped to create the inaugural Caretaker Appreciation Day at Woodbine Mohawk Park in 2018.
Scott remembers reading an article in the winter of 2017 in The Harness Edge that inspired her to meet with Kathy Wade Vlaar, manager of industry marketing for Standardbred Canada.
"When I read that article, it wasn't sitting right with me because I wanted to find an answer to the question: Where have the caretakers gone?" said Scott. "I reached out to my own network on social media and I asked THE question directed to caretakers. What is missing? What do you need? How can we make the job more appealing?
"Of all the comments I got back, the number one comment constantly repeated was the caretakers would work the long hours in the weather elements, work seven days a week, they would do all of the extras and all they wanted was a little appreciation."
Scott's simple idea became much more when other Canadian tracks jumped onboard and has now grown into National Caretaker Appreciation Day.
Although the world may now know the great Bulldog Hanover's caretaker, Johnny Mallia, back in 2018, when Scott chose to honor him at Mohawk's Caretaker Appreciation Day, he was not so much of a household name.
"When I called Johnny and asked him if he would accept male Caretaker of the Year, at first he declined, he's so humble," said Scott. "He said, 'Oh no, I'm doing my job. I don't need the spotlight.'"
Eventually Scott persuaded Mallia to accept the honor.
"He is everything a caretaker is to me," said Scott. "Someone who is dedicated and a true professional that puts his horse's needs above his own. You can rely on him. I was so pleased to see Bulldog Hanover in his care. He ended up with a special horse where he deserved to be."
Since starting The Big M's Caretaker of the Month sponsorship in June 2021, Scott has done her homework and spent a lot of time at the barns watching potential honorees interact with their horses.
"Once you've been a caretaker yourself, you understand what it takes," said Scott. "You watch someone with their horse and you know."
One of her biggest supporters at The Meadowlands was the late Dave Brower, who will be sorely missed by Scott.
"He was so excited to talk about the caretakers," said Scott. "He got as excited as I did talking about them. He would either reach out to me and look for some background or he knew a lot of the caretakers. He was so great at making sure that they had some airtime."
Scott's honoree for the month of December is Elvis Garcia, who is honored to be chosen.
"It feels great," said Garcia. "Last Saturday, I went to a family party and my friends said, 'Oh, look at you on the TV.'"
Garcia, a native of Guatemala who grew up working with horses, currently works for trainer Joe Holloway and takes care of 2021 Governor's Cup champ Early Action. He and his girlfriend, Bannessa Orantes, who also works for Holloway, have a 1-year-old baby boy, Nicholas, who will be growing up with the horses just like his parents.
Diane Lewis, who also works for Holloway, had nothing but praise for Garcia and Scott.
"He's such a good kid and a good worker," said Lewis. "And great with the horses, especially the babies.
"It's a great thing that Sarah Lauren has done and Jeff Gural has given her the opportunity to do. Little things go a long way and a lot of grooms don't expect a lot but they do like to have a little pat on the back saying, 'Thank you, we appreciate you.'"
People have reached out to Scott with some caretaker nominees in the past and she is open to receiving them in the future if people reach out to her on Facebook.
It's been Scott's goal, just as she did in Canada, to bring a Caretaker Appreciation Day to The Meadowlands in 2023, and on Wednesday [Dec. 14], she got the good news that it will happen. But until everything is finalized for that big day, she will continue to have Caretaker of the Month.
"It's a starting point," said Scott. "I thought that it was extremely important to acknowledge and show appreciation to those caretakers that are there night after night, working so hard on their horses and definitely not just recognizing ones with a champion, because we all know it takes the same amount of care to take care of an overnight horse. I do believe from what I see there are caretakers that deserve recognition that just haven't found that horse yet to take them to the top.
"I am committed to ensuring Caretaker Appreciation Day at The Meadowlands will be a day to remember. The caretakers are the backbone to our industry. Appreciation and acknowledgement will go a long way in whatever you do. Each caretaker has responsibilities that deserve to be credited. The entry level position of being a caretaker needs to be updated and glorified to a degree so when the millennials are seeking employment, our industry is considered. Being a caretaker requires someone very driven and committed. Behind every great horse is a caretaker."