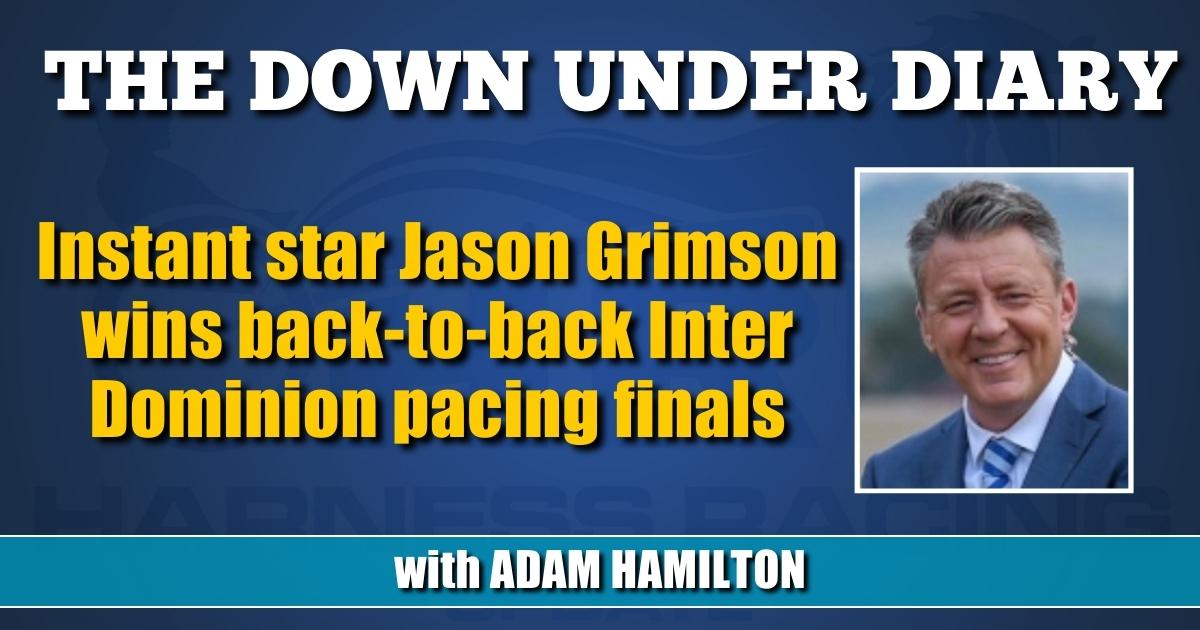 Instant star Jason Grimson wins back-to-back Inter Dominion pacing finals
by Adam Hamilton
The rise and rise of Jason Grimson has been remarkable.
Few outside of his home state of New South Wales had heard of the young horseman 12 months ago and now he's a two-time winner of Down Under's iconic race, the Inter Dominion pacing final.
The 29-year-old Grimson, who walked away from the sport for three years to be a concreter, added to his giant-killer tag when I Cast No Shadow gave him back-to-back Inter Dominion pacing final wins at Melton Saturday night (Dec. 10).
I Cast No Shadow was an outsider at $17 (for a $1 bet), but it followed his stunning breakthrough win with $41 long shot Boncel Benjamin in the race 12 months earlier.
Last year took the intervention of stewards, who awarded the race to Boncel Benjamin after he was second past the post to Expensive Ego, but they deemed the "winner" had interfered with him and cost him winning.
"It's nice to do it without the stewards' room this time," said Grimson, grinning.
What's more incredible is what Grimson has done in between the two Inter Dominions, which has seen him become the most formidable Group 1 open-class training force in Australia, despite having a very small team of horses, which is currently just six in work.
I Cast No Shadow's win was his fifth on the big stage in the past 12 months. Majestic Cruiser won the Group 1 Messenger in Auckland in April and followed with victory in the Group 1 Blacks A Fake in Brisbane in July. I Cast No Shadow won the Group 1 Len Smith Mile in October on his way to last night's career-defining moment.
Rather than use his success to build his stable, Grimson has become known as "the gypsy" to his friends and fellow trainers.
While he's got more than 20 boxes at the lavish Menangle training complex near Sydney, Grimson has spent much of the past five months travelling, first to Queensland, then New Zealand now Victoria.
He's dispersed most of his team to other trainers.
But the feature race is just starting. It continues at Cranbourne next Saturday night where he will have two or three entrants in the $A100,000 Cup.
That will include two horses he thinks have Group 1 potential in Fire Fox and his latest stable addition Major Meister.
"I really like them both. Fire Fox has his confidence back after winning his past couple and Major Meister was really good winning his only run for me," Grimson said. "Both of them have heaps of speed, maybe they could be Miracle Mile horses."
Grimson's close friend and stable driver, 23-year-old Cam Hart, is in awe of the trainer's horsemanship.
"People ask me what makes him so good and how he can turn all these old horses around," Hart said. "It's the little things, the time he spends with the horses, how well he understands them and the changes he makes.
"I Cast No Shadow is a perfect example. We talked after he loomed-up to win, but didn't quite finish off his race in the last (of his three) Inter Dominion heats. He'd raced in pull-down blinds, so Jason took them off and it made all the difference. He savaged the line this time."
Hart took full advantage of barrier one to sit behind the leader and favorite Act Now, who was unleashed by driver Jodi Quinlan over the last 1200m after getting a very soft first half of the long 2760m final.
Act Now ripped the half between 1200-400m in 54.4sec to most of his rivals gasping.
"But I was just bolting on his back and couldn't wait for the sprint (passing) lane to come up," Hart said.
I Cast No Shadow burst through and raced clear to win by 2.7m over another outsider Torrid Saint with Act Now tiring late for third.
Watch a replay of the Inter Dominion pacing final here.
It was Hart's first win in the Inter Dominion at just his second drive in it. Ironically, he finished sixth on Majestic Cruiser last year when Josh Gallagher partnered stablemate Boncel Benjamin to win for Grimson.
"There's lots of emotions going through my head," Hart said. "I grew-up as a kid in Junee (country New South Wales) dreaming of winning this race and to do it so early in my career is unbelievable.
"Jase and I are both from the Riverina and to do it with him is amazing. He's been such a big supporter and we're great mates."
Hart became the third member of his family to win an Inter Dominion. His great grandfather, George Harpley trained Welcome Advice to win in 1972, and the pacer was driven by his great uncle, Allan Harpley.
It was also a dream come true for passionate owner Diane Reilly, who bought I Cast No Shadow from New Zealand in mid-2020 and moved the 6-year-old entire to Grimson's care after moderate success with trainer Brent Lilley in Victoria.
"I was just happy to have a runner in the Inter Dominion final, but Jason told me he could win it," she said. "I've been in the game 60 years and I can relax now, I've won the race everyone dreams of winning."
SUGARS SCORES SECOND STRAIGHT INTER DOMINION TROTTING TITLE
Outstanding driver Greg Sugars added to the "back-to-back" theme of Inter Dominion Grand final night when he produced a gem of a drive to win the Group 1 trotting final on Just Believe.
Sugars won his first Inter Dominion title 12 months earlier when he teamed with Kiwi father-and-son Richard and Emmett Brosnan and their trotter Maori Law to salute at Menangle.
While winning something for the first time can usually never be matched, Sugars said last night's victory with Just Believe meant so much more.
That's because the 6-year-old son of Orlando Vici is a family horse, trained by Sugars and his wife, Jess Tubbs.
"Last year was great, but this is extra special," Sugars said. "To do it with Jess and all the family, because we're such a family operation, is an amazing feeling."
Just Believe finished third to Maori Law last year when trained by Michael Hughes, but he retired from training soon after and recommended to the syndicate which races the gelding to send him to Tubbs and Sugars.
"We loved him from the moment we got him," Sugars said. "I remember saying early, before Maori Law got injured and retired, how tricky it would be to decide between if and when it became time in a big race."
Just Believe completed a clean sweep of the series, winning all three heats and the final despite coming from a wide second row draw and having to sit parked outside one of his main dangers, Majestuoso, for the last 1400m.
"I knew we'd have to do it that way from the draw, but I was still confident because he'd handled the series so well," Sugars said.
"It was a real balancing act because I had a danger in front and my other two main dangers sitting third and fourth … I had to beat the leader without overdoing it and setting it up for Queen Elida or Mufasa Metro to finish over the top of me."
Sugars did it to perfection, nabbing a gallant Majestuoso in the last two strides to win by a half-neck with Queen Elida closing late for third and Mufasa Metro fourth.
Watch a replay of the Inter Dominion trotting final here
Sugars and Tubbs are both from strong harness racing. While Sugars' father, Ross, was trackside for the win and is a key part of the stable, Tubbs paused after the win to think of late father, Alan Tubbs, who passed away in 2017.
"He'd have loved this," she said. "I did have a little look to the sky before the race and said, 'send him a bit of good luck, dad.'"
Tubbs became just the third female to train an Inter Dominion trotting final winner. The others have been Michelle Wallis (Delft in 2006) and Natalie Rasmussen, who won in partnership with Mark Purdon when Winterfell saluted in Auckland in 2019.