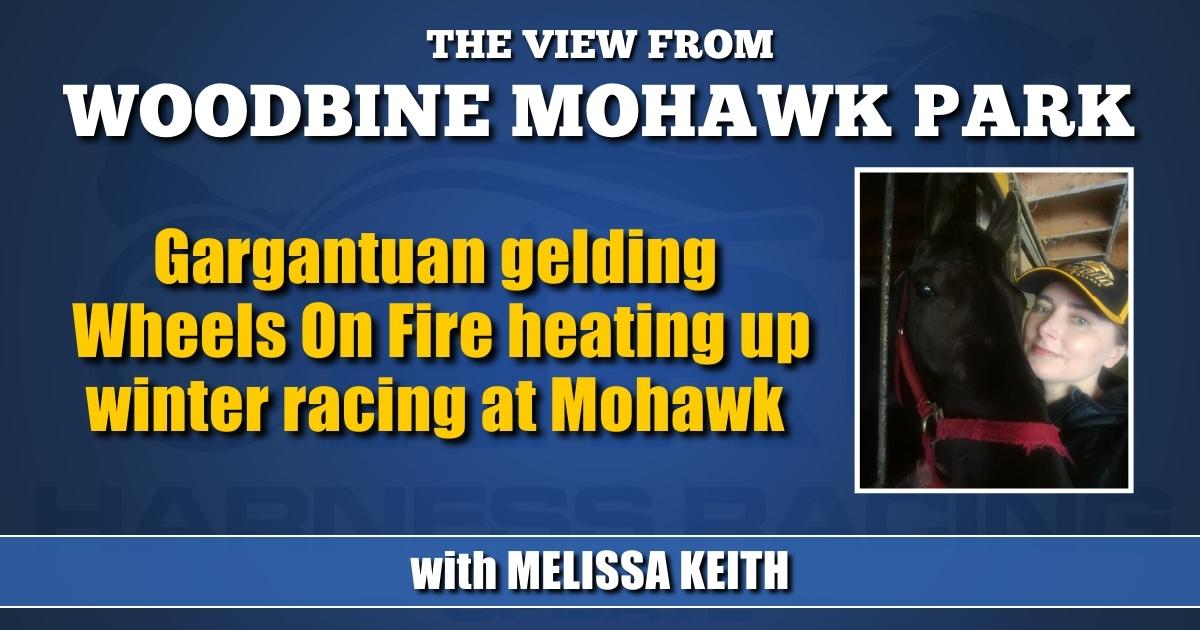 Gargantuan gelding Wheels On Fire heating up winter racing at Mohawk
by Melissa Keith
Standardbreds come in many shapes and sizes, but few stand out like Woodbine Mohawk Park regular Wheels On Fire (p, 4, 1:48.1m; $810,816 US).
"He's the biggest horse I've ever seen, I would say," said Doug McNair, Wheels On Fire's current driver. "There's been a lot of big ones I drove in the past, but every time I go to race him, he just impresses me. When he comes over, he looks like one of those Clydesdale horses. He's that big, and he might be the fastest horse I've driven off the gate in some time."
Bred and owned by William J. Donovan of Delray Beach, FL and originally named Monsoon Surge, Wheels On Fire (Somebeachsomewhere–Ab Fab) only made four starts at age 2, when he began his career in Pennsylvania for trainer Ron Burke. The gelding's maiden victory came in April 2018 at The Meadowlands. He finished the season with 11 wins in 17 starts, including a five-race all-stakes win streak to conclude the year.
Wheels On Fire got his 4-year-old campaign rolling with his first sub-1:50 win (1:49.1m), March 30, 2019 at The Meadowlands. He worked his way up to the preferred at The Big M, but it was only after his Mohawk debut for owner Brad Grant of Milton, ON that the big gelding began building a reputation to match his size. Wheels On Fire won his first start for new trainer Richard Moreau on Feb. 15, 2020, rapidly moving up to the preferred and capturing two in a row for driver Louis-Philippe Roy.
July 4, 2020, Wheels On Fire first teamed up with Doug McNair for a nose-margin victory in the Mohawk preferred handicap. In 2021, they would come out on top of the Campbellville track's competitive top-class pacers, earning the gelding the O'Brien Award for Canada's Older Male Pacer of the Year. June 25, 2022, McNair went over the $70 million mark for winnings as a driver, fittingly behind the biggest horse of his career, in their 17th win together.
"He can go an eighth in :12 flat, and then you can steal the next quarter in :31. He's just the nicest horse to drive, too," said McNair. The pair went undefeated through October and November 2022 at Mohawk's preferred-2 classification, which the driver considered identical to preferred on most occasions.
"It was the exact same horses. I don't know why they put a preferred-2; it should have been preferred [on Nov. 19], but they made it preferred-2 again, [even though] Warrawee Vital was in there."
Wheels On Fire brings plenty of horsepower to his 64-inch hobbles.
"They actually had to get a modified race bike for him," McNair told HRU. "Usually, you can put a big trot bike on those horses and they don't even come close. I had a big trot bike on him and he was hitting the wheels, so they actually had to order one just for him. He even touches this one, once in a while. That's how big he is.
"But he's not like a typical big horse. Most horses that big, they take a while to get going, and you can't start and stop them. But he's like driving a little horse – you can step on the brake, and then you can press on the gas pedal two seconds later and he'll get going again. He's one of a kind, I think."
In the colder weather, Wheels On Fire really lives up to his name.
"He maybe won't win a race all winter," said McNair, "But this is usually where he shines, from now [December] until next spring or next summer. He can go as fast in the winter as he can in the summer. He's that type of horse, which is handy to have in the wintertime. In the summertime, when they get going :47 and change… he's just a little bit behind… those top, top horses.
"Actually the last time he won, they didn't go too much – it was in :51 and change, but it was a real windy night. The little horses, they were struggling that night, and he was plowing through the wind like it was nothing. It didn't bother him."
Standing in the paddock alongside one of the smallest horses currently based at Mohawk, the contrast between Wheels On Fire and Woodmere Stealdeal looked like a photoshopped image.
"I think he's very unique," said McNair. "I think he's the biggest one racing there right now. Every time I look at him, I try to guess his weight. He might weigh 1,200 pounds."
Wheels On Fire tangled with heavy-hitters like Bulldog Hanover and Jimmy Freight earlier in the season, recording 10 victories in 36 races so far this year, all at Woodbine Mohawk Park, all with McNair in the sulky.
"I think he's got around $300,000 made this year. He made $280,000 last year, so he's got over half a million or $600,000 in two years. He's been a pleasure," said his regular driver. "There's no horses around in Canada right now that are as nice as him, consistently, you know. He shows up every week."