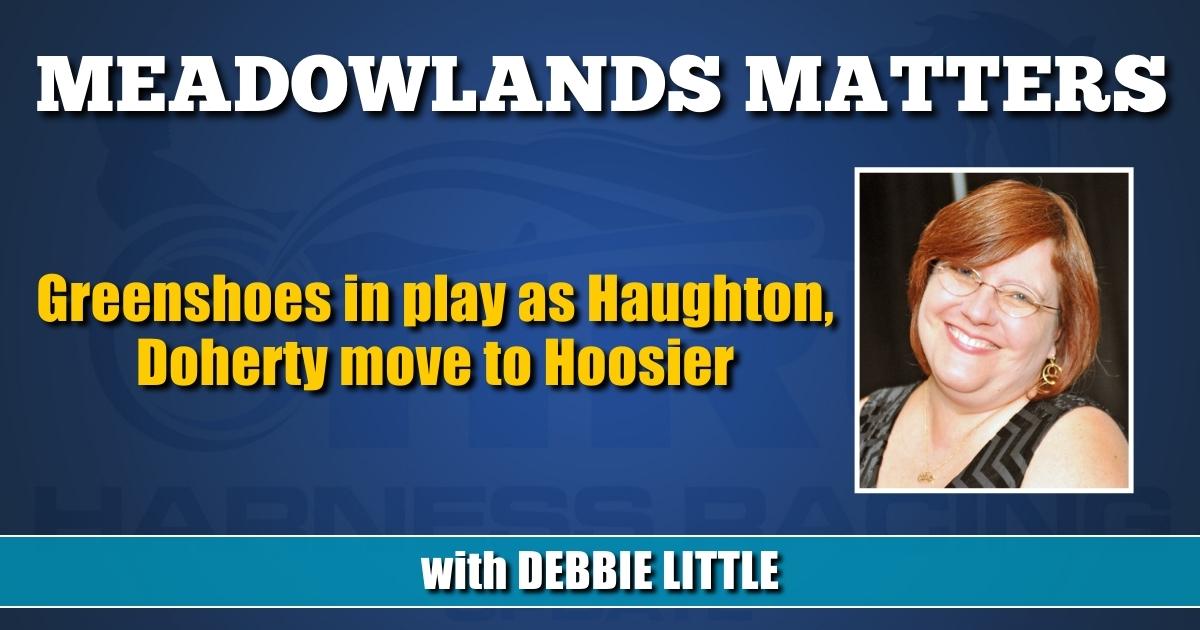 Greenshoes in play as Haughton, Doherty move to Hoosier
The Peter Haughton and Jim Doherty will be contested at Hoosier Park in 2023. That means offspring of Greenshoe — previously barred from racing in those stakes at The Meadowlands — will be eligible to race.
by Debbie Little
A stakes shift has given early presents to Greenshoe yearling owners.
With ownership of the Peter Haughton Memorial and Jim Doherty Memorial passing from The Meadowlands to the Hambletonian Society, the stakes have a new home at Hoosier Park and no longer fall under the Stallion Restriction Condition (SRC).
While at The Meadowlands, participation in the Haughton and Doherty, prestigious races for 2-year-old male and female trotters, respectively, were subject to the SRC, better known as "The Gural Rule."
The rule says: "This condition applies to sires and their foals conceived when the sire is 4-years-old, it does not apply to sires or their foals if the foal is conceived when the sire is 5-years-old or older."
The SRC was put in place with the hope of keeping 3-year-old colts on the track as 4-year-olds, rather than immediately going to the breeding shed.
Since Greenshoe retired after his 3-year-old campaign, his first crop, which sold well this year at Lexington and Harrisburg, would not have been eligible to the Haughton or Doherty if they remained at The Big M.
"I think we have 18 Greenshoes that are now eligible to those races, which is great news for both my owners and me," said trainer Marcus Melander. "It's really good for us. Greenshoe was an amazing horse and I think he'll be an amazing stallion."
Melander's barn includes the top three highest-priced Greenshoe colts: Vic Zelenskyy ($550,000), Lammtarra ($500,000) and Loxahatchee ($435,000).
"They looked great at the sale and we bought a lot of them and some expensive ones as well," said Melander. "So, of course, it's great news that we can race in another big race. And I'm pretty sure that all the trainers that bought a Greenshoe would all be happy about that, too.
"For me, growing up in Sweden, I always watched Hambo Day and the Peter Haughton was one of the early big races for 2-year-olds," said Melander. "It's a very prestigious race and I'm honored that we already won it this year with Kilmister."
Melander also trained Oh Well, who finished second to Kilmister, and Upstaged, who was placed fourth in the 2022 edition of the Haughton. In 2019, he trained Doherty winner Hypnotic AM.
"For me the Peter Haughton and Jim Doherty are two of the biggest races and it's a privilege to race in those races," said Melander. "And I'm very happy that we won them in the past and now we can do it in the future as well."
TOYS BRING JOY
When you're passing out toys, who better to have on hand than a receiver?
Former New York Jets wide receiver Quincy Enunwa will again be at The Meadowlands to help support the track's Toys for Tots collection drive.
"I think I first began working with the Meadowlands through a different charity event they hosted with the Muscular Dystrophy Association (MDA) and I appreciated their commitment to giving back as well as the space they provided for the event," said Enunwa. 
Since 2018, Enunwa has been part of the Big M gift-giving team and the track's chief operating officer/general manager Jason Settlemoir can't be happier to have him in their huddle.
"We are proud to host a Toys for Tots drive each holiday season," said Settlemoir. "The holiday season is about family and helping others that are less fortunate. We want to be able to make a child's Christmas just a little bit brighter."
Anyone who would like to donate a new, unwrapped toy can do so between now and Friday, Dec. 9, when a special event will take place from 6:30 – 8:30 p.m. in the track Clubhouse Lobby hosted by WPIX-11 sportscaster Justin Walters. Members of the U.S. Marine Corps Reserve will be onsite with Enunwa to collect toys from fans who can take selfies or get an autograph from the pass catcher, who was a college football star at Nebraska before joining the Jets.
"My time in Nebraska helped me realize the weight of the position that I've put myself in," said Enunwa. "There are people and communities who look at people like myself as larger than life and so I've made it my goal to leave positive impacts on the people I come in contact with. Especially those whose lives have been impacted by things outside of their control."
Those that donate a toy will receive a $5 betting voucher and also have a chance to win autographed NY Jets collectables – including mini footballs and Christmas ornaments.
The toys donated on that Friday will be delivered to Harlem Grown, a charitable organization in Harlem whose mission is to inspire youth to lead healthy and ambitious lives through mentorship and hands-on education in urban farming, sustainability and nutrition.
Enunwa has worked with this charity for some time because of their commitment to providing access, mentoring and knowledge to underserved communities.
"As a former professional athlete, I understand the importance of nutrition education and I appreciate the work they've been doing," said Enunwa.
PICTURE PERFECT
If a picture's worth a thousand words, the calendar being given away at The Meadowlands on Saturday, Dec. 3, is priceless.
Starting at 6 p.m., the first 500 guests who visit the Players Club Desk will receive a 2023 commemorative calendar filled with photos from award-winning track photographers Mike and Jim Lisa of Lisa Photo.