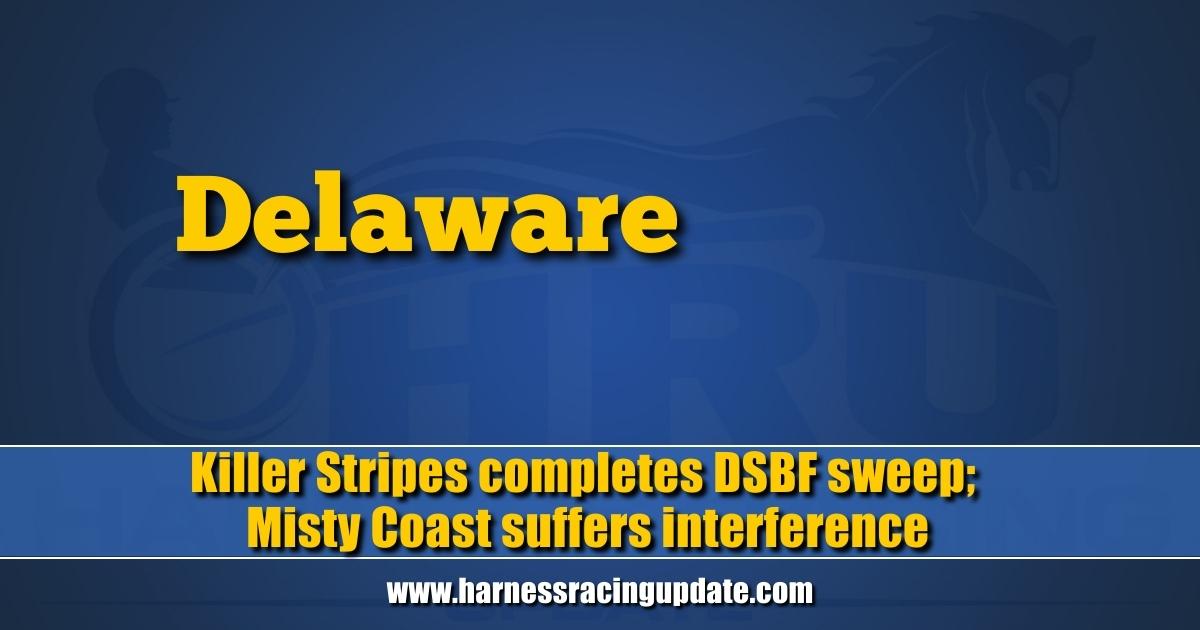 Killer Stripes completes DSBF sweep; Misty Coast suffers interference
 by Delaware Standardbred Breeders' Fund 
With odds-on favorite Misty Coast eliminated from contention on the first turn, Killer Stripes had clear sailing to control the terms through the final lap and record a 1:55.1 lifetime mark in Wednesday's (Nov. 22) $100,000 Ramona Hubbard Memorial, the final of the Delaware Standardbred Breeders' Fund series for 2-year-old pacing fillies at Bally's Dover. 
As Dexter Dunn landed Killer Stripes in the pocket behind early leader No Gel Nikki (driven by Montrell Teague), overwhelming 1-9 choice Misty Coast stalked patiently in fourth before Art Stafford Jr. angled her off the pegs to make her move midway on the first turn. However, Misty Coast locked wheels with Direct Mist at the :27.1 first quarter, and the pair stopped abruptly. 
Killer Stripes brushed to the lead at the bell, rated middle splits of :56.3 and 1:25, and edged clear of No Gel Nikki through the final turn. The Badlands Hanover—Tiger Style filly drew clear under mild encouragement to win — for the third time in as many career starts — by 7-1/2 lengths. No Gel Nikki was an isolated second, eight lengths clear of Spoiled Rotn Girl (Allan Davis), who just nabbed the flagging Clearlydreamy (Victor Kirby) for third. 
Misty Coast never recovered and finished sixth in the seven-horse field. 
Trainer Andrew Stafford co-owns Killer Stripes, who has now earned $70,000 in her career, with Thomas Ireland and Bonnie Benson. 
Killer Stripes paid $10.00, $8.80 and $10.00 across the board; No Gel Nikki returned $53.40 and $57.60; and Spoiled Rotn Girl paid $180.20. 
In the $20,000 consolation, Ezy Ranch Inc. homebred Ezycure and Montrell Teague sustained an extended first-over bid out of third to wear down pacesetter Spicy Tuna (David Rearic) and defeat her by 2-3/4 lengths in 1:58.4. Mavericks Missy (Russell Foster) rallied off third-over cover to finish third. 
Cory Mumford trains Ezycure, a Barber Pole-Best Business filly with three career wins and $44,150 in earnings. 
PERFECT TWENTY COMPLETES DOVER DSBF SWEEP
Perfect Twenty completed a sweep of the November Delaware Standardbred Breeders' Fund series for 2-year-old trotting colts and geldings with a 1:57.3 win in his $100,000 divisional final, held Tuesday (Nov. 22) at Bally's Dover. Royal Flirt captured the final for rookie trotting fillies. 
With Carls Legacy and Hespookshescores both off stride at the start, Perfect Twenty and driver Tim Tetrick had a fairly easy time clearing for the lead from post seven. The Yankee Royalty-Jetta Spring gelding strode clear of two other leavers — Kodack Black (driven by Montrell Teague) and Reddy Fox (Art Stafford Jr.) — to control a :28.2 first quarter. With just over a lap to go, Kodack Black revved up from the pocket to engage Perfect Twenty but broke stride at the bell, enabling Reddy Fox to inherit the pocket and Perfect Twenty to steal matching :29.4 middle splits. 
Up the backstretch, Perfect Twenty opened a nearly three-length lead before Kodack Black worked back into second and angled off the pegs again for the stretch drive. Perfect Twenty dug in to win by a length over Kodack Black, who was disqualified and demoted to fourth after having gained ground while off stride on the first circuit. Reddy Fox, who finished third beaten 11 lengths, was elevated to second; I Got It Made (Michael Cole) was elevated to third. 
"I had to be going forward, for sure I thought it was me and Montrell's race — his horse made a mistake but still made it a good race," Tetrick said, indicating that Perfect Twenty lacked the turn of foot that earned him winning margins of 13-1/4 and 8-1/4 lengths in his preliminary heats. "Usually my horse will take right off, but he was still good enough to get the job done." 
Trainer Clifton Green said that the winner of six of 11 career starts and $149,375 has been promising from the outset. 
"He was always a big, strong colt, and very smart. Never did anything wrong from day one."
Perfect Twenty, who paid $3.20 to win, is owned by Robert Allison Jr. and was bred by Jason Leid. 
The Marv Bachrad Memorial, the DSBF final for 2-year-old trotting fillies, saw Royal Flirt and trainer/driver Kim Vincent stalk patiently from third while 4-5 favorite Miss Daburg (Pat Berry) rated early splits of :28.4, 1:00.3 and 1:30.1. Miss Daburg's early exertion to clear from post eight took its toll on the final turn, though, as Lady Brass (Russell Foster) made steady first-over gains through the far turn and took the lead with a sixteenth to go, only for Vincent to flip Royal Flirt three-wide around that rival and nab her on the line by a head in 2:00.4. Lilmisswontbewrong (Corey Callahan) rallied belatedly to overtake a folding Miss Daburg for third three strides before the winning post. 
"This filly's just been getting better," said Vincent, who has long had a preference for developing young trotters. "She had some growing pains — big trotter — but she likes the big track. If you don't have patience with a trotter, you're not going to make it." 
Royal Flirt, a daughter of Yankee Royalty—J N Payton bred by William Miller III, increased her bankroll to $72,600 with her second career win for owner Bart Cavanagh Sr., competing as Providence West Inc. She returned $13.00 to win. 
Vincent and Cavanagh also captured the $20,000 combined consolation with Royal Mistake, a Yankee Royalty—Tug River Woman gelding who angled out of the pocket approaching the far turn, took the lead from faltering pacesetter Youngbuck, and staved off a late bid from 3-5 favorite Starlight Lounge to win by a head in 2:00.1. 
GAITWAY GUY CAPS UNDEFEATED SEASON IN DSBF FINAL
Gaitway Guy faced a stout challenge from Ajayi heading into the far turn in Monday's (Nov. 21) $100,000 Delaware Standardbred Breeders' Fund series final for 2-year-old male pacers at Bally's Dover, but he remained resolute through the final turn and capped his undefeated rookie season with a 1:55.3 score. 
Getting away from the pole in the field of seven, the Delmarvalous—Brussels Hanover gelding yielded to two outside leavers before driver Corey Callahan opted to make his move. 
"I just wanted to get away as close as possible," Callahan said. "Timmy (Tetrick, driving Delightinhisglory) grabbed the lead and looked like he had his horse settled, so I made my move, and it was pretty much over from there." 
Delightinhisglory worked through a :27.4 first quarter to clear Night Terror (driven by Roger Plante), and Gaitway Guy brushed from third shortly thereafter to clear the lead with a lap to go in the one-mile race. After a :57.4 half, Gaitway Guy was forced to accelerate nearing the far turn as Ajayi (Montrell Teague) posed a major first-over threat, making up six lengths to work nearly even with Gaitway Guy at three-quarters in 1:26.3. Undeterred, Gaitway Guy found more, digging in to rebuff Ajayi's challenge and opening a three-length lead in the stretch while driven out. Delightinhisglory reclaimed second late over Ajayi, who leveled off after his sustained bid. 
Following Gaitway Guy's seventh career win in as many starts — one that lifted his bankroll to $142,400 — Jeff Smith indicated that the GTY Stable homebred took some early conditioning to develop the demeanor of a champion: 
"He can get a little bumpy or on a line at times, but he's got the ability. He's done it every start. He was a bit of a problem child early, but he's come around." 
Gaitway Guy, who has now gone off at 1-9 odds in five consecutive starts, returned $2.10 across the board. 
In the $20,000 DSBF consolation, Notte's Mist overcame an eventful trip before drawing away to a decisive 1:55.3 win. He was embroiled in a three-way battle through a :27 quarter, ultimately taking back to third while Sweetest Swing pushed forward for control. After a :57 half, Notte's Mist was shuffled into midfield as Marshal Dillon mounted a first-over charge to the lead, but Trae Porter found room to slide the Powerful Mist—A La Notte Hanover colt off the pegs at three-quarters in 1:25.4. Once clear, Notte's Mist found another gear, overtaking Marshal Dillon at head-stretch and winning by a widening 7-1/4 lengths. Showdown Lynx rallied up the open stretch to collar a stalled Bad Boy Too for third. 
Wayne Givens owns two-time winner Notte's Mist, who paid $4.00 to win, for owner-breeder Reginald Hazzard.