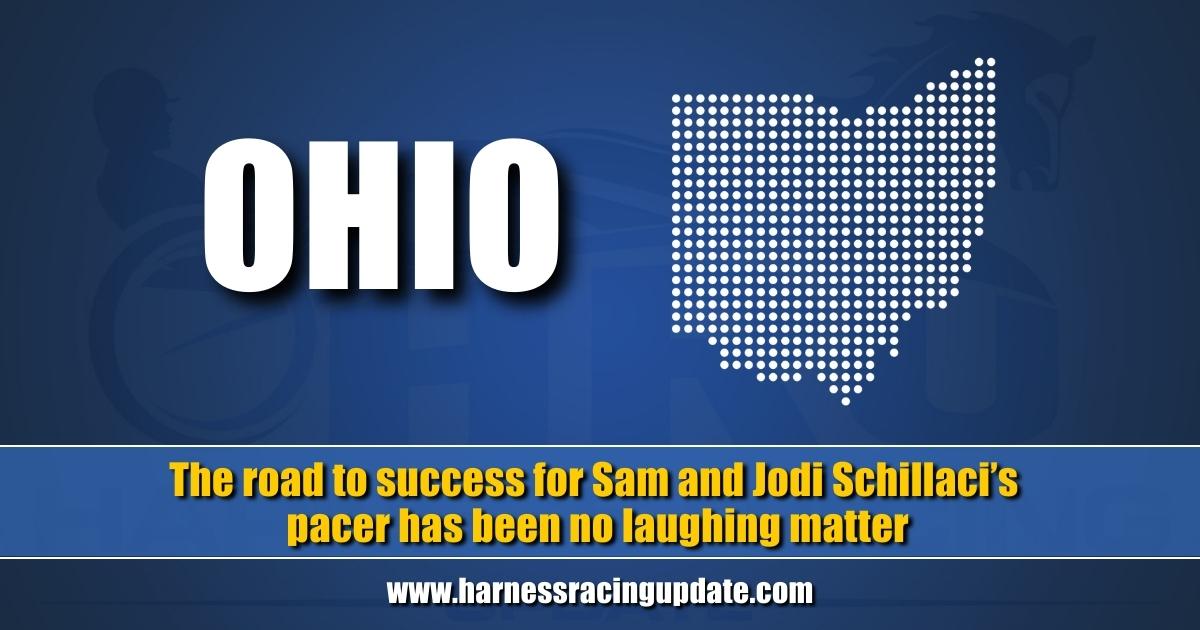 There have endless trials for Sam and Jodi Schillaci on the road to success with 5-year-old One Last Laugh, but the full-brother to Meadowlands Pace winner One More Laugh is finally living up to his promise at Northfield Park.
by Bob Roberts
Not every horse fulfills the expectations that begin soon after the auctioneer's hammer drops on a high-priced hip number. Nor can every horse live up to the performance of his rich and accomplished older sibling. Blood is blood, but intangibles sometimes block a path to the winner's circle.
That pretty much sums up the ruckus that was the opening act of pacing gelding One Last Laugh's life at the races. He was rich in relatives, but very poor in behavioral choices. At least he was until the lightbulb in his head went on earlier this year, his fourth season at the races.
It's a bulb that is burning quite brightly these days. One Last Laugh has won 12 times in 2022 (he won only seven times in the previous three years), has banked $179,089, and his 1:49.1 mile on June 26 at Northfield Park is not only his lifetime mark, but the fastest time in the history of the stable of his trainer and co-owner, Sam Schillaci.
One Last Laugh's turnabout cost Hunter Myers, his regular driver, a pretty penny for pizza. Myers has made good on his promise to treat the stable hands when and if he and his race partner both shaded 1:50 for the first time in their careers. Make that a half-dozen Italian pies, thank you.
In the fall of 2018, Sam and Jodi Schillaci, the husband and wife team that races at Northfield Park, along with partners Sam Bova and Peter Barbato, raised their collective hand at $100,000 at the Lexington Selected Yearlings Sale for the son of McArdle out of the Sportsmaster mare, Fancy Creek Funny.
The breeding made the colt a full-brother to One More Laugh, a winner of 39 races and $2.6 million in purses. Among One More Laugh's scores was the $1 million Meadowlands Pace of 2010.
When the Schillacis brought One Last Laugh to Sahbra Farms, their northeastern Ohio training center located less than 20 minutes from Northfield Park, they were like kids on Christmas morning.
"We knew he had talent, but it was hard to get it out of him," said Jodi Schillaci, assistant trainer to her husband. "He trained down like a good horse, but when it was time to start racing, he would pull himself up, stop, freeze and wheel. It was terrible. He got to where he wouldn't turn and wouldn't go. Somebody would have to run out and get him, unhook the jog cart and walk him back to the barn. This went on for years."
While he made it to the races as a 2-year-old, One Last Laugh did little more than show up for a bit of exercise before dinner. He won just once in seven starts with three last place finishes, earning a not-so whopping $8,544.
One Last Laugh was a head case, which made for cases of upset stomachs for the Schillacis.
"We thought about the money he cost and we were sick," said Jodi. "He just did whatever he wanted."
She may also have wondered if changing his name shortly after purchasing him was such a good idea.
"It was a terrible name," she said. "I can't recall exactly what it was, but it was something Blue Chip."
It was Ridicule Blue Chip, perhaps fitting for a horse not thrilled with putting forth an honest effort other than emptying his feed tub.
Everybody involved with One Last Laugh during his stubborn days got a good workout. Sam Schillaci would train him in the mornings at Sahbra and end up with aching arms and sore hands. Myers got unexpected exercise when called into action.
"First of all, you could hardly jog him," said Myers. "He'd pull your guts out. I had to go get one a few times. Once, he froze and was standing in the track infield. I hopped on a bike and pedaled out to help Sam."
"I remember that day," said Jodi. "It was rainy and crappy. Hunter went out there and unhooked him and walked him back, calling him all kind of names. Sam had to pull the jog cart back to the barn. He wasn't happy, either."
Things got so bad, there was talk of trying to unload One Last Laugh.
"There absolutely was a discussion about giving up on him," said Jodi. "It went on for a good year. Sam Bova was adamant about not wanting to sell. And, I wanted to keep going with him."
The split decision meant that Sam and Hunter and a couple of other drivers (Ronnie Wrenn and Chris Lems) continued to wonder if a splash of One Last Laugh's liniment might soothe their throbbing arms.
Life got a little better in One Last Laugh's 3- and 4-year-old campaigns as he won six of 57 starts, but he was still the class clown during training and racing. As a 4-year-old last year, he piled up a dozen runner-up finishes with just two victories. Jodi said he, "never wanted to beat anybody."
Training out at Sahbra continued to be an ordeal.
"At the farm, a groom would have to run him out to the track, and we'd have two horses waiting out there. We'd have to position him between them or he'd stop once it was time to go," said Jodi. "At the races, Ronnie helped develop him a lot by putting him where he'd have to follow a horse. If you put him on the front end, he'd pull himself up."
One Last Laugh began behaving and racing forwardly when an old hand took the reins during morning exercise.
"I think (semi-retired driver) Bill Irvine is a lot of the reason this horse has turned around," said Jodi. "He jogs him every day and lets him do what he wants to do. If Laugh wants to go fast, he goes fast. He'll be truckin' out there every day and that's not how we train our horses. For some reason, it's just agreed with him and he started getting better and better."
Irvine is 72 and has won over 2,0000 races, mainly on the Ohio raceway and fair circuits.
"When Bill takes a day off, Laugh doesn't go to the track, that's how much they get along," said Jodi. "They certainly have a thing going on."
She also believes that maturity has helped One Last Laugh focus on his job.
"At age 5, he's finally learned to like his job, but we honestly don't know why he's winning. It's not an equipment change, because he's still wearing the same equipment he did as a 2-year-old."
Although he has made 40 starts this year, Schillaci doesn't see One Last Laugh getting the winter off.
"It's hard to give him a vacation because you can't train him to do something he doesn't want to do," she said. "We'll probably give him a few weeks off here and there, but to shut him down, that' not going to happen. It would be too hard to get him back."
There is one thing One More Laugh has yet to earn – a nickname.
"No, he doesn't have one," said Jodi. "If he did, after what he's put us through, you wouldn't be able to print it."