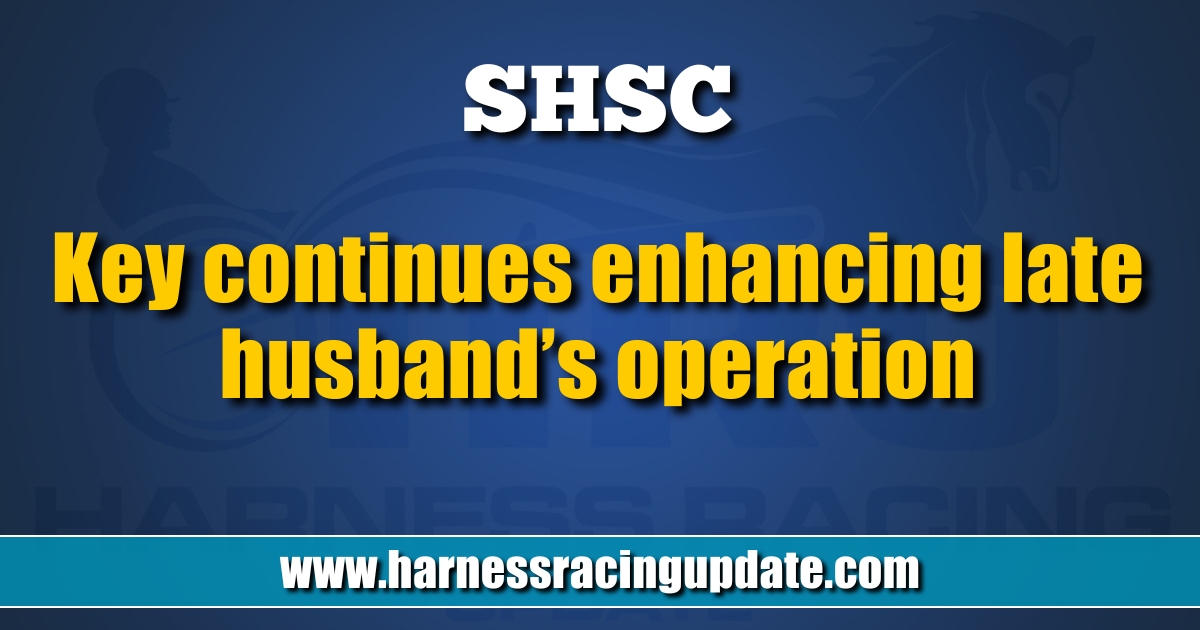 Key continues enhancing late husband's operation
Patty Key topped the Thursday's opening session of the Standardbred Horse Sales Company's mixed sale by paying $750,000
for a Walner stallion share.
by Ray Cotolo
Last year in Harrisburg, Shaun Laungani of Diamond Creek Farm helmed an over million-dollar revamping of Winning Key Farm, now under the operation of the late Bob Key's widow Patty Key. Patty came to Harrisburg for the start of the Standardbred Mixed Sale on Thursday (Nov. 10) looking to continue her mission of making Winning Key Farm a staple name in the harness racing sphere.
"It's all about the legacy of Bob Key. I wanted to make sure that he lives forever in the harness racing business. It's very emotional for me. It's been a year and 11 months [since he died]. I know he'd be very happy with what I'm doing because we had differences many times throughout the years," Patty said laughing, "but this is my dream and that's what I'm focusing on right now."
Patty, whose husband's plethora of achievements include a victory in the 1993 Hambletonian with American Winner, received a round of applause at the gavel slam for Hip 1052, a share of the phenom stallion Walner which sold for a final bid of $750,000.
"It was fun. It was a nice high," Patty said, laughing. "I enjoyed it and I'm having a good time. [Bob] said to me, 'I want you to have a good time.' It took a long time for me to get to this point, but I'm enjoying every minute of it. I've always been in the background with him, but I've heard every conversation and I've been involved in everything and there isn't anything that I don't know about every deal he made or every conversation he had with everybody. I was quiet in the background, but I learned. A lot of people don't know who I am and that's because it was all about him taking the center stage and that's where he liked being. Now, like I said, I want to make sure that his legacy lives on and it will."
The share Key purchased represents a fractional ownership interest in the breakout stallion who has sired Breeders Crown winners King Of The North, Jiggy Jog S and Special Way as well as Hambletonian Oaks winner Fashion Schooner. It also reserves Key the right to breed one mare a season through the life of the stallion.
"That's what I intend to do. We've culled a lot of mares and lots to bring in new mares with better records to buy and breed to and Walner was a big part of that," Patty said. "I've been trying to get into him and this was the only way that I could, but I went for it. I wasn't leaving home without it.
"I knew it was going to go high. I was kind of surprised. I didn't know everybody was going to be bidding that fast and quick… but I had a number in my mind and I just committed to it."
David Reid, manager of Walner's syndicate and president of the share's consigner Preferred Equine, said of the astronomical sale, "You'd probably have to go back to the Valley Victory days or Speedy Crown days… you know, that far ago. [But Walner's] proven in the sales ring. He's proven on the racetrack. If a farm wants to breed champions, they are going to have to have shares in horses like that."
Reid was also happy to see the share sell to enthusiastic hands, saying, "Mr. Key was a great supporter of the sport and I'm happy to see the Winning Key farm team came here and did their work. Mrs. Key was here. Obviously, she's passionate about the business as well, which is great."
Patty now presses through the second year of the Winning Key recalibration with her eyes targeted on the many broodmare prospects entering the ring for the final day of the Mixed Sale on Friday (Nov. 11).
"I think our progress is going great," Patty said. "I'm looking to buy even better mares off the track and I'm going by times of the race mares and turning them into broodmares. Then, with the stallion shares we have and the other stallions that we are able to get, I intend to have a small, but fun boutique-type farm."
'FRANK' COMES HOME
The same year that Ron Burke's freak speedster Mission Brief tackled the boys to a second-place finish in the 2015 Hambletonian, Burke raced another promising youngster in the Peter Haughton Memorial named Southwind Frank. He took the Peter Haughton with ease and then launched a campaign that brought Team Burke back into the clenches of a Hambletonian trophy in 2016. And though Marion Marauder foiled Team Burke's next try at a Hambletonian, the colt completed a campaign worth $1,946,693 and an O'Brien and Dan Patch Award for his 2-year-old season.
Southwind Frank retired to stud with Diamond Creek Farm following his 3-year-old season and has since sired five crops with the first landing on the ground in 2018. But the now nine-year-old stallion's future has widened after Ron Burke reacquired his boy on the first day of the Harrisburg Mixed Sale.
Burke brought a $215,000 bid to buy back the stallion from a now-dissolved syndicate helmed by consigner Diamond Creek Farm. And while he envisions continuing Southwind Frank's stallion duties, Burke also is possibly eyeing suiting the stallion back with a bike.
"It's like he's coming home to us," Burke said. "We're thrilled. We're trying to decide… we're going to stand him at stud, but I think I'm going to train him, too. We're in a process – we were just trying to get the horse bought and then we'll come up with what we're going to do.
"Obviously, he was a champion to me," Burke also said. "He's only 10 next year, and he's capable of doing all of it and everything. I'm very thrilled to get him back."
His reacquisition of Southwind Frank also continues Burke's expansion of his racing enterprise, which has branched from a pure racing operation to an operation also breeding its own prospects.
"That's the thing, we have mares that we can breed to him," Burke said, "depending on what state we move him to or what country we move him to, so we'll see."
No matter the future, Burke said "For sure, he goes home today and starts jogging tomorrow. I'm certain about that."
THE DAY'S OTHER LEADERS
Five-year-old Andover Hall mare I D Diana NO, consigned by Preferred Equine, brought the overall second-highest bid of the Thursday session when exiting the ring for $225,000 to Euro Stall SE of Berlin, OH. The mare is out of a dam who is a half sister to triple millionaire Mr Muscleman. She is also a three-quarter sister to Dunk The Donato, the dam of world champion and millionaire Plunge Blue Chip as well as stakes-placed Splash Blue Chip and Threepointbluechip.
Just two other sales topped $200,000 on the day. The first came earlier in the session at Hip 1102, an 11-year-old trotting mare named Honor Thy Daughter. Consigned by Preferred Equine, the mare is a full sister to stakes-placed Honor And Serve and has foaled six horses including stakes-placed Beautiful Game as well as Special Hill, the dam of Breeders Crown winner Special Way. Honor Thy Daughter went at the hammer's bang to Kentuckiana Farms for $205,000 and is in foal to Muscle Hill.
And while many left the building at sun's fall, a supplemental sale entry brightened the day's twilight with a winning bid of $205,000. The bid came from Michelle Crawford for the Cantab Hall mare Unexpected Gift, who sold as Hip 1624 and was consigned by Preferred Equine. Selling as just the sixth horse left of the session, she is a four-year-old mare by Cantab Hall and a half sister to millionaire and world-champion gelding Spider Blue Chip. The mare sold in foal to Walner.
Preferred Equine led consigners with $3,803,000 grossed from 89 sales with three other consigners breaking seven figures: Concord Stud Farm, Northwood Bloodstock and Diamond Creek Farm.
SESSION WRAP
"I thought it was good overall," said Reid of Thursday's session. "There were fewer numbers sold today, but I thought the day went well. We sold a broodmare in the supplement in foal to Walner, and obviously Walner had a big day with the share sale that was outstanding.
"It's a credit to the people who desire the best and I think that's what you saw straight through the day," Reid also said. "It's no secret that quality always sells. You could say that for 100 years and today, I think, when you see the catalogue it was maybe a little bit of a mixed bag of offerings and that's maybe where you see the little peaks and valleys, but quality sold well. You saw the stallions sell well, the Captaintreacherous, the Walner share was tremendous."
Day one of the Harrisburg Mixed Sale grossed $10,154,000 from 273 sales, which puts the cumulative gross from Harrisburg's four days at $54,510,000. The average sale on the day was $37,194 while the average over the four days sits at $46,313.
"I was really pleased with today," said Dale Welk, president/director of operations for the Standardbred Sales Company. "Could've been more pleased, but the good horses sold really well today and I think that's a great indicator of how tomorrow is going to be. I don't think we're going to have a record year – I was hoping and it was looking close with the yearling sale, but as long as we can stay on par or close, I'm going to be very happy.
"There was a gentleman in today – I'm not going to name the farm – but he said he'd like to have bought four or five more today, but he doesn't have help to take care of them," Welk also said. "He said he has his help stretched to the max and he doesn't want to put any more on them. I think that's hurting… there's just a lot of things going on. I think the middle and the lower ends are going to suffer anywhere, as far as mixed sales go. I think tomorrow, on the higher end, things are going to be incredible."
Friday's session features primarily racehorses including many star mares in the traditional "Fabulous Fillies" block of the sale as well as other prominent young racehorses looking to switch hands.
"It's looking like a lot of the good horses are here already," Welk said. "We do have some racing in the Matron tonight that are in the sale tomorrow. I think we're going to have a good day tomorrow."
Welk turned 64 years young on Thursday.