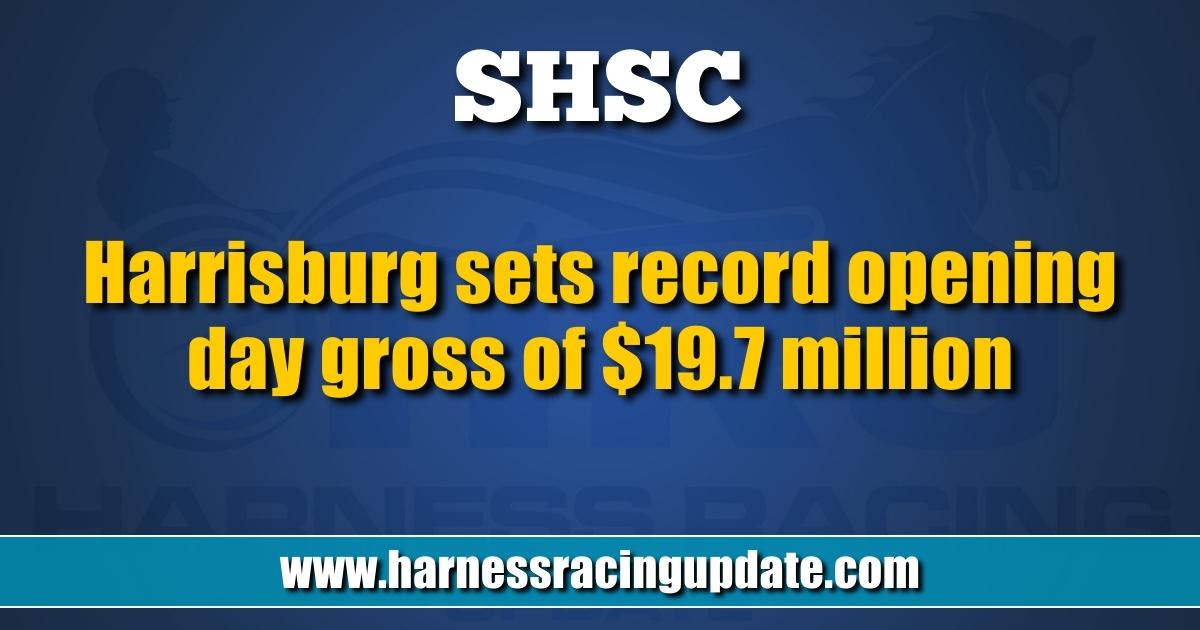 Harrisburg sets record opening day gross of $19.7 million
Hanover Shoe Farms and Concord
Stud combined to sell all 10 of the highest-priced yearlings.
by Ray Cotolo
Business inside the Pennsylvania Farm Show Complex continued as usual. Now two years back in its home facility following the adventurous 2020 session in Timonium, trainers and investors perched to their regular nests around the sales ring on Monday (Nov. 7) and resumed dreaming through their pocketbooks.
Monday's session grossed $19,716,000 from 165 yearlings, up 11.2 per cent from the $17,730,000 handled from 136 yearlings in 2021. The strong session quelled the early nerves of Dale Welk, president/director of operations for the Standardbred Horse Sale Company, who said with a laugh he was "ready to crawl into a groundhog hole" until the bidding intensified in the afternoon.
"We are up around $2 million in gross. If I'm not mistaken, that's probably the highest grossing single session ever, anywhere, for this," said Welk. "The good sires, the Captains, they want them and they are there. There were some horses, actually some Greenshoes that were pretty incredible individuals that drew lesser, then there were others that brought tremendous money.
"I owe a lot to the consignors. It's the breed. The breed has just improved so much. The depth of the stallions and everything is incredible."
All the while, Welk roamed the arena through the opening session with a boot on foot and, occasionally, with the aid of a cart. He's recovering from an incident where he stepped on a nail, which resulted in several surgeries and the loss of a toe.
"It's been quite an experience," Welk said of the ordeal. "I was just talking to Ray Schnittker about it and I said, 'I've worked with yearlings and been with Hanover for 46 years and all the equipment that I've ran – tractors and chainsaws – never spent a day in the hospital. I spent eight days for stepping on a nail."
The day overall was a big positive for Welk. Despite the sale average dropping 8 per cent, because of 28 more horses sold this year than last, the energy inside the Farm Show Complex retained its vigor. People sprawled the halls and crowded the back of the sale's arena from the start at noon until the time came to hit the credit office at the hammer's last slam around 5:30 p.m.
"The crowds were unbelievable," Welk said. "When you hear consignors telling me that yesterday they had to get people's phone numbers and get them to come back because they didn't have room to show yearlings on the floor. That was incredible. At the start of this, there weren't many empty seats.
"[With the crowds] I said that I'd probably get hurt worse riding that cart around than trying to walk," Welk said with a laugh.
HANOVER AND CONCORD TOP CONSIGNORS
Two farms: Hanover Shoe Farms and Concord Stud combined to sell all 10 of the highest-priced yearlings on day one.
Hanover sold the first, second, fourth, eighth and ninth highest-priced yearlings.
Concord sold the third, fifth, sixth, seventh and 10th highest-priced yearlings.
Little wonder the two farms were the top two consignors on the day.
Hanover led in gross sales with $7,528,000 for 48 sold and an average of $156,833 that was second for consignors that sold three or more yearlings.
Concord led in average with $170,742 after gross sales of $5,293,000 for 31 sold.
BUYERS FIRE ON TROTTING FILLIES
Of the five highest price tags from the opening session, four are trotting fillies. The heftiest bid of the day came from Jeffrey Snyder, who won the auction on Date Night Hanover, a Chapter Seven filly bred by Hanover Shoe Farms who sold as Hip 38. The half sister to $450,000-plus earner Delayed Hanover, whose granddam foaled Hambletonian winner Trixton and Breeders Crown winner Impressive Kemp, lured $600,000 from Snyder, who has continued to branch to buying trotters after many years of success with pacers.
"[She has a] great pedigree, first-time Chapter Seven… She was bred only to Southwind Frank. The second dam and the third dam are a great family," Snyder said. "I think there will be some residual value in her as well. [She's a] beautiful filly and I thought she was the best filly in the sale. She's not real big, but she'll get around half-mile tracks and she's Kentucky and New York-eligible, as well. Most people who I've spoken to… she was touted as the best filly in the sale. I'm glad we were fortunate enough to buy her."
Regarding his expansion into acquiring trotting stock, Snyder said "We've done very well in Sweden and France and we've got trotters over there. We've had a lot of luck overseas, so we switched to trotters over here."
Andrew Harris made a return to the yearling game on Monday. The prominent East Coast trainer is turning the gears on his operation again after losing his wife Amanda to breast cancer two years ago. He acquired the second-highest sale of the session Tandem Hanover, selling as Hip 60, for $510,000 from Hanover.
"It took me a couple of years. I wasn't mentally ready," Harris said on rebuilding his stable. "I went through losing my wife and I'd bounce out and get checked back in, but everything in my life has come back together and everything is going great. It's just… it's time now. Moving forward and time to get going."
Harris, rocking AirPods in each ear, stayed on a call with clients and friends Bill Pollock and Bruce Areman as he determinedly stayed in the auction on the arena wing for them to acquire a horse high on his list. The filly – by Walner – is a full sister to Temporal Hanover, who has earned over $750,000 and finished third in the Hambletonian.
"The Walners are amazing and she's got broodmare value," Harris said. "I know it's expensive, but she's going to be worth that with her babies coming out at some point, too. I don't think, with these fillies, that you can overpay for these fillies when they've got that type of breeding. It wasn't about the prices, just about if I thought it was worth it. At that price, I still thought it was worth it. Look at what these things are selling for. If she has a baby and goes out and sells the first baby for that kind of money, then it's just a time thing.
"I'm hoping it's an amazing horse – as good as Temporal," Harris also said, "but there's no guarantees with these things and I told Bill and Bruce that, but at least with a filly you've got a fallback plan."
Luc Blais, over the course of 20 minutes, accounted for $1 million in sales when he first struck the $500,000 winning bid on Greenspring, a Greenshoe filly selling as Hip 109 from the Concord Stud consignment. Purchasing as agent for Serge Godin's Determination, Blais bought the filly as one of seven total new horses on the day in a restocking of his barn. Greenspring is a Pennsylvania-eligible half sister to $750,000-plus earner In Range as well as prominent Ohio stallion Long Tom.
Blais then put the highest bid on a trotting colt of the day in Pennteller Hanover, a New York and Kentucky-eligible son of Chapter Seven who sold as Hip 119 and for $500,000 from Hanover. He is the fourth foal from world champion and millionaire Possess The Magic, who also sired half-million-dollar earner Master Of Law. Her second dam also is a half sister to Secret Magic, the dam of near millionaire In Secret and triple millionaire Manchego.
"It's always too expensive for me," Blais said with a laugh on both his purchases. And though he purchased out-of-province bred horses for his Ontario-based operation, Blais said he has plenty of options.
"Mohawk has lots of Grand Circuit racing there," Blais said. "The money is good there and that's a nice track to race. When they are good it doesn't matter to go race."
Julie Miller also struck on the session's trotting filly fever when snagging Linnea G, selling as Hip 134, for $475,000 from Concord Stud. The filly, surrounded by the sea of strong Walner and Chapter Seven offspring selling, is by Tactical Landing from the black-type and deep pedigree of Solveig and is her 10th foal. Her family includes double millionaire Shake It Cerry, millionaire Uncle Lasse and world champion Dontyouforgetit among others.
"Solveig has been a great producer, a great mare. She's had a lot of foals, but I still think she has a lot of value and commodity in the market," Miller said. "[This filly] was just really eye-catching. She was athletic, she had a lot of poise in the sale today. So, you roll the dice and we hope it works out."
And Miller's choice for a Tactical Landing prospect was a classic move to zag when everyone else zigs. "You know what, I think for the first year [Tactical Landing] didn't have a bad year at all," she said. "I think the fillies raced really nice. You can't have all Walners and Chapter Sevens because you have to be able to breed to something else."
MORE FIGURES
Looking to before the pandemic plundered the market in 2020, the 2022 session appeared to build off the economic momentum building from the 2019 sale. Monday's session topped the 2019 gross of $19,227,000 for a gain of about 2.5 per cent. The average also increased to $119,491 from 2019's average of $114,446 from 168 yearlings sold, compared to 2022's session of 165 yearlings – a 4.4 per cent increase. The median price also slid upwards to $95,000 in 2022 from $90,000 in 2019, though both the median and average sales from 2019 and 2022 were trumped by the confined 136-yearling offering of the 2021 opening session.