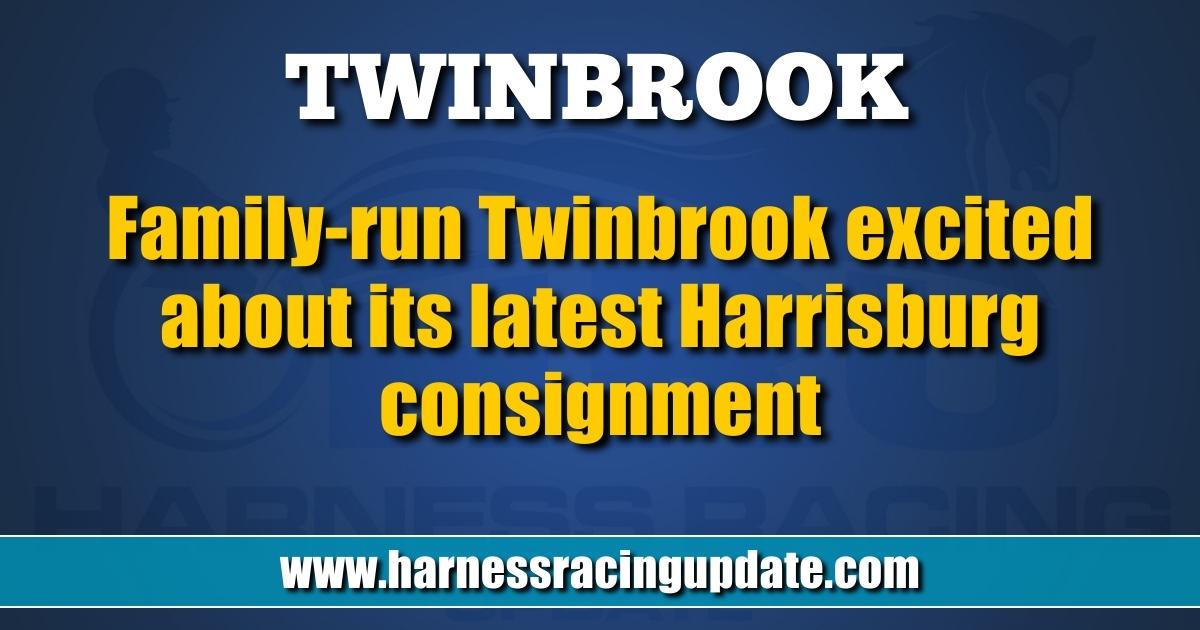 Family-run Twinbrook excited about its latest Harrisburg consignment
by Chris Lomon
Located in Embro, ON, Twinbrook Farms is a family owned and operated standardbred breeding farm. Husband and wife team Rob and Tammy McNiven, and their daughter Jenna, oversee the 130-acre property that is home to nearly 100 horses. Bringing the 'Twin B' prefix to the North American standardbred scene, Twinbrook continues to be guided by its mandate of providing quality yearlings to the public.
Rob and Tammy are still highly involved in the operation of the farm, but Jenna has recently stepped to the fore and oversees the business, including Twinbrook's 32-yearling consignment at the Standardbred Horse Sales Company's (SHSC) yearling auction that begins Monday (Nov. 7) in Harrisburg, PA. Twinbrook has long sold most of its yearlings in Harrisburg.
"I know we've said over the last year or two that we are retiring and that our daughter Jenna is taking over," said Tammy. "We're doing this because of her. She absolutely loves it. To be able to do it well, you have to have the skills and the backing to go forward. We're still there every day. We work in the barn every day and I do all the bookwork, but Jenna is the hands-on person. If you look at the horses the past three or four years, it's phenomenal what she's done. She's a great horseperson."
As are both of her parents, who have played an integral part in Twinbrook's success story.
"We've really upped our broodmare band over the last 5-7 years, and I believe we are one of the top broodmare bands in all of Ontario and that really reflects on the offspring we have to sell," said Tammy. "It's a pleasure. It's not an embarrassment to take anyone out of the stall. Everyone is a great-looking animal, they stand well, and they all come from very good families. We're very proud of all that."
The McNivens are also buoyed by what they are seeing in the standardbred industry in recent times.
There has been a noticeable sense of optimism at recent yearling sales, said Tammy.
"After being in Lexington and seeing that sale, as well as being in London and part of that sale, it's absolutely encouraging going into Harrisburg. Everyone seems so excited about the new first-crop sires and to own racehorses. There is a really good momentum and there was a really good vibe around those two sales. It spills over. Absolutely. When the racehorse people have good years, it spills over to the breeders having a good year, and so on. It's just a very good, well-oiled wheel for the industry."
McNiven said she is excited about Twinbrook's yearling offering in Harrisburg.
"We have 32. Sixteen of them are ours, bred by Twinbrook, a few of them we've raised for clients and then there are a few that we'll meet at the sale, newbies for us. They are clients from the past and they always send us nice, quality horses."
Here are some of Tammy's top picks, along with a few value options, at Harrisburg:
"Of course, one that stands out is a Bettors Delight sister to Twin B Joe Fresh. Her name is Twin B Roulette (Hip 58). We didn't breed Twin B Joe Fresh, but we bought her mother for $21,000 out of the Harrisburg Sale and raised Twin B Joe Fresh here in Ontario and sold her to Chris Ryder last year for $65,000. All of her credentials are amazing. A New York Sires Stakes champion, a Kentucky champion, and I believe she's the only filly to have two sub-:49 miles at 2. This is why we do what we do. Brittany picked out the mating, we raised the horse, and the rest is history. I can't tell you she looks like Joe Fresh or is like Joe Fresh because I can't see her heart. But she's a nicely put-together filly and I think people will like her. She's a nice, athletic-looking filly.
"We have a Captain Crunch colt, and his name is Twin B Defender (Hip 157). From what we have seen from the Captain Crunch's – we have three – they are really nice-looking horses. I think he's going to be very well received at the sale this fall. It's hard to pick just a few because we have 16. It's like asking, 'Who is your favorite child?' It's hard to play favorites."
VALUE PICKS
"There's a Stay Hungry colt, who is out of a sister to Always A Virgin. His name is Twin B Hungergames (Hip 523). The dam has had three fillies, and nothing has worked out. But this is the first colt, and he is absolutely stunning. If he was on the floor, people would stop and say, 'Who is this guy?' He just looks the whole part. I think he's going to be a sleeper just because of the pedigree. The mare unfortunately died this year, foaling this colt, so this is the last one out of the mare.
"We also have a nice Captain Crunch Colt. His name is Twin B Cerealkillr (Hip 812). The mare is getting a little long in the tooth, but everything she has had has made the races. Like I said earlier, the Captain Crunch yearlings really have a nice look to them. They are really nice and big and athletic. We quite like them."
"I really, really like our Well Said filly, Twin B Amazon (Hip 765). Well Said is not in everyone's marketplace. The big trainers won't be looking at Well Said because he's been around a long time. But he still has really great racehorses. This filly, I just love her. There is just something about her. She goes all day out in the paddock and she exercises herself. She's a real athlete. Someone is going to get a nice buy with her."