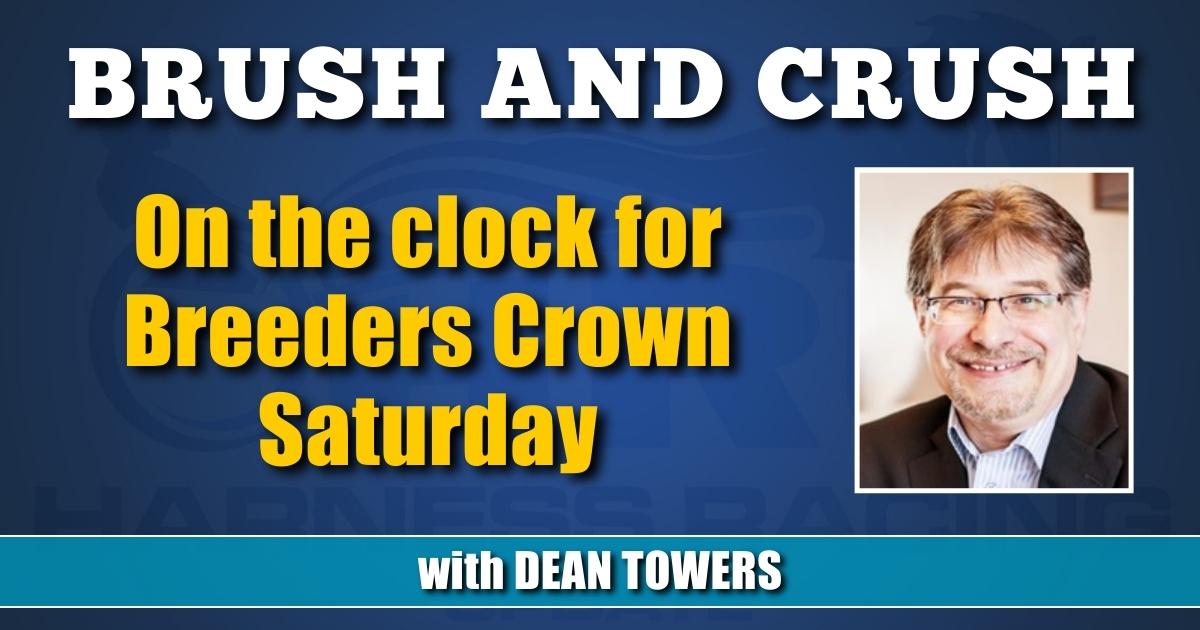 On the clock for Breeders Crown Saturday
Minute-by-minute thoughts of an epic night at Woodbine Mohawk Park.
by Dean Towers
There aren't too many evenings in the sport of harness racing like the Breeders Crown night. Great horses, deep pools and good racing action tends to keep me glued. It's a place I'm happy to be on the clock. Please let me share my minute-by-minute thoughts as the night unfolded.
7:37 – When Bella Bellini pulled off cover in the mare trot, the result was never in doubt. The daughter of Bar Hopping has been in and out at times this year (as a bettor I can never figure her out), but this was surely one of her best efforts. Atlanta, as expected, tried her heart out in her last race on Canadian soil. Farewell to a great one, and kudos to the Burke barn and driver Yannick Gingras for keeping her so good for so long.
8:04 – The mare pace was the race I was looking forward to the most. Superstar Test of Faith looked a little bit vulnerable after her elimination, and it turned out she was, but it wasn't because of a lack of effort. Grace Hill was superb with a two-move front-end tour-de-force in a super-fast 1:48.4.Let's hope the rest of the evening's races are as entertaining as this one.
8:24 – The 3-year-old filly trot, in my view, was the season-ender for a fantastic crop of horses, with Jiggy Jog winning all the chocolates. Unfortunately for the undisputed Queen, Joviality, she picked a bad time to have an off night. This blemish, I hope, doesn't tarnish her wonderful season. This race kicked off the Pick 4 with a pool of over $100,000, so the bettors seem to be out tonight.
8:54 – The rumors that the front end at Mohawk wasn't holding up well were extinguished as Treacherous Dragon and Niki Hill were one-two in the 3-year-old filly pace. I thought trainer Nancy Takter had the daughter of Captaintreacherous looking as good as a horse can look on the racetrack, and she delivered a gritty effort in 1:49.1. It was a very nice drive by Scotty Zeron.
9:20 – King Of The North absolutely clobbered a nice field of colts in the 3-year-old colt trot. Driver Mark MacDonald put on a clinic in both the elimination and final, reminding everyone this is a speed game, and he even did it this time from the rail. It's kind of rare in modern racing to have a young trotter be good in his first start at 2, and his Crown start at 3. That, in my view, is credit to both trainer Ray Schnittker and MacDonald, after an up-and-mostly-down year.
The sixth race pick 5 pool was $218,000, so the bettors continue to respond well to the evening.
9:49 – I guess this year's 3-year-olds have not been quite as exciting as in years past. However, there's always anticipation when two good colts like Pebble Beach and Bythemissal meet. Bythemissal didn't get the best of trips and did take a step or two in the lane, but Todd McCarthy did his best Mark MacDonald impression and bottomed out his foes in a tidy 1:48.1. The speed game continues, Pebble sure likes Canada, and Todd McCarthy is making his mark in the sport.
10:18 – There isn't much to say about the open trot, other than that was easy! Ecurie D made 6-5 look like 1-20. Interest rates are going up, but that was over double your money with less risk than the bank. Greg Reinhart of DRF Harness reported that Ake changed the bridle for this start, and it looks like it worked out pretty well.
The last pick 5 garnered 108,000 in wagering dollars; the crowd keeps firing.
10:43 – Will Allywag Hanover be as good as he was at the Red Mile when he upset Bulldog? That was question of the evening on everyone's mind, and although he tried, and driver Todd McCarthy did everything he could to soften up the Bulldog, the big horse was back. I, like many of you, love watching fantastic racehorses, and what a joy it has been to watch Bulldog Hanover. He delivered a smashing performance, and it was a great way to end a perfect evening.
I hope you all enjoyed it as much as I did.