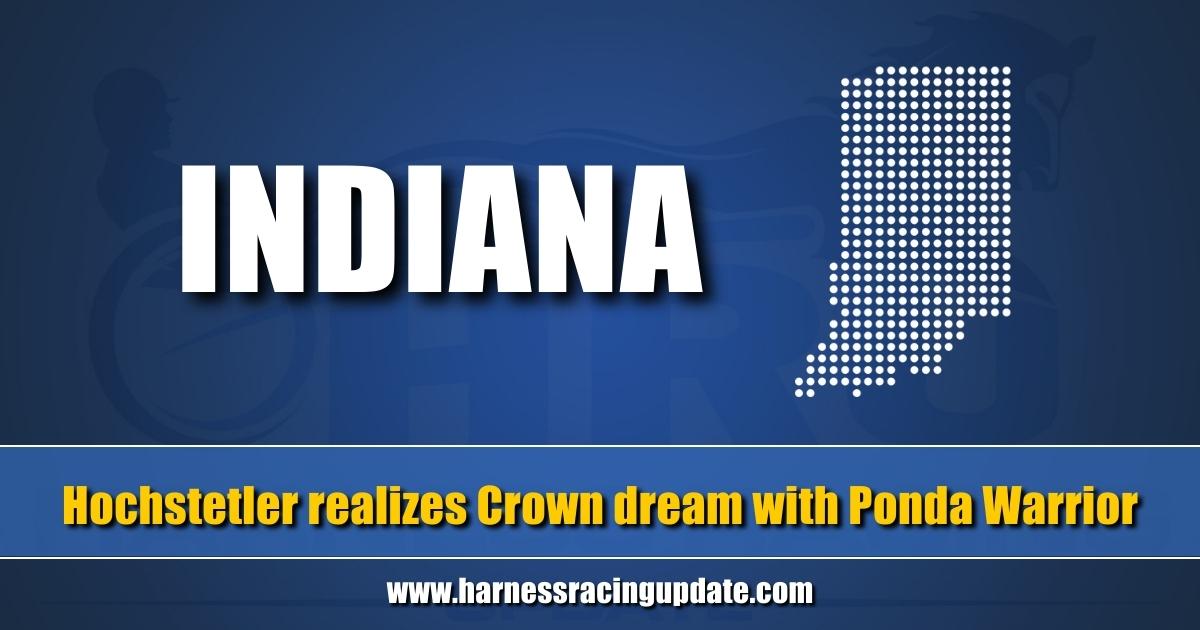 Hochstetler realizes Crown dream with Ponda Warrior
The sophomore pacing colt and recent Indiana Sires Stakes Super Final winner will start Saturday in one of two Breeders Crown eliminations at Woodbine Mohawk Park.
by James Platz
This weekend, trainer Jay Hochstetler and partners Finkelberg Racing LLC and South Of The Tracks Rac Inc. will be living the dream when they send out Ponda Warrior in a Breeders Crown elimination for sophomore pacing colts. The son of Rockin Image—Sweetnsinful enters Saturday's (Oct. 22) eighth race, the first of two $25,000 divisions, fresh off a 1:49.2 score in the $250,000 Indiana Sires Stakes Super Final on Friday (Oct. 14) at Harrah's Hoosier Park. A finish of fifth or better will advance the pacer to next week's $675,000 final.
"This is the dream. This is why I wanted to do this. If I wanted to just go make money, I'd go find some job that was a lot less stressful than this," said the conditioner and co-owner. "The reason we do this is because we want to experience the highs. The highs of going to the Breeders Crown is almost as high as you can get; the only thing higher is winning it."
Hochstetler ships north to Woodbine Mohawk Park with a colt he had hoped to point to the Crown last season. As a freshman, Ponda Warrior won a pair of Indiana Sires Stakes divisions and finished second in two more. Unfortunately, the pacer finished last in the Super Final and the connections decided otherwise.
"I was going to take him at 2 until he kind of got roughed up in the final and didn't finish very well. We said, 'Well, let's shut him down and make sure he's good for next year,'" he said. "I kind of always had it on the schedule this year and then he had a bad month."
The path to a Super Final victory, let alone the Breeders Crown, was a challenge to navigate for the 29-year-old horseman and his pupil. The 3-year-old impressed early, finishing first or second in each of his first six seasonal starts, including a sires stakes divisional win. Shipping to Northfield for the Milstein, Ponda Warrior managed a sixth (1:50.3) in a race Bythemissal dominated with a 1:48.4 effort.
"He started out on fire and he put in a couple consistent efforts after that. For a little while, JK Victory had his number for a bit, but he was still racing well," Hochstetler said. "I took him to Northfield and he got a really tough trip there. He raced great, but he got a tough trip."
Returning to Indiana, Ponda Warrior paced second in an Indiana Sires Stakes contest for regular driver Jimmy Whittemore, before struggling through races where he finished fifth, seventh and sixth.
"After that he drew bad one time, then he was sick for one start, so he didn't race very good. He made a little break behind the gate that we still don't know why he did that. So we just kind of had unfortunate circumstances for about a month there," said Hochstetler.
It was not the way any horseman would want to enter the program's biggest night. Drawing post eight in the field of 10, the connections enlisted Dexter Dunn to pilot Ponda Warrior in the Super Final. When the gate folded on the night's 14th race, Dunn found a position along the rail in fifth through a :53.1 opening half. He pulled the 10-1 third choice from the pylons shortly after and advanced to second to challenge favored Soaring Now out of the last turn before bolting clear of the field to win by more than three lengths. The victory was the biggest to date for Hochstetler, and punched Ponda Warrior's ticket to the Breeders Crown.
"He came to the final and I thought he was as good and healthy and as sound as I could have possibly made him, and it worked out perfect. He finally showed what I thought he was the whole year," Hochstetler said. "Before the final we said that if he wins or puts in a monstrous second-place effort, we'll go. Low and behold, that's what we got. We got a really solid win that made it a no brainer."
Hochstetler, the son of Connie and Homer Hochstetler, and grandson of Hall of Famer Doug Ackerman, gets his first crack at the Breeders Crown with a horse to which he has a special connection. Ponda Warrior is the second foal from American Ideal mare Sweetnsinful, a pacer that the trainer and his father conditioned in New York. The mare won 15 times in 57 career starts and earned nearly $400,000 on the track.
"She was the hardest-trying horse I had ever dealt with in my life. She had every excuse to not race well, or not even race, because she had so many physical issues. She would just go to the gate and it was like nothing else mattered," Hochstetler said, comparing the colt and his dam. "He doesn't have those issues that she did, but he's super easy to drive like she was. You could leave the gate a thousand or you could take back to last, he lets you do whatever you want, so did she. He likes to win, obviously, and so did she."
Bred by Pond-A-Acres, Hochstetler purchased the colt for $37,000 out of the 2020 Hoosier Classic Sale. Now a winner of $355,600, Ponda Warrior has drawn the outside post in his Crown elimination, an eight-horse field. Scott Zeron is listed to drive.
"Nobody wants the eight hole. Obviously, you want to be as inside as you can. But it's only an eight-horse field. We just need to beat a couple to get into the final. If he races like he did last week, I think he'll be fine. It will work itself out. If he's good enough, he'll get there," Hochstetler said.