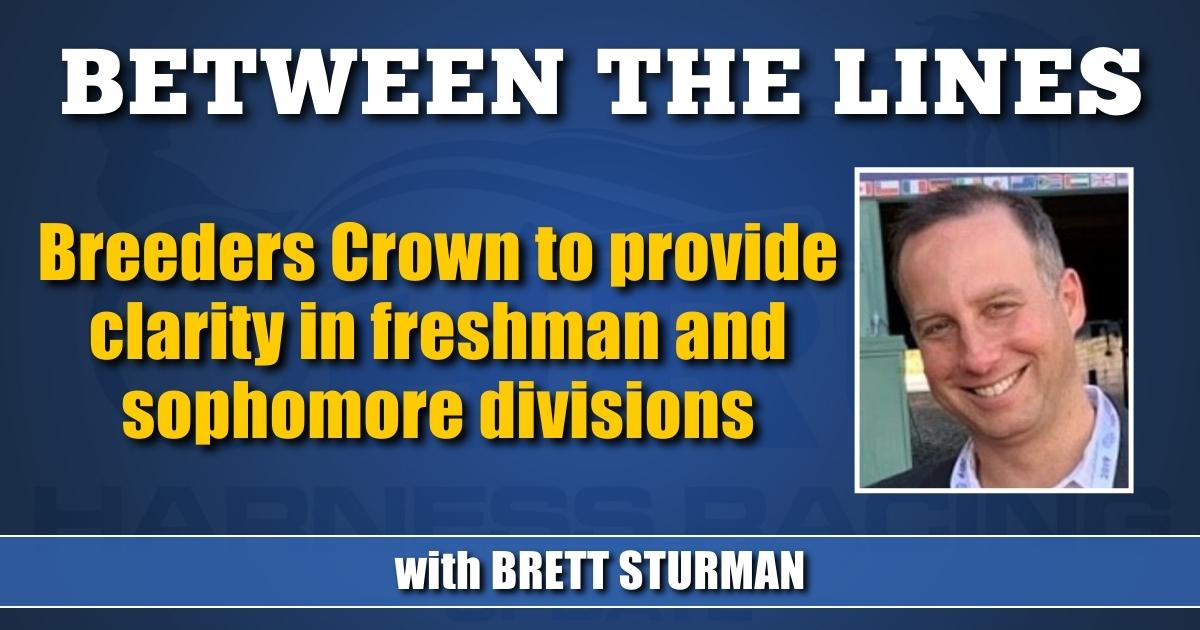 Breeders Crown to provide clarity in freshman and sophomore divisions
by Brett Sturman
It's not often you can make the argument that the Breeders Crown can impact divisional considerations for every single 2- and 3-year-old division, but that is the case this year. Even for horses that have remained comfortably atop their divisions through much of the year and will control their own destiny heading into the Breeders Crown eliminations, things can change quickly over the next two weeks.
2-YEAR-OLD MALE PACER
The two most accomplished, thus far, in this division are Stockade Seelster and Save America, and both drew post 10's in their respective eliminations. Stockade Seelster bounced back from his lone anomaly loss in his Metro elimination to beat Save America off a pocket trip in the Metro final. He's yet to leave Canada and looking at his remaining schedule won't do so. Both an O'Brien and Dan Patch award hang in the balance.
Save America shows two tough losses in a row entering the Breeders Crown, but prior to that stormed through signature events north of the border including the Nassagaweya, Champlain and a Metro elimination. You'd have to think that if either he or Stockade Seelster were to win the Crown, they'd be in the driver seat for year-end honors.
Combustion burst onto the scene recently with a 1:49.3 win at Lexington in his International Stallion Stakes division. It will be interesting to see if he can keep it going for Pelling. Both he and Save America are nominated for stakes following the Breeders Crown, including the Governor's Cup and Matron. Like Combustion, Confederate also enters off a super-fast mile at Lexington. Tip Top Cat warrants a note as a recent big money purchase; makes first start for Burke. Mamba makes his first start in his Crown elimination following his upset over Save America.
2-YEAR-OLD FEMALE PACER
With Twin B Joe Fresh (1:48.4) shut down for the season following another stellar win in the International Stallion Stakes, Sylvia Hanover could be in control of her own destiny in the Breeders Crown. Sylvia Hanover enters the Breeders Crown with a 6-for-7 record including wins in her last five, most recently sweeping the elimination and final of the She's A Great Lady. She's currently ranked a couple of notches below Twin B Joe Fresh in the current Hambletonian/Breeders Crown top 10 poll, but that could change with a Breeders Crown win.
Strong Poison sports a 1:49.3 mark taken from a KY Championship Series race five back, and all her recent second-place finishes have come only at the hands of Twin B Joe Fresh. She seems capable of giving Sylvia Hanover a run for her money and is also staked to the Three Diamonds to close out the year if additional consideration is later needed. Charleston sports an impressive 7-5-2-0 record and will get another shot at Sylvia.
2-YEAR-OLD MALE TROTTER
Oh Well was ultra-impressive in winning the Mohawk Million and looks to now parlay that into two straight wins in Canada after an impressive summer at the Meadowlands. A Breeders Crown win would further solidify his top status. Kilmister elected to take a bye into the final having won the Peter Haughton earlier this season and he too would be able to stake claim to the division's top billing with a win. Wellwood-winner Winners Bet also rates a shot; and this trio of horses are all eligible to the Valley Victory in November should there be any unsettled business.
2-YEAR-OLD FEMALE TROTTER
Righteous Resolve has been all the rave in these parts for much of the season, and she'll get a chance to cap off a dream freshman season next week, having elected a bye to her Breeders Crown final. Having set a Champlain stakes record in September, she elected to sit out the Mohawk Million, a race she likely would have been favored in against colts.
Instagram Model is the other filly who elected a bye and will bring a 5-for-6 record into the Crown final. Trainer Stoebe was quoted earlier this year as saying that the two main targets this year for Instagram Model was the Jim Doherty Memorial (mission accomplished) and the Breeders Crown; a win in the latter could make things interesting. Not to be overlooked, Special Way also enters the Breeders Crown with five wins a row, the most recent a win the International Stallion Stakes and has beaten fellow Crown entrant Walner Payton three times in row; greatly flattered when that rival came back to crush foes next out in the Bluegrass.
3-YEAR-OLD MALE PACER
With Beach Glass out of the Breeders Crown following surgery to repair a trapped epiglottis following his fourth-place finish in the Bluegrass, it leaves Bythemissal in the driver's seat of the division. A winner of the Adios, Milstein, the Little Brown Jug as well runner-up in the Hempt (Beach Glass), a Breeders Crown as a supplement win would cap off quite a journey that started not too long ago. With it would come not only divisional honors, but potentially a shot at Bulldog Hanover in the TVG Pace. Not without a shot in his own right, Pebble Beach finally found his way back to the winner's circle in the Tattersalls Pace following five straight second-place finishes prior. It seems like ages ago at this point, but he kicked off the 3-year-old major stakes season with a win in the Pepsi North America Cup. Between those two signature races as well as a Breeders Crown win would be a worthy resume for Dan Patch award consideration. Bythemissal and Pebble Beach are also both Matron-eligible.
3-YEAR-OLD FEMALE PACER
It's hard to believe, but despite missing almost the entire season, last year's 2-year-old champion Niki Hill suddenly leads the way once again amongst the sophomore pacing fillies. Returning in September after being sidelined since an injury in May from just one seasonal start at that time, she came back to win convincingly in the Bluegrass and Glen Garnsey Memorial races at the Red Mile over the same fillies that have highlighted the division to date. Even in limited starts, a win in the Breeders Crown would make her worthy of a repeat Dan Patch winner.
Max Contract was third to Niki Hill last out in the Glen Garnsey and she went on a tear earlier this season when she won the Mistletoe Shalee, Tompkins-Geers and the Shady Daisy consecutively; has come a long way this season and she'd warrant strong consideration if she could pull off the Breeders Crown upset. Boudoir Hanover leads this group in seasonal earnings and her highlight is a 1:48.3 win in the Nadia Lobell; main rival to Niki. Just as she did last year, the Ohio-bred Sea Silk has had another strong year.
3-YEAR-OLD MALE TROTTER
This has been one of the wider open divisions throughout the year, but Rebuff did himself a tremendous service last out when he stormed down the lane to win the Kentucky Futurity and in the process returned to his best early season form. Unfortunately, due to recent sickness he won't have a chance to defend his Breeders Crown win from last year, but he may currently be the one to knock off at the top of the division, even while missing this year's event. Between the Futurity, a division of the Dancer, a Hambletonian elimination win and a national season's mark of 1:49.3, he would probably win the division's Dan Patch if voting were today. Who stands to move ahead if they win the Breeders Crown? That would be Cool Papa Bell. He's since proved that his Hambletonian heroics were not a fluke, and he was closing in similar fashion to Rebuff in the Futurity. He's also won the NYSS Final (again at double digit odds), the Langley at Hoosier and while there's no moral victories, he made up a ton of ground in the Beal after breaking early. A Crown win to go along with the Hambletonian may be good enough.
3-YEAR-OLD FEMALE TROTTER
Joviality has reigned supreme for much of the year as not only being regarded as the best filly in this division, but being the best 3-year-old trotter, period. Another Breeders Crown win just as she did last year would obviously solidify her worthy standing, but a couple others are on her heels.
Jiggy Jog drew into the other elimination, away from Joviality. Provided they meet up in the final – and if Jiggy Jog were to win – she'd have a case to leapfrog Joviality. These two just met up in the Filly Futurity where Jiggy Jog used the tactical advantage to get the jump on Joviality and keep her at bay; she also beat her in their Hambletonian elimination. In turn, Joviality has beaten her too, and it ups the ante for their looming showdown in the Breeders Crown. I'll admit, with those two fillies battling it out with the colts at times, Fashion Schooner has seemed totally overlooked despite being nearly perfect this year. She's taken a different route by racing almost exclusively at the Meadowlands for much of the summer, but the Hambletonian Oaks champion did beat Jiggy Jog when they met up in the NJ Classic in September. She'd be just as deserving as any for the Dan Patch if she were to win the Breeders Crown.