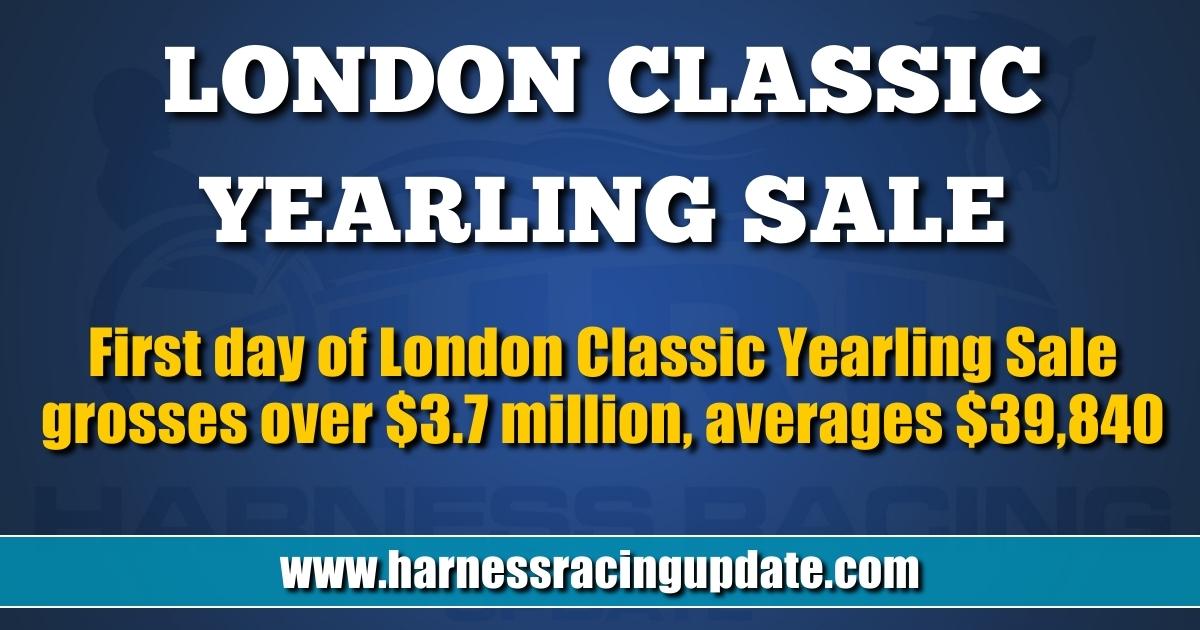 First day of London Classic Yearling Sale grosses over $3.7 million, averages $39,840
The average was up 29 per cent and the gross was up 11 per cent from the last time there was an in-person sale in London in 2019.
by Dave Briggs
The first day of the first year of the newish London Classic Yearling Sale is in the books and first-year general manager Greg Blanchard said he is pleased with the results, so far.
Tuesday's (Oct. 18) opening session of the two-day sale at the Western Fair Agriplex in London, ON saw 94 yearlings gross $3,745,000 for an average of $39,840.
"I was very happy with Day 1. I didn't know what to expect coming in. Considering that, I'm ecstatic to see the numbers that we had," Blanchard said.
"I feel great for the team here. This is the first year that we're running the sale, so we have pretty much an all-new staff. They have really embraced it and put a lot of hard work into it. So, to see us pull off a good opening day like that was really, really rewarding."
Prior to this year, the auction was called the London Selected Yearling Sale and it was operated by a consortium of Ontario breeders. The new incarnation is owned and operated by the Western Fair Association.
The London Selected Yearling Sale was a virtual sale only in both 2020 and 2021 due to the COVID-19 pandemic.
The last time the London sale was held in person was 2019. Comparing this year's opening session to the first day of the 2019 sale, show's this year's average is up 29 per cent — from $28,370 in 2019 to $39,840 — and the gross was up 11 per cent — from $3,376,000 to $3,745,000.
When compared to 2018, this year's opening session is up 39 per cent in average (from $28,700 to $39,840) and up 30 per cent in gross (from $2,870,000 to $3,745,000).
"I was watching what happened in Lexington and I saw the strong sale they had in eastern Canada. Alberta had a strong sale, so I was optimistic," Blanchard said. "Then, (Monday), seeing the large turnout for the viewing day so I had a good feeling about today.
"I thought it was a pretty strong catalogue coming in. The overall numbers of horses were a little bit lower than I had hoped, but understandable right after a two-year absence and that uncertainty… to see the increase in incredible."
Six yearlings were sold for $100,000 or more on Tuesday.
"That impressed me, to see that many hit six figures. That was tremendously encouraging," Blanchard said. "I think the timing of the recent announcement about the increase to the OSS purses for next year… and I think seeing how the Ontario-sired performers have been doing, especially in recent years, beyond the provincial program, shows that they can go with the best in North America. I think that was something that was in our favor. Then, the U.S. dollar the way it is, that's probably another factor that helped."
Topping the sale was Hip 38 Heist Seelster, a Resolve colt out of Hollywood Beauty that sold for $165,000 to Gestion Zane of Laval, QC from the Seelster Farms consignment. Seelster also sold the second-highest yearling of the day — Hip 73 Liege Seelster, a Bettors Delight colt out of Los Angeles that was purchased by Mac Nichol of Burlington, ON for $125,000.
Dean and Ashley Wilson consigned the next two highest-priced yearlings. Hip 77 Munchie Muscles, a Muscle Mass colt out of Lady Bling, sold for $122,000 to Gregg McNair of Guelph. Anthony Haughan, agent, from Cambridge bought Hip 69 Muscone, a Muscle Mass filly out of Jangone for $110,000.
Hip 84 Salem Seelster, a Muscle Mass filly out of Speak Of The Devil, also sold for $110,000. She was purchased by Determination Stable of Montreal from the Seelster consignment.
The final six-figure yearling was Hip 96 Century Komodo, a Bettors Delight colt out of Michelons Filly purchased by Scott McEneny of Waterdown, ON from Century Springs Fam.
Resolve led all stallions in average at $85,000 for five yearlings, followed by Muscle Mass ($69,000 for 19 yearlings), Archangel ($65,000 for three) and Bettors Delight ($53,417 for 17).
Seelster led all consignors in both average ($60,130) and gross ($2,224,810) for 37 yearlings.
Preferred Equine was next in gross with $1,493,178. Dean and Ashley Wilson were second in average with $40,765 for 35 yearlings sold.
Blanchard said he is hoping for good results from today's (Oct. 19) second and final sale session. The London Classic Yearling Sale did not seed its yearlings.
"We mixed it. It was totally random," Blanchard said. "So, I think, on balance, that (Wednesday) should be a good day. I'm not going to predict that we'll match today's numbers, because they were, I thought, exceptional, but if we're in the ballpark I'll be very happy with that, for sure."
In 2019 for the complete sale, 291 yearlings combined to gross $6,285,000 for an average of $21,598. In 2018, the gross was $7,064,800 for 312 yearlings sold for an average of $22,644. In 2017, the sale grossed $7,536,000 for 306 sold, an average of $24,627.
Keep in mind, this year, about 100 fewer horses will be sold than in any of those three above years.
Today's sale session begins at noon at the Agriplex.