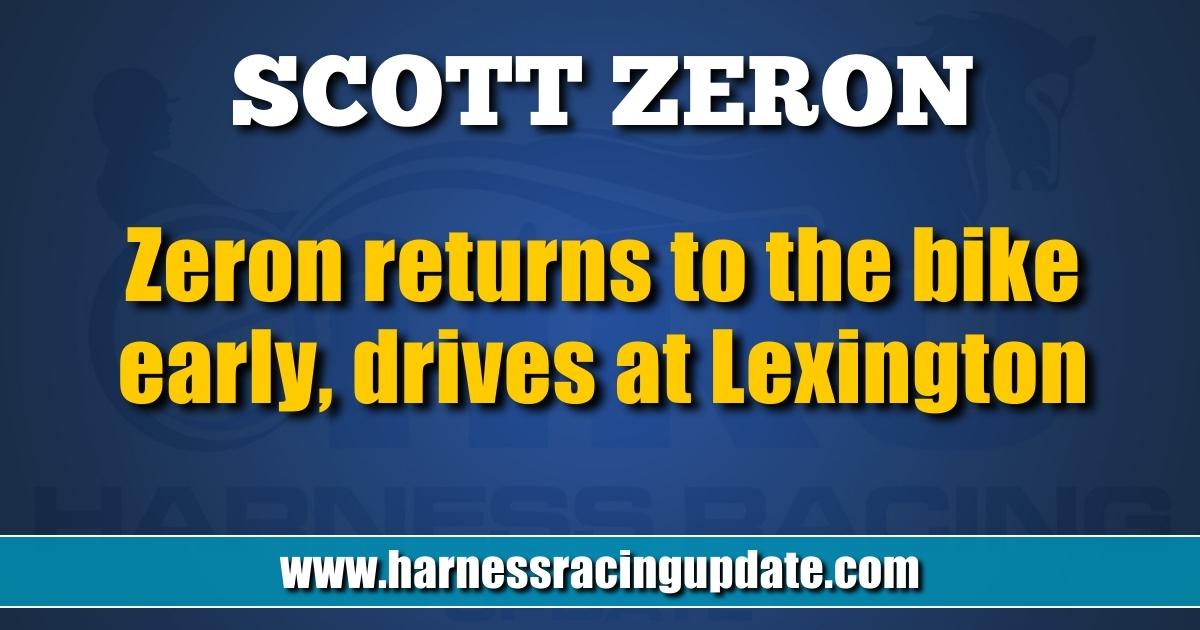 Zeron returns to the bike early, drives at Lexington
quotes by James Platz / story by Dave Briggs
Driver Scott Zeron made his return to the sulky on Saturday (Oct. 8) at the Red Mile after being sidelined more than two months due to injuries sustained in a racing accident on July 26 at The Downs at Mohegan Sun Pocono.
Zeron finished last in his first start back after Ants Marching made an early break. The driver was fourth with Gung Ho in the $99,700 International Stallion Stakes division for 2-year-old pacing colts won by Combustion.
On Sunday, Zeron immediately made his presence felt in the fifth race, finishing second by a head with Bare My Soul in a $10,000 event for Kentucky Filly Futurity eligibles.
"I didn't intend on driving this weekend, but I trained horses all week here on Monday, Tuesday and Wednesday, and I felt strong enough that I could come out here and do it. So, it feels great to be back out there. Second place still feels… well, it feels even a little bit worse than it did before," Zeron said, laughing.
"I feel good. There's no pain involved. My concern was with the muscles that have atrophied without being able to workout and keep a regular schedule on the racetrack, I was worried about grabbing horses. I won't put anyone in a position to use me when I don't feel like I can be at my best so I took my time.
"I've been in the race bike a bunch to get the feel of being back in the bike and be in the position that I'd like to sit in, so I wouldn't say I'm my best because I haven't won yet. When I win, I'll feel like I'm back."