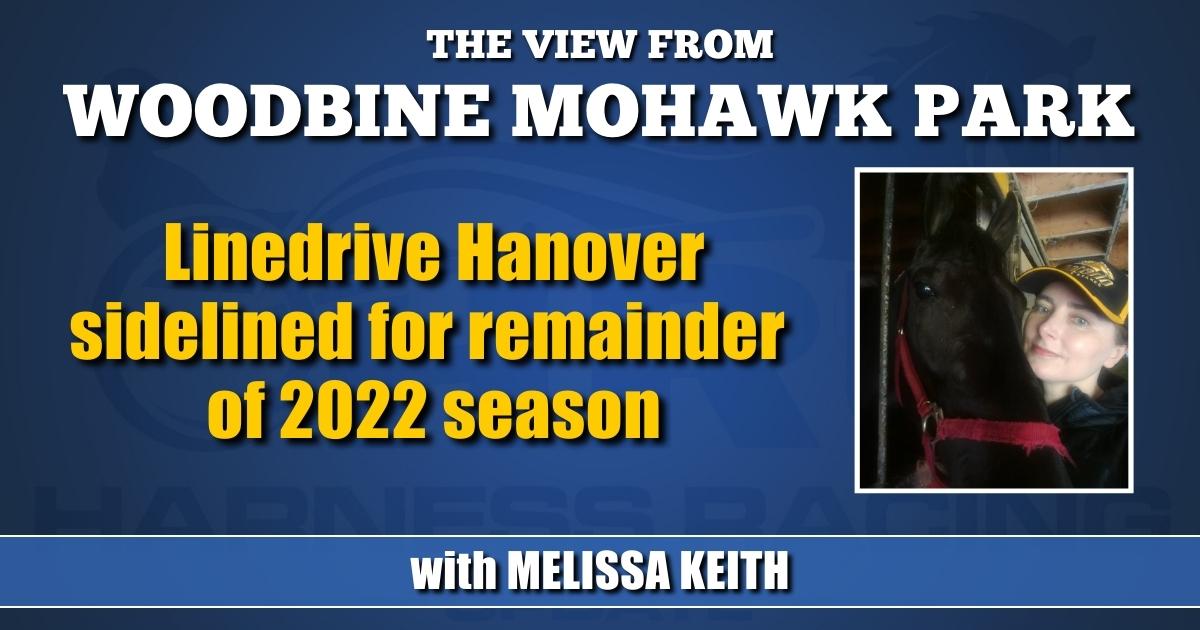 Linedrive Hanover sidelined for remainder of 2022 season
Focus is now on a 2023 comeback for top 4-year-old pacer.
by Melissa Keith
The 2022 Major League Baseball postseason begins tonight (Oct. 7), but the harness horse with the baseball name has already called it a year. On Thursday (Oct. 6), trainer Anthony Beaton confirmed that Linedrive Hanover (p, 4, 1:49.0h; $302,567) will not return to the races before 2023.
The anticipated rematch between Bulldog Hanover and Canada's fastest-ever pacer on a half-mile track is unlikely to materialize: The former, a world champion stallion, is expected to return to stud on a full-time basis next year, and Linedrive Hanover will miss the 2022 Breeders Crown at his home track, Woodbine Mohawk Park.
Speaking from Lexington, Beaton told HRU the reason racing fans haven't seen Linedrive since his July 23 show finish in the Joe Gerrity Jr. Memorial at Saratoga: "We shut him down after Saratoga…The couple of starts at The Meadowlands caught up to him. He's had his issues in the past, and they started to catch up to him."
The Betting Line–Lillian Hanover gelding fractured a tibia at age 3, slowing down an already-slow beginning to his racing career.
Connections agreed to give the late-blooming gelding some time off following his third-place effort as beaten favorite in the Gerrity.
"Sometimes you've just got to bite the bullet," said Beaton. "We said, 'Maybe we'll shut him down and see if we can bring him back a little later and prep for the Breeders Crown, and focus on that.'"
What was supposed to be a short layoff soon turned into a longer-term recovery for Linedrive Hanover.
"Once we did shut him down, we had him x-rayed and the bone bruising that he had at two caught up to him, so the ownership group decided they were just going to shut him down for the rest of the year."
Linedrive Hanover was sent to Kentucky.
"As it turns out, we did find a little chip in that one ankle, behind, so he actually just had surgery here the other day in Lexington," Beaton told HRU. "We got it removed. We did have to put a couple of screws in his hind ankle. The bone bruising was getting that bad that he was starting to get some cysts in there."
Familiar with Linedrive Hanover's past issues, Dr. John Cummins recommended Kentucky Equine Hospital colleague and co-owner Dr. Wes Sutter perform the operation.
"I think Kentucky's ahead of the game and he's in great hands down here," said Beaton. "If there's ever anything major that we need to find out with Linedrive, we always forward his x-rays to Dr. Cummins and he was one of our go-to guys. Obviously Dr. Malone did a great job up in Canada to keep him going as long as he did. We're very fortunate. In January, we had a maiden; in July, we were pacing in 1:46.
"We're just trying to do the right thing for the horse," said the Puslinch, ON-based trainer. "Our game plan with him is to bring him back to Classy Lane [Stable Training Centre] in January and we're going to swim him, and I'll train him back for the owners… We're not going to rush him back… I think we do have a great horse on our hands. It's just a matter of keeping him sound and healthy."
There won't be another showdown with his best-known rival.
"That's one thing we can look forward to next year: We don't have to deal with Bulldog," said Beaton, laughing.
Linedrive Hanover was the last horse to defeat the sport's fastest-ever pacer, going gate-to-wire for James MacDonald May 22 in the Charles Juravinski Memorial final at Flamboro Downs. Bulldog Hanover went first over as the 7-5 favorite that race, never clearing; Linedrive Hanover held off a late move from O'Brien 2021 Horse of the Year Desperate Man, lowering Flamboro's track record to 1:49 – still the fastest mile this year by a 4-year-old gelding on a North American half.
"I didn't know what James' plan was that night," said Beaton. "I just handed him over the lines and said, 'Good luck, Let's get what we can get.' I knew we were going to have to go a big mile. Did I expect to be on the front end? No.
"It was a little rivalry for sure, because actually Jack Darling is at the end of my shedrow, and Bulldog was like two or three stalls down from Linedrive," Beaton said. "We were pulling the shoes on Linedrive there before he went to Kentucky. The blacksmith took him up to his shop and coincidentally enough, he's got two stalls and Bulldog was on one side, Linedrive on the other. He got pictures of it."
After the Gerrity, Linedrive Hanover needed time off.
"He came out of that race very sore. We had just four or five weeks to get him ready for the Canadian Pacing Derby, which was our next thing on the schedule," Beaton said. The pacer's 2022 campaign was put on hold after July.
"He just had the surgery the other day, so he's on stall rest right now in Lexington," said the trainer. "I don't know what our timeline will be, as far as his first start back goes. We're not going to rush him. He's going to tell us when he's ready. He'll be in Kentucky until January: At Dr. Cummins' for the next little bit, then he's going to move over to Anvil and Lace [Farm in Cynthiana, KY]."
His comeback will likely be at Woodbine Mohawk Park in early 2023. Linedrive Hanover's runner-up finish, a nose behind Jimmy Freight in the June 18 Mohawk Gold Cup Invitational, was one of the gelding's best performances this year.
"That was definitely one of them," Beaton said," but that horse has never had a bad start for me… It's just awesome to have him under my care. I have to thank the ownership for trusting a guy to have a horse like that."
Linedrive Hanover is owned by West Wins Stable, Wellington, FL; McKinlay and Fielding, Toronto, ON; and Mac Nichol, Burlington, ON.
Beaton had purchased four yearlings at Lexington at the time of his interview. He said he had looked at, but not purchased, Hip 250 Legendary Hanover. The Huntsville half-brother to Linedrive brought a top bid of $260,000, "a little more than my budget." As with Linedrive Hanover, the colt will begin his career with trainer Casie Coleman of Wellington, FL, so Beaton said he's hopeful he might one day get to train him in Canada.
"That would be awesome. I was very interested in the horse."
It's understandable, given all the upside to Linedrive Hanover.
"He just doesn't seem to get tired," Beaton said. "He's got a great set of lungs on him. He's very efficient-gaited. He's got the qualities of a good horse. He's actually pretty easy-going. He likes attention. He's always pawing at the gate and whatnot. We do tend to maybe cater to him a little more. He might get that extra carrot or banana."
Riley Murphy was caretaker to Linedrive Hanover before the gelding left for Kentucky.
"He took over the care of him and he's done a wonderful job with him."
With a seasonal record of 11 wins in 17 starts, only missing the board once in his first full year of racing, the former $75,000 Harrisburg yearling rapidly made up for lost time in 2022.
"Linedrive, he's not going to back down from anybody," said Beaton. "The big thing was the Juravinski, but we had other great memories: The win streak, going to The Meadowlands. I got to race my first horse, as a trainer myself, at The Meadowlands this year and I got to go to Saratoga to race him, which was probably one of the highlights… When he went out on the track, he left everything out there."
ß