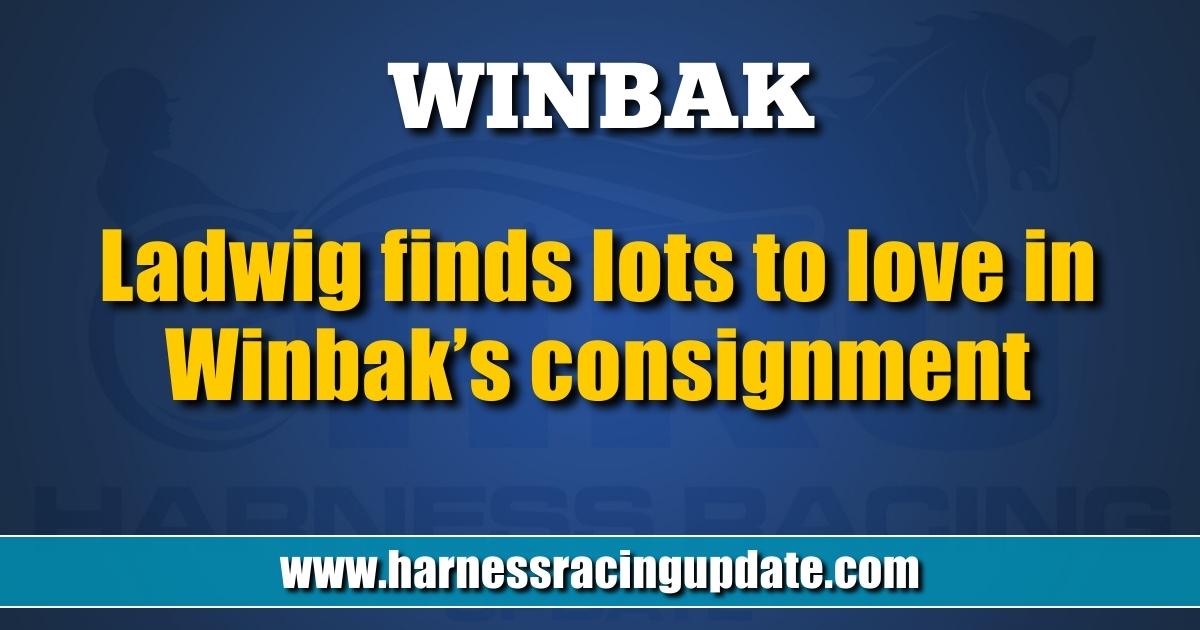 Ladwig finds lots to love in Winbak's consignment
by Dave Briggs
When your plan is to sell nearly 200 yearlings between the sport's two biggest auctions — Lexington and Harrisburg — how do figure out which ones go where?
"A lot of it has to do with size, birthdate, physical attributions – if you think they are going to grow a little more then you give them a little more time to grow," said Winbak Farm's yearling manager Jimmy Ladwig. "Certain pedigrees sort of dictate where they go, if they sold well in the past. So, you take all of that into consideration."
Winbak is selling over 90 yearlings at the Lexington Selected Yearling Sale and about the same number at the Standardbred Horse Sales Company auction.
Highlights from the farm's Lexington consignment include:
"The obvious first-night horses, Walner out of Mets Life (Hip 59 Amazing Catch) and Walner out of Mets Inn (Hip 102 Well Met) should sell well. They are good-looking individuals," Ladwig said. "The Bettors Wish out of Kattimon colt (Hip 60 Like The King). He's a great-looking individual and he should sell well, too. He's got the pedigree behind him to prove it."
It is the only Bettors Wish Winbak is selling from the stallion's first "commercial crop. He has a small test crop out there. This is the first I've seen of him and I like what I see. Lots of good mares, good individuals… they look great standing there. They look great in the paddocks."
Ladwig said he's excited about the first crop of Winbak's own Little Brown Jug-winning stallion Courtly Choice, especially Hip 65 Hoops Star, who is out of Sports Chic.
"The Courtly Choices look great on the floor and they look great in the paddock and in the videos. I think he has every right to be considered for being a great sire. You never know until they hit the track, right, but he's got all the makings of it so far."
Ladwig said he also has been impressed with the first crop from Winbak stallion McWicked.
"I'm really liking the way (the McWickeds) look, too.
LADWIG'S LADDIE
Ladwig's favorite from Winbak's consignment is also from a first-crop sire. He has taken a shine to Hip 838 Zip My Lip, a Stag Party colt out of Double Flip.
"I just like him. Do I think he's going to sell particularly well? No, probably not, but he is my favorite. Back from when I was feeding him in the winter, he was kind of a goof ball and he caught my eye and I always kind of liked him the best of all of them."
As for a couple of value picks, Ladwig highlighted Hip 346 Ready For Fun (f, McWicked—Regally Ready) and Hip 829 Dreams Of Boston (Boston Red Rocks—Dreams Are Great), "who is a really good-looking colt. He fits in that category. He might get overlooked, but you'd be remiss if you overlooked him."