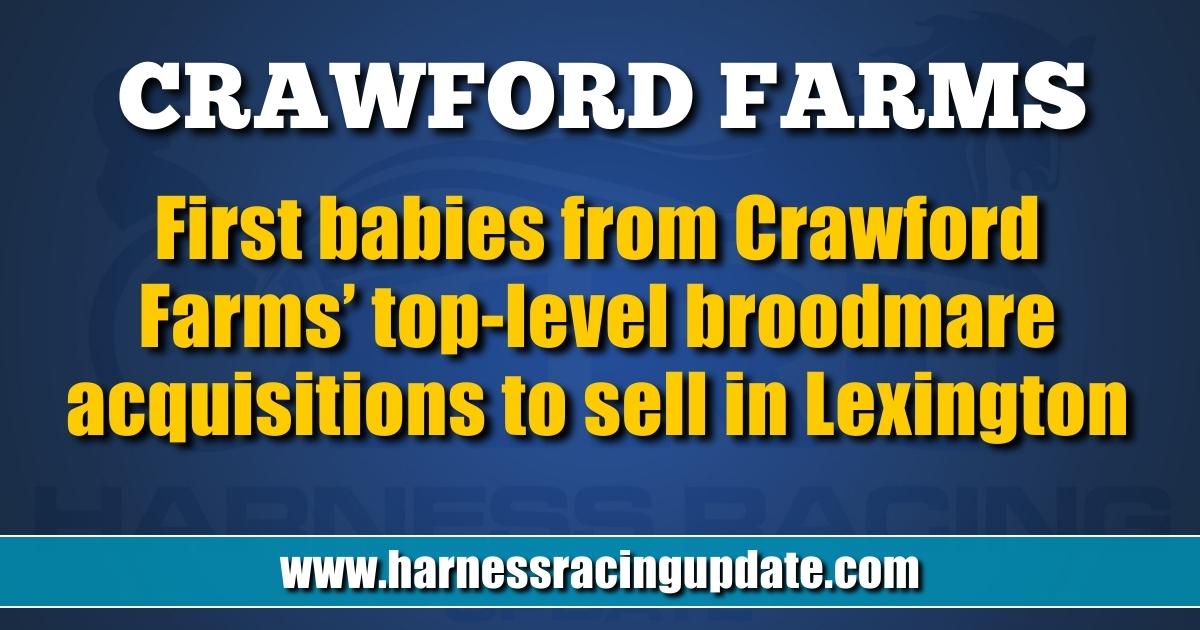 First babies from Crawford Farms' top-level broodmare acquisitions to sell in Lexington
by James Platz
Crawford Farms has invested heavily in acquiring top-level broodmares, and some of the first fruits from their more recent additions will sell this week. All told, 51 babies are consigned to the Lexington Selected Yearling Sale, with 11 selling on opening night. Michelle Crawford said she is excited to see how the farm's newest crop is received at auction.
"I think we have our strongest contingent ever going into the sale with 11 selling opening night, so we're pretty excited about that. Quite a few are first foals," she said of the consignment. "I'm very excited about our opening night."
Crawford Farms will offer five Chapter Seven babies opening night and eight offspring overall. The five selling Monday night are all first foals.
"I think the Chapter Sevens are as hot as they come, and we have quite a few that are selling," Crawford said. "Cedarbluff Hanover is out of Cedar Dove. These first foals and these Chapters are like nothing I've ever seen. Bill's Lady has a Chapter Seven colt. Mambacita, she's racing again on Saturday. She's a stakes winner, Tactical Landing, she was dual-eligible so that helped."
Hip 20 Really Don't Care is a first foal Chapter Seven filly out of Cedarbluff Hanover, sister to Dan Patch Award winner When Dovescry 2,1:52.3; 3,1:50.1; 4,1:50; BT1:49.4 ($1,796,078). Hip 37 Blantons Blue is a colt that is a half-brother to Jim Doherty Memorial runner-up Mambacita 2,1:53.2-'22 ($276,312). Also selling is filly Hip 40 Champagnenchanel, first foal from Sexy Wow, half-sister to Crazy Wow, and colt Hip 46 It Wasn't Me, first foal from multiple stakes winner Sonnet Grace 2,Q1:54.2f; BT1:51.4 ($460,736).
Also on the docket for day one is Hip 39 Pink Luxe a Tactical Landing filly that is the first foal from Chapter Seven mare Hanna Dreamgirl 2,1:56; 3,1:55.3; BT1:53.2 ($213,622). She is one of four Tactical Landing offspring in the Crawford Farms consignment.
"The Tacticals are all dually-eligible. I think we have six or seven dual eligible, but next year everything will be dual eligible. Everything that we bring to sale will be dual eligible, so that's exciting too."
Buyers will not have to wait long to see the first of the consignment enter the sale ring. Hip 2 Huntingfaith is a Huntsville colt out of the Roll With Joe mare Faithnflowers.
"We have number two for a hip number, but he's a stunning colt. There's nothing not to like about him," Crawford said. "They've all been so well received with the visits we've had to the farm. I think it's going to be a strong showing."
Another pacer part of the opening night roster is Hip 94 Beautiful Magnolia. The Always B Miki filly is the first foal from Pleasant Beauty, full-sister to Precocious Beauty, dam of 2020 Horse of the Year Tall Dark Stranger.
"Pleasant Beauty, the Always B Miki out of her is drop-dead gorgeous. I've watched her since she was a baby. That foal is stunning, and that's out of Tall Dark Stranger's family," said Crawford.
The consignment has much to offer in the way of variety, with offspring from American Ideal, Captaintreacherous, Crazy Wow, Downbytheseaside, E L Titan, Greenshoe and Walner.
"We have a Walner, finally, that's a nice individual. We have two of the Greenshoes and they are absolutely drop-dead beautiful. I'm very excited about the Greenshoes," she said. "Stella Jane, the first foal out of her, that's a Greenshoe colt. People bring him out again and again and again. They just love him. Define Royalty, she is a sister to Royalty For Life. She has a Greenshoe and that is a filly."
Stella Jane's Greenshoe colt, Hip 244 Sir Fred Jones, sells on Tuesday and Hip 524 Royal Emeralds will sell Wednesday. Hip 236 Mighty Wally, a Walner filly that is the second foal from Explosive Matter mare Mighty Macko, sells on Tuesday. She is New Jersey and Kentucky eligible.
Crawford Farms will offer a slate of eight Crazy Wow yearlings, selling on Wednesday, Thursday and Friday. The stallion, campaigned by the farm before standing stallion, will be back in the Empire State for next season.
"They really came out and did their thing with the small book that he had originally. I think they've shown enough to say we're going back. We're bringing Crazy Wow back to New York for 2023 to stand at Blue Chip. I have all sorts of inquiries," Crawford said. "Our Crazy Wow individuals are stunning. He just throws beautiful individuals."
Superstar trotting mare Atlanta is in the home stretch of her "Last Dance" before retirement, and fans will get a chance to meet her at Fasig-Tipton. Crawford said the Dan Patch and O'Brien Award winner will be at the barn Tuesday from 10 a.m. to noon. Crawford Farms will serve bloody marys and barbeque as part of the celebration.
Crawford also noted the farm is selling nine broodmares in the mixed sale Saturday (Oct. 8). One of the entries of note is Blue Beach, a sister to Dan Patch Award winner Somwhereovrarinbow, that is in foal to Tall Dark Stranger.
"Unfortunately, it's the most painful process for me. I have my favorites and my keepers, but also have this opportunity to take some of the younger mares that may not have made it through a few foals. If they are good individuals, I'll use them in our ET program. Otherwise, I'll retire them," she said. "For the most part, we're putting some mares in there that have real value to somebody. Sometimes you have to strategically move things. You still have to run a business and you still have to make money. You can't keep all of them. I'd love to keep them all."