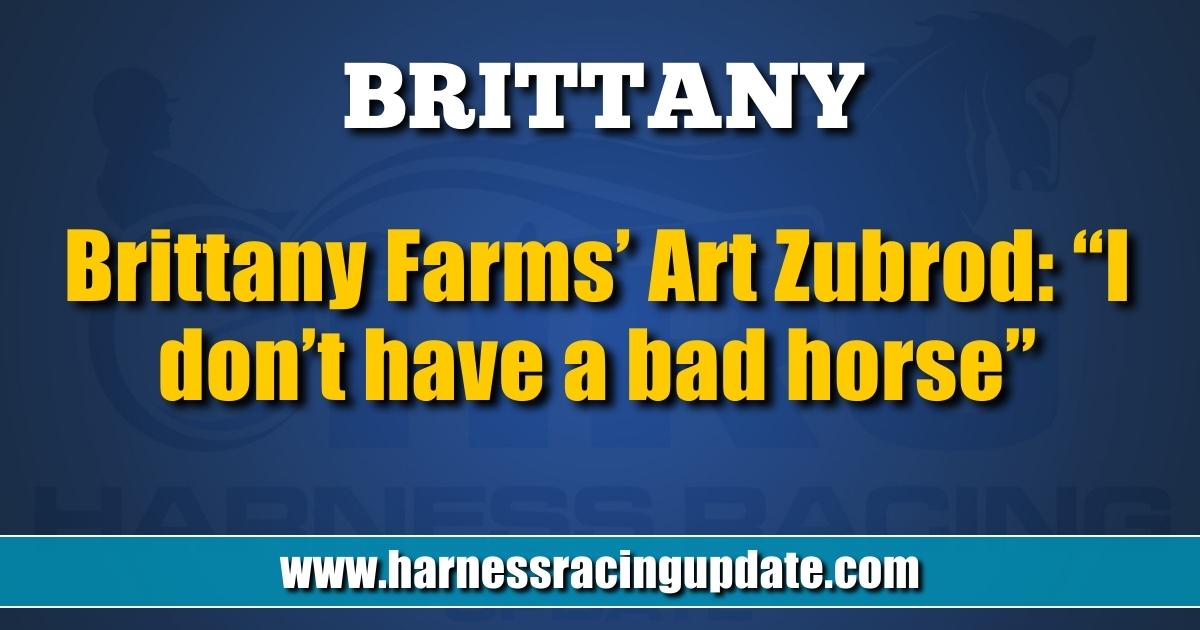 Brittany Farms' Art Zubrod: "I don't have a bad horse"
by Dave Briggs
Art Zubrod said each and every one of the 26 yearlings Brittany Farms is selling at Lexington Selected Yearling Sale have the potential for greatness.
"I don't have a single horse that, to me, isn't a stakes winner or a good possibility to be a stakes winner. I don't have a bad horse. The first time in my life, I don't have a bad horse," said Zubrod, Brittany's veteran farm manager. "They are very, very nice and I'm very pleased with them. They are in good shape.
"Our top end is no better than our top end has ever been, but we just don't have the bottom end that we had for so many years."
Zubrod highlighted a number of horses from the Brittany consignment.
"One of the horses that I've been most pleased with is Hip 442 (Veracruz). Valdonna is the dam. He just really blossomed when he came up. He was a horse that was kind of non-descript – not bad, but not good – but he has really taken to the process of sale prep. In the paddock, on video day, he was a superstar. It came from nowhere. I had no idea. I really didn't see that out of him.
"Another horse, just a few hip numbers later, Hip 450 (Secret Agent Man). Feel The Magic is the dam, Chapter Seven is the sire. He's another horse that was kind of immature, but he came in and has filled out. He just muscled up, not so gangly. He's not a real big horse, but he's broadened out and he's got a nice butt on him. He has a real good attitude and he likes going out to the paddock to show off for people. Usually by this time, most of your colts don't want anything to do with going out to show off, but a few of them always enjoy it and he's one of them.
Zubrod also pointed out:
Hip 72 Special Talent (Walner—Special Hill) — "She's what she's supposed to be. She looks like a sale topper and acts like a sale topper and she's got the pedigree for a sale topper."
Hip 324 San Jose — "The brother to Pebble Beach. He's a very, very nice colt. We sold a brother to this one last year, Cabot Beach. He's an okay horse, but he didn't have the frame that this horse has. San Jose looks like a very fast horse. Good attitude and good to be around.