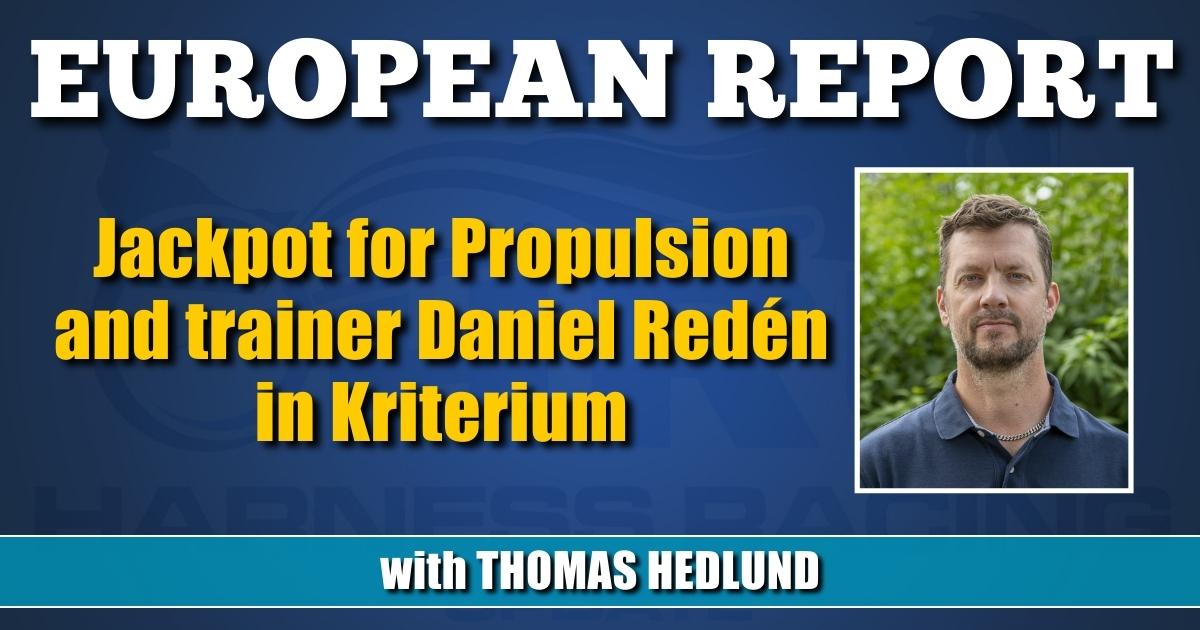 Jackpot for Propulsion and trainer Daniel Redén in Kriterium
by Thomas Hedlund
Qualifying four horses for a classic race like the $800,000 Kriterium is close to impossible, but trainer Daniel Redén did exactly that Saturday (Sept. 24) at Solvalla in the biggest 3-year-old race in Sweden.
None of Redén's four contenders were in favorite position when the car accelerated from the field in the 2,640-meter race. The trainer's main driver, Örjan Kihlström, opted to drive Xanthis Harvey (Propulsion), the only one of Redén's four finalists that didn't win an elimination.
The Kriteriet started quite messy. First choice Bedazzled Sox went off stride from the start, second choice Following did the same thing some meters later and after 600 meters, the four Redén horses were all in front, with Ante la Roque as leader, Bengan in second hole, Greensboro Zet first over and Xanthis Harvey in second over.
Kihlström sent Xanthis Harvey to position first over 1,100 meters to go and it felt like the driver had a good feeling as Xanthis Harvey had to do the tough job outside stablemate Ante la Roque.
Greensboro Zet went off stride at the backstretch, meaning a full jackpot for Redén was no longer possible, but the three front horses seemed strong and even when Bedazzled Sox came back after his early break, he couldn't challenge the top trio.
Xanthis Harvey's strength became the weapon that sealed the Kriteriet victory. He disarmed Ante la Roque 150 meters before the wire and flew to safe win in mile rate 1:57.1 over 1.3 miles.
Bengan finished strongly behind his stablemate as runner up and leader, and stablemate, Ante la Roque finished third. A hat trick for Redén is an incredible achievement in the sport.
And the victory was, according to Redén himself, by far the biggest in his career as a trainer. We have to keep in mind that his homebred trainee Francesco Zet won the Derby less than a month ago.
What explained Redén's strong feelings after the Kriterium? Propulsion.
The story of Propulsion contains three big chapters. One American, one European where he dominated several races throughout five years and one about disqualification from all that he has done since he arrived in Europe in 2015. Propulsion is not allowed to be used as a stud in Sweden, due to the nerve procedure that apparently was made in USA in April 2015, but his first crops can race and the crop born in 2019 is his first. Xanthis Harvey is Propulsion's first classic race winner and what can be bigger than this for the trainer who experienced so many great moments with the biggest star he has trained? Nothing.
Kriteriet replay is here.
BIG SUCCESS FOR NURMOS IN OAKS
Timo Nurmos had three shots when the $560,000 Oaks for 3-year-old fillies was held at Solvalla on the same Saturday afternoon card. The prestigious classic race ended with big success for the Solvalla based trainer.
Erik Adielsson kept the front position from post 1 with Nurmos' Aurelia Express and when stablemate Bonneville W.I. (S.J.'s Caviar) connected on the outside with a lap to go, the race was locked. Ulf Ohlsson's smart move to leave third over for position first over before the last remaining kilometer was decisive for the outcome of the race, at least with all facts on hand. Because Bonneville W.I. was the strongest horse this day and with the sensitive, good hands of Ohlsson, she could fight down stablemate Aurelia Express shortly before the wire.
Nurmos' horses claimed the top two spots and the dominant trainer was the title defender in Oaks. His Lara Boko was the winner of the race 2021.
Third place was shared between Queen Belina and Kayla Westwood.
Oaks replay is here.
BROTHER BILL IN STL OPEN
Older top trotters battled for $150,000 in STL Open over 2,140 meters at Solvalla on Saturday and when first choice Hail Mary took over the lead from Click Bait after 500 meters, many fans thought that the race was over.
Hail Mary could control the race in front during the following half mile and the pace began to rise again at the back stretch, with a half mile to go. Magnus A Djuse left third over with his drive Brother Bill (From Above) at that point and Nurmos' trotter got cover as Alessandro Gocciadoro opted to leave second over soon thereafter. Brother Bill could wait with the definite attack until the top of the stretch and the From Above son flew on the far outside as he disarmed leader Hail Mary in good time before the wire.
Brother Bill came home in a mile rate of 1:54.2 over 1.3 miles and Hail Mary held on to second place while title defender Esprit Sisu claimed bronze medal.
Nurmos had his horses in perfect shape and this race day at Solvalla has historically been "his" day.
STL Open replay is here.