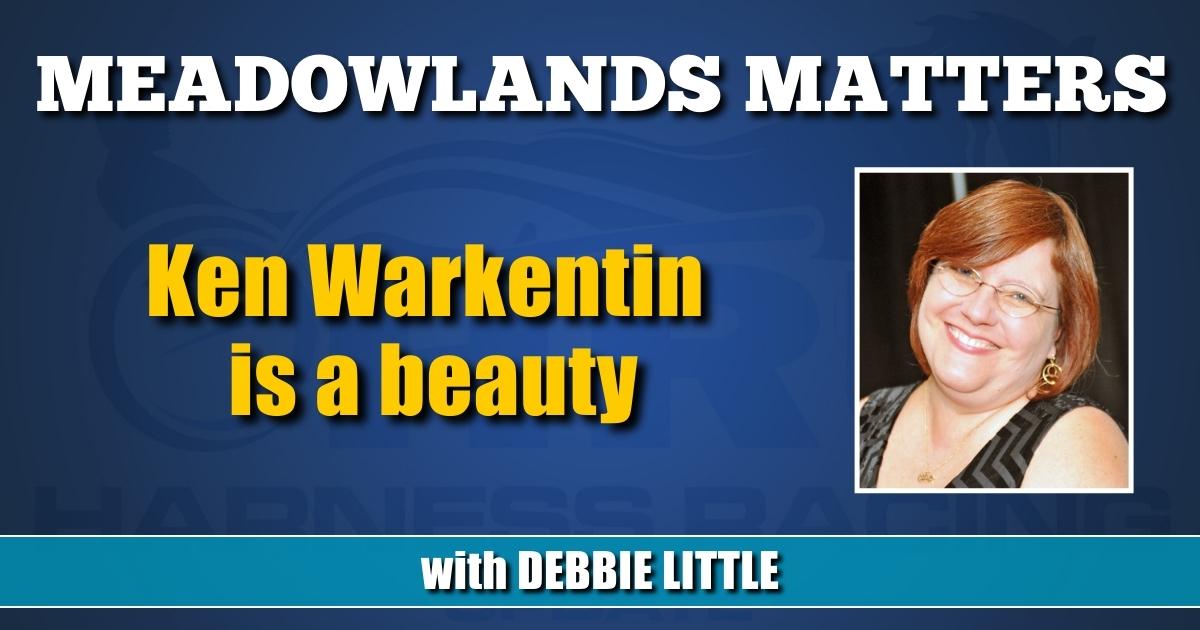 Ken Warkentin is a beauty
by Debbie Little
According to the website NCAA.com, "beauty" is hockey slang for "a player who is loved not only for his skills, but for his personality. He is one of the coolest guys on the team and usually has great stories. He might also have the best flow on the team."
Sounds like a good term for newly minted Hall of Famer Ken Warkentin, who's living out his childhood dream, although he did have to trade skates for sulkies.
"I had this pipedream to be a play-by-play announcer in hockey or a color guy," said Warkentin. "And then I found this thing on the side, called harness racing."
At 14-years-old, Warkentin saw his first race at his hometown track, Greenwood Raceway in Toronto. And, at that time, he remembers reading the sports section of his local newspaper, the Toronto Star, and responding to a feature that offered young fans the opportunity to meet a sports personality.
So, he wrote a letter to the newspaper because he wanted to meet Greenwood's track announcer and shortly thereafter was contacted by Jim Lampman, long-time publicity director for the Ontario Jockey Club.
"And I met Earl Lennox and I spent a whole night there," said Warkentin. "And he said, 'If you ever want to come up and call qualifiers, you can.' Which I did."
While at college, Warkentin got a summer job at Greenwood working in the race office and calling the baby races.
One night, when Lennox was on vacation, Jack Stephens was scheduled to call but was running late, so the judges asked Warkentin to give the changes and do the post parade.
As they were moving behind the gate, Stephens finally walked in and Warkentin handed him the mic and went to leave.
"He says 'Hey, you know these, right?'" said Warkentin. "I say 'Yeah, I think so.' And he hands me the mic and I did the first race."
A columnist from Toronto's Globe and Mail newspaper got wind of the story and wrote about the aspiring announcer who got his big chance.
Warkentin grew up a few streets over from Flamboro Downs track announcer Wayne Reed.
"I would drive to Flamboro and he would let me call two races a night and do post parades," said Warkentin. "I wasn't getting paid but he was giving me good exposure."
When Reed retired, Warkentin became the Flamboro announcer from 1982-90, before moving to the States.
Following a one-year stint as publicity director and backup announcer at Ohio's Northfield Park, Warkentin got his dream job when he was hired to work at The Meadowlands in 1991.
He's now in his 31st year at the mecca of harness racing and is quick to point out that through the whole of his tenure, he has been part of a terrific on-air team that's included John Bothe, Dave Brower, Shades Demsky, Edison Hatter, Bob Heyden, Dave Johnson, Dave Little, Sam McKee and Jessica Otten.
Warkentin has called and done TV work at many different tracks throughout his career, and in addition to The Big M, for over the last dozen years, he's been part of broadcasts from Red Shores at the Charlottetown Driving Park on Prince Edward Island, one of Canada's Maritime Provinces.
"Because The Meadowlands is not racing at that particular time it allows him to do some work on our signature events," said Lee Drake, manager of racing, brands, and broadcast for Red Shores. "The winner is really us and our team. Ken is a true professional. He always comes prepared. And he's a true delight for the customers and also the horsepeople get along great with him.
"When Ken comes to Prince Edward Island, he's here to work and whether it's on the broadcast or backfilling for [announcer] Vance Cameron when he has to go to the booth and call some races or hosting something with me, he's just a pro and that's why he's going into the Hall of Fame."
Last week, while out taking a walk, Warkentin got the call about his Communicators Hall of Fame election from U.S. Harness Writers Association president Barry Lefkowitz.
"He told me and then it started to sink in and then we started talking about hockey for two hours," said Warkentin with a laugh. "It kind of sums up your career. It kind of sums up your life. It puts a nice bow on a lot of work."
Even though they never worked together, former voice of The Meadowlands Tom Durkin had a profound influence on the announcer that Warkentin would become.
"Long ago, I tried to figure out the right way to do this and there weren't many out there that inspired me except Tom Durkin," said Warkentin.
Coincidently, the three best pieces of advice that Warkentin ever received all came from people who have at least, occasionally, handled a mic.
"Jack Stevens told me 'The stars are on the track and your job is to highlight them. That's it. You're not the star, they're the stars,'" said Warkentin. "Earl Lennox said 'If you want to pursue this that's up to you but you really need to try different things, different jobs.' And [Hall of Famer] Jerry Connors told me 'Talk to people. Go out and ask questions.'"
Warkentin was extremely close to Hall of Fame announcer Sam McKee, who died unexpectedly at 54 from stroke complications in 2017.
It's not lost on Warkentin that going into the Hall will put him back in the same room with McKee, since their sketches will hang near one another. And he believes that McKee is happy for him.
"We were a good team," said Warkentin. "Sam was the king. I try to be better every day. And I know I'm 63 and father time wins every time. But, when you're able to utilize what you're good at and you enjoy it, isn't that the key to life?
"It's got to be fun and if it's not fun, find something else. I really love the pressure. Put me in that spot. I'm prepared. I'm ready to go. Now, you can put the light on. Put me there. I want to be there. I want that pressure."
Drake made the trip to Goshen, NY when the "King of PEI", driver Wally Hennessey, was inducted and has Sunday, July 2, 2023 circled on his calendar.
"He's pretty humble," said Drake of Warkentin. "I'm not sure he realizes the connection that he has [with the fans]. He's very recognizable and very approachable and easy to talk to, so he fits right in with our Island charm here."