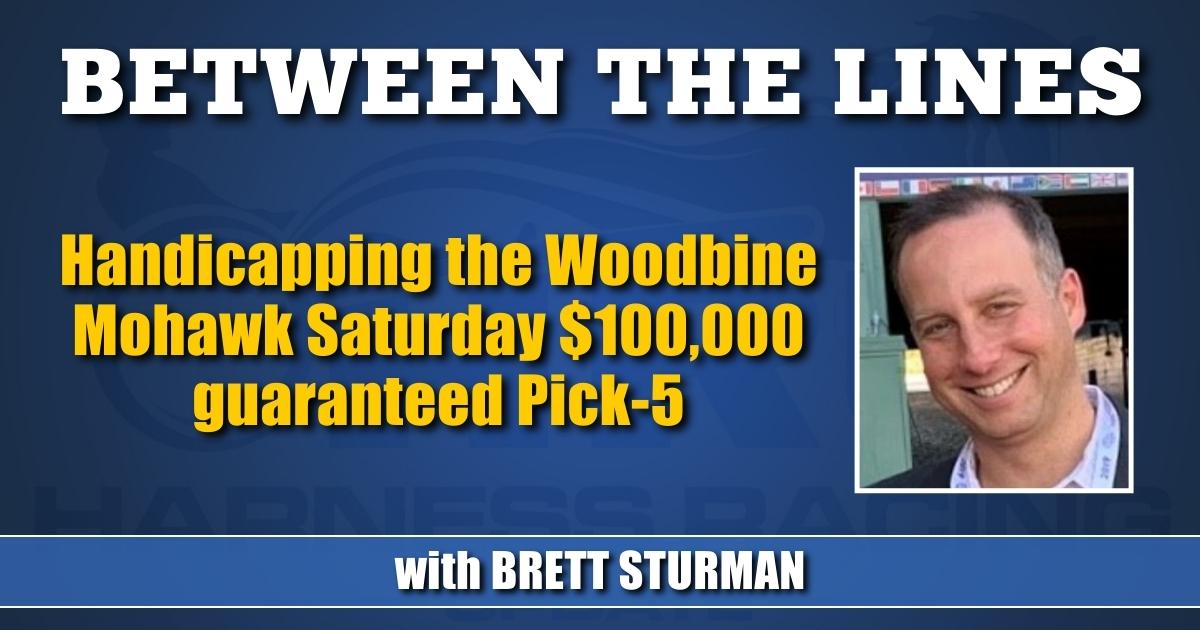 Handicapping the Woodbine Mohawk Saturday $100,000 guaranteed Pick-5
by Brett Sturman
As part of one of the best cards of the year, the Saturday Pick-5 at Woodbine Mohawk Park spans across all major stakes on the card, concluding with the Mohawk Million. Here are my thoughts for (hopefully) putting together a winning ticket.
RACE 6, $525,000 SHE'S A GREAT LADY FINAL
There's only a few "must include" type horses throughout the Pick-5 sequence, and two of those are in this race, in what figures to be a showdown between elimination winners Charleston and Sylvia Hanover; both 2-year-old fillies with identical records. Charleston impressed last week upon arrival in his first start north of the border. The Pelling trainee came first up from fifth off a slow half, had the pocket horse pull in front of her, and it still didn't matter as she tracked that cover and then powered away late to win rather easily in the end. Likewise, Sylvia Hanover delivered as expected at odds of 1-9 where she controlled the pace through a pedestrian-like :57.3 half-mile split at which point no one was going to get to her; she was an even more impressive winner two back in the Champlain when she took her early career mark of 1:50.2.
I won't be reaching beyond those two, but if someone else were to win it would eliminate a massive share of Pick-5 tickets after the first leg. Some other fillies to at least consider as upset candidates include Horizontal who wasn't bad last week in her elimination, fending off two-hole pressure and only gave way late to Charleston. Bellisima Hanover had some late pace to offer from the pocket in her elimination after the race had already been settled; went a tough trip two back but is yet to figure out Sylvia Hanover. The exact same can be said for Caviart Diva, who fought that rival filly impressively all the way through the lane three back in the Eternal Camnation. She wasn't a factor last week, however. Treacherous Penny took a shot last week only to flatten out late.
RACE 7, $350,000 ELEGANTIMAGE FINAL
It's hard to make a case to not include Warrawee Xenia. It's certainly possible she could break as she did in her both starts in August including the Hambletonian Oaks, but outside of that she's been brilliant. Last week was just another example of how these prep-type races are unbettable as Warrawee Xenia was raced from the pack in a paceless race at odds of 3-5 and trotted up a storm late to close in :26.2. Maybe the post 11 second tier creates issues?
Mon Cheval was the winner of that Warrawee Xenia race last week and now finally lands an inside post in a big race; she's seemed long overdue for that. She was handled aggressively last week and was strong; will need to be ever better now but that was an encouraging step forward. Raised By Lindy is perhaps still sorting herself out in her sophomore season. She couldn't track down Fashion Schooner nor hold off Jiggy Jog S from third last out at the Meadowlands, but there's no disgrace in either of those two things; took a lifetime mark two back at Lexington. Peyton Hanover surprised to take the "B" NJ Classic Final last out when she swept from loose third over cover; maybe is around if the pace sets up for her.Adare Castle threw in a rare clunker last week; likely back to speed tactics now but will have to get involved from an outside post. Mischievous Rose couldn't get close to Mon Cheval last week from the pocket but was able to hang out for second over the oncoming Warrawee Xenia.
RACE 8, $900,000 METRO FINAL
This is another race that's going to have a clear favorite, this time in Save America. The Takter trainee has stormed through the 2-year-old stakes in Canada including the Nassagaweya, Champlain and then his Metro elimination last week when he moved uncovered from sixth and earned a measured win without too much anxiety; second time this year he's broken 1:50.This is a competitive group of frosh colts however, and there are reasons to go beyond just Save America for Pick-5 purposes.
Stockade Seelster went down in defeat last week for the first time in seven career starts, and that was a bit of a surprise. One race removed from that super OSS Gold win in 1:49.3, he took pressure in his Metro elimination early to rebuff a rival into the pocket and then again at the top of the stretch and ended up being passed late both to his inside and outside. He does land a great post on Saturday to potentially rebound. Tickertape Hanover matched strides with Stockade Seelster for much of their mile last week and looked like a winner for a moment in deep stretch. He was an impressive winner two back in the Nassagaweya and was runner-up to Save America three back. Tip Top Cat pulled off a shocker in his Metro elimination for team McNair and the aggressive handling paid off. After leaving early and securing a close, inside spot, the Always B Miki colt skimmed up the rail to win at odds of 31-1; anxious to see if he's that good again. Huntinthelastdolar was used early in his elimination and was fair late, similar for Ace of Aces. Ants Marching will be a longshot in this final, but he did make a circling move around the final turn in his elimination and kept his momentum going well enough in the stretch. Moment Is Here continues to outrace his odds against the best 2-year-olds; deserves some respect.
RACE 9, $615,000 CANADIAN TROTTING CLASSIC
This edition of the CTC for 3-year-old colts contains many of the usual suspects we've seen from over the past couple of seasons now and is probably the widest open of any race in this Pick-5 sequence.
Horses I wouldn't want to get beat by include a host of them, starting with Pretender. He's been quite good in his last three and has come to the form that I'm sure his connections had expected of him all year. He popped the two-hole early last out in the New Jersey Classic and was proved right as he gradually went on by and lasted to the wire in a compact field that included a win over 1-9 favorite Temporal Hanover. Branded By Lindy picked a good time to deliver, winning the $400,000 KY Sires final last week at the Red Mile when he tracked down the cover of Rebuff. Keg Stand is another worth including, coming off two strong front-end tries for Takter. It looks like he'll pick up a new driver too in Todd McCarthy as Andy is listed on Pretender.
Horses that I'll reluctantly exclude but warrant a mention include King Of The North, who remains winless on the year through nine starts. He hasn't been bad, but he hasn't intimidated anyone either. Simcoe winner Twin B Archie will get attention from the hometown crowd; faces some new and tough foes. Slay did surprise in the Dancer in July but outside of that I would be surprised. Fast As The Wind gave way last out in Lexington and now has post 10. Periculum will be a big longshot but did have some late trot to offer two weeks ago in that NJ Classic. Duly Resolved nearly pulled off a shocker on this night last year in the Mohawk Million; exits an encouraging try.
RACE 10, $1,000,000 MOHAWK MILLION
This is the third edition of the Mohawk Million and fillies have been prominent in the first two years of the race. Of course, with super 2-year-old filly Righteous Resolve not entered in this race despite a smashing record score last out in the Champlain, this race looks open.
Favoritism may end up going slightly to Winners Bet. One of two Walner colts in here, he punched his ticket by winning the Wellwood two back when he rode the cover of International Man to edge by late for the win. Last week, he was used early from post 10 and floated many paths wide into the first turn before having to continue onward from fifth before eventually clearing to the lead. There was no shame in getting beat off that trip by pocket-sitting Gaines Hanover, but he'll need to bring his best. Another one to attract attention will be Oh Well. The New Jersey Sires Stakes and NJ Classic winner makes his Woodbine Mohawk debut for Melander and Tetrick; interesting to see how form translates.
From inside out for other possibilities, Proud To Be Lindy was pretty good last week in the Champlain where she showed speed and had decent trot after being shuffled back behind a gapper; did well to stave off a rival filly for second. Oh Look Magic went a tough trip in the Wellwood when she couldn't clear to the lead and dueled, rebounded nicely to beat fillies that included International Man in the Champlain. Yo Beth D invades from Indiana and has been thriving for Luther. Silly Me Hanover raced encouragingly last out in her first start since the Peaceful Way; connections seem to shine in spots like this.Dw's Point Man has had most of his success on the smaller tracks but he did win here at Woodbine Mohawk two back; needs to go faster. What An Angel was decent last out despite the big step up in class; moving in the right direction. Crantini was super far back after an early break for the start last week and actually did really well for herself to finish within touch.
$0.20 Pick-5 Ticket, Races 6-10: 4, 5 / 1, 11 / 2, 4 / 3, 7, 9 / 1, 3, 6, 7 Price = $19.20