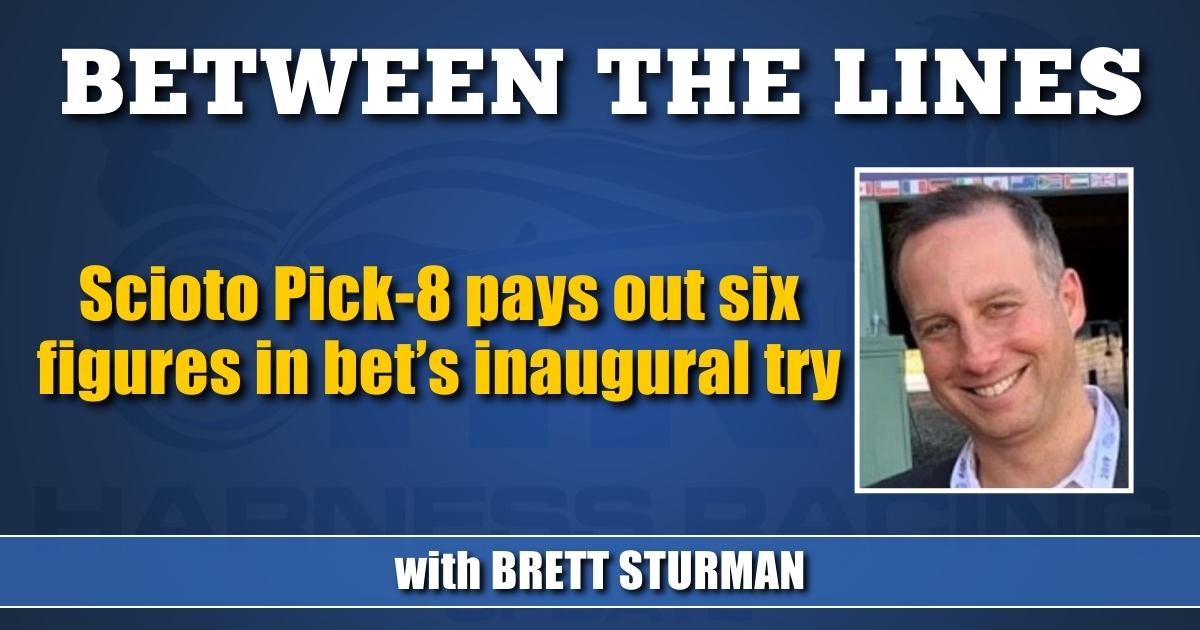 Scioto Pick-8 pays out six figures in bet's inaugural try
by Brett Sturman
As the 2022 season at Scioto Downs concludes tomorrow (Sept. 17), it will do so after having posted the largest payout of any wager in the track's longstanding history. That's because last Saturday (Sept. 10), the track's Pick-8 wager was hit for a record amount of $108,961.
Over the course of the season that began on May 12, the wager was hit on four different race days by nine different ticket holders. What has made the wager unique more than any other in harness racing is that at the onset of the wager and after every time it's hit, Scioto Downs and the Ohio Harness Horsemen's Association (OHHA) have jointly seeded the pool with what essentially amounts to a free $25,000 to bettors.
The Pick-8 wager which is a straight, non-jackpot bet, pays out in full regardless of how many 8 out of 8 winners there are, and pays out a 50 per cent consolation to anyone who simply has the highest number of winners. The wager was the brainchild of Caesar's director of racing, Gabe Prewitt, who got inspiration for the idea from a similar wager nearly 10 years ago from his days at Buffalo Raceway.
For a track that's seen healthy increases to handle in recent years, Prewitt wanted to offer something unique that would continue to get attention on the product in a crowded gambling market. In addition to seeding the non-jackpot wager with $25,000, Prewitt was also insistent on including a daily consolation.
"I've heard people say not to include a consolation in order to let the carryover build faster, but that's just unfair in my mind with a wager as volatile as the $1 Pick-8," said Prewitt. "If someone is willing to spend $300 or $400 or more, you've got to give them a chance to cash something."
The wager got off to a wild start, and if not for some luck, may not have even made it out of the track's opening weekend. On the first day of the meet, all 8 race favorites across the Pick-8 sequence won, leading to five different tickets holding all eight winners.
"We probably didn't do ourselves a very good service and this is definitely my fault, too, with the way the races in the sequence were structured," said Prewitt. "We lost a good piece on that first day, when there was only about $3,000 into the pool. But kudos to Scioto Downs management and the OHHA who have been a blessing in buying into this idea, they did not back down for one second and it was announced immediately that the pool would be re-seeded the very next day. Now, keep in mind that we were racing Thursday through Saturday when we first started this year, and then two days later on Saturday, the wager started off 7 for 7 and then Sectionline Bigry got beat by Gold Digger King in the final race, otherwise it would have been hit twice in the first three days and whether we would have bellied up again, I don't know.
"But the lesson learned there was that we now work on the races together and we go through and determine which races in a card are in the sequence, which ones are out, which ones are maybe, and so forth. And since then, it's made the wager more tough. At the same time, that can be a double-edged sword. If you've got a day with a couple of 1-9's in there, they'll bet $15 to $20,000 at it. But if you've got a day that looks impossible, you might draw only $2,000 into it. So, do you want to draw action, or do you make it tougher where the carryover survives with the guarantee?"
Interestingly, Prewitt notes the disproportionate amount of on-track money bet on the Pick-8 relative to total handle.
"Oddly enough, the wager had about 25 to 30 per cent of its total handle built on-track every day, which is unheard of for any bet," said Prewitt. "Ninety-five per cent of our money is off-track. And having the on-track dollars helped us because Caesars and the horsemen now had those on-track dollars in play."
What makes the on-track handle numbers even more impressive is the fact that Scioto had to switch to racing during the daytime since there are no track lights as the new grandstand is being built, and clearly there was a connection between the new wager and holding together its traditional relatively high on-track attendance.
"Another thing about the wager is that when the pools started getting up there, you don't necessarily have to win; you just have to be better than everyone else," said Prewitt. "If there's $16,000 bet into it on any given day, you take out about $2,000 for takeout, and you're still left with $14,000, of which 50 per cent goes to whoever has the most winners, even if it's not all eight. The other neat thing is that because there's so many combinations, there's no computer aided work in the pools. You see all these pools take in 40 per cent in the last flash, and that hasn't happened because of the needed sophistication in these models to cover the sequence, so it's just us versus each other."
Overall, Prewitt felt that the Pick-8 did what it was set out to do, in part by creating an on-track buzz and giving people the ability to achieve a home run-type score. "We wanted to give people that shot," said Prewitt. "It's not necessarily easy, but if you do get lucky, you can hit a home run deal. And I just felt that as this business has drifted towards lower minimum wagers and diluting payouts – and not every bet needs to be $1 or $2 – but if you want to be able to take a shot for a home run, we wanted to cater to that, and I feel that was a mission accomplished. The cool thing too was all the buzz and daily excitement it created in a place that needed a little spark; and as it went on you could feel anticipation in it, especially as the pools started growing. It's been really fun."
Prewitt said he doesn't know if the Pick-8 in the identical format will return next year, if it will be tweaked, or if it may be replaced by something like a seeded Pick-6. But one thing for sure is that the track will continue to innovate with bettor's interests in mind.