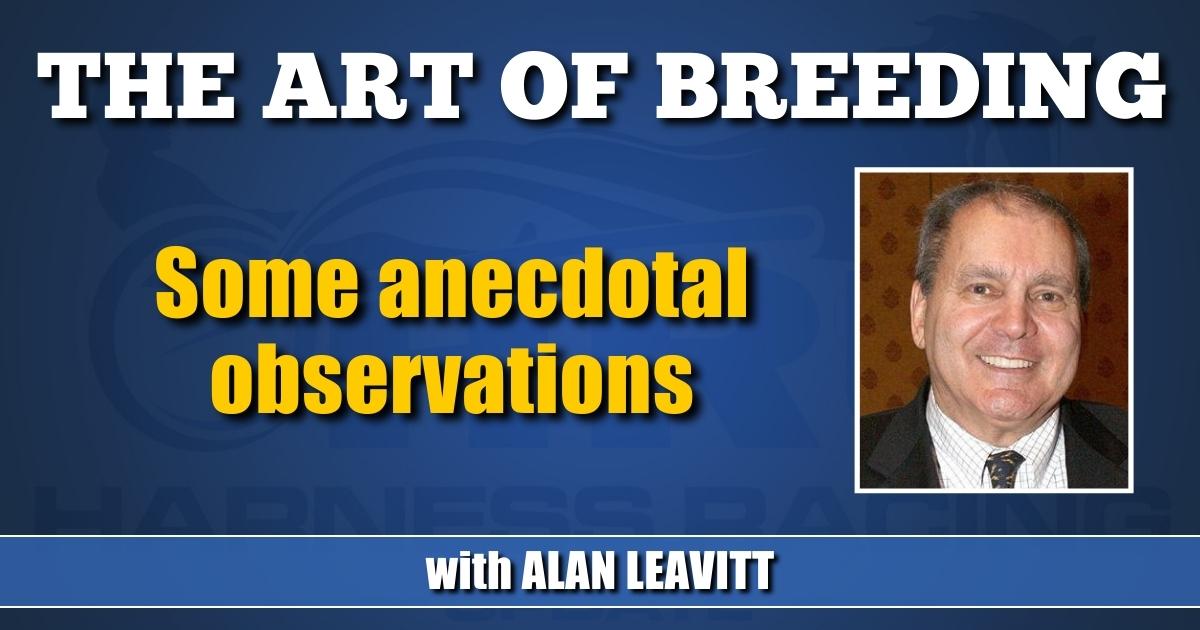 Some anecdotal observations
by Alan Leavitt
Because the trainer of our one horse Ontario racing stable is going to Florida for the winter, I turned, as usual, to my wise friend Bob Stewart for advice.
As a consequence I found myself doing a little research on a Canadian trainer with the lovely first name of Chantal. And the most prominent racehorse to her credit is the mare Alicorn, who happens to now be a resident here at Walnut Hall.
Alicorn took her record at 2 of 1:50.2 and earned a majority of her career earnings of $561,140 at 2, when Chantal Mitchell was her trainer. She's by Bettor's Delight, and out of Mythical, a fast mare who earned over $100,000, by Artsplace.
Her extended pedigree shows a 3 by 4 cross to Abercrombie, making her technically line-bred to him.
For those with short memories, when the sum of the generations in which the same name appears twice is 6 or less, the horse so bred is considered "Inbred."
When the sum of the two generations in which the same name appears twice is 6 or 7, that is defined as "Line Breeding."
When no name appears twice in the first 4 generations, the horse so bred is defined as an "Outcross."
The great majority of trotters and pacers bred in America today are outcrosses. Which brings up this kid's support for judicious inbreeding, which can be synergistic. RE: synergy. Think of it as 2 plus 2 equals 7.
I can't emphasize too much that inbreeding can only be done with two individuals that are as near perfect both conformation-wise and racing-wise. If one parent has a knee turned out, you can wind up with a foal that requires a compass to figure out how he or she stands in front.
If one parent is a sulker on the track, you can wind up with a horse that needs to be pulled out of the race paddock by a tractor.
The list of heightened physical and racing problems goes on and on if the wrong two horses are crossed with each other. But, on the other hand, and Harry Truman said he always wanted a Secretary of State with three hands, if inbreeding is done right the results can be electric.
Carl Allen, a truly great horseman who, among other things, invented and popularized the trotting hobble, produced the great filly CR Kay Susie, whose paternal and maternal grandsires were full brother and sister. Carl was smart enough to do it with a sire and dam who were near perfect individuals, with great racing creds and beautiful pedigrees.
We won't see the likes of Carl Allen again, which is a loss to both our sport in general, and me in particular, because he was a good friend for many years.
Here, an observation I've made after looking at the production records of thousands of broodmares. It is technically anecdotal, and perhaps someone, someday, will do a proper study on the subject.
What I've seen is that a mare's first foal is frequently her best, and in almost all cases the quality of her production declines as she keeps having foals.
This is not to say that a mare's next-to-last foal can't be a champion, but its chances are much less than the mare's first or second foal. Of course, the quality of the sire is 50 per cent of the equation, and as a mare ages she will likely be bred to less successful sires. Or perhaps the same sires she crossed well with in the past, who have now cannibalized themselves by siring champions who are now the top sires.
I'm a firm believer that, just as every generation of man, at least in America, is taller than the previous one, every generation of standardbreds is faster than the previous one. That won't always be true. Every pure-bred breed of horse will eventually plateau, which is what the American thoroughbred has done.
The American thoroughbred now is no faster than it was 50 years ago. That's because it's a 100 years older than our breed. Every pure-bred breed of horse will eventually plateau, or reach a place where it has progressed as far as it can.
Our horses, at every age, are still setting new speed records, and that will continue for several more generations. I know that our equipment and racing bikes have been improved also, but in the overall view that is irrelevant. The simple fact is: Our horses keep getting faster and faster, and we aren't close to seeing the end of that process.
Somehow, all this talk of aging brings up the story of a 92-year-old man complaining to his doctor his virility was too high.
"I'm not quite sure how that can be," the doctor said, "Especially at your advanced age."
"I'm telling you it's too high," the patient replied. "It's all in my head."