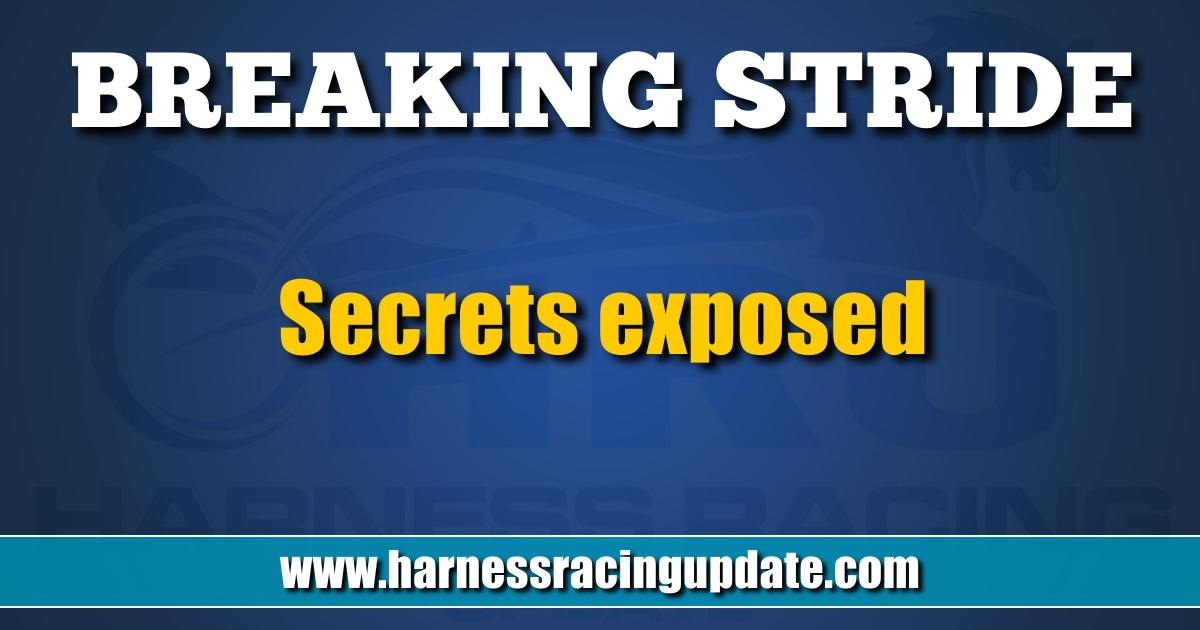 by Trey Nosrac
The names of the yearlings in this column are changed to protect my "secrets."
Yearling shopping in the fall is my favorite time of the harness racing dance. For those who partake in this unique ritual, the fun of yearling sales season is difficult to explain to ordinary people. To civilians, we look like addicts reading strange books, looking for secret codes, and speaking in strange dialects.
For many of us, finding a yearling of interest in a sales catalog is the beginning of our search. We whittle down the original catalog options to a manageable number. Then, like detectives trying to solve cold cases, we nose around using our computers and I-pads to dive deeply into the family of our favored prospects.
This morning, I tracked down a few scraps of information from various sites and began scribbling down information that did not appear in the standard catalog. Cyber searchers bidding on yearlings can visit many new cyber alleys and backstreets before the hammer falls. The path I was prowling around this morning was a search for updates to add to my list of potential yearlings that caught my eye. I am proud of finding a few nuggets of data that occurred after the catalog's printing.
Updates are tricky territory. Some of the "Breaking News" is of minor importance. Sales companies post major updates on websites and provide supplemental booklets at the sale. Auctioneers note significant updates. Still, clues to the puzzle of a future performance slip past. My research concerning updates in this particular family was not in vain.
This current catalog contains a simple line in the 1st Dam section of a yearling on my list – Secret Sauce (M) (Long Tom). Now two. Apparently, "Now two" suggests that Secret Sauce is still alive, which is good news but not very informative. Since cataloging, I found that Secret Sauce was alive and had entered a fair race but scratched before post.
Another line in the 2nd dam states, BREAKING NEWS, 3, 1:58.2 f ($24, 786) (Glidemaster) 2 wins at three. Is this horse still racing? The answer is yes. How has this horse been fairing since cataloging? BREAKING NEWS now has BT of 1:57.4 f and has added $2,068 to his lifetime earnings.
And another horse in this family, Missing Link, did not even make the original yearling catalog page. Missing Link is not missing entirely. This filly was entered in a qualifier, showed a decent first half in approximately 1:01, and broke at the ¾ pole.
Is this information of any value? Maybe not, but it was intriguing to search for the data. Each time I stumbled across a tidbit was an aha moment only addicted harness racing enthusiasts would appreciate. These discoveries of mine are merely minor updates to a yearling sales catalog.
Alas, at this point, I will propose killing my little diversion like a bug on the windshield. Due to those damn nemesis, technology and Internet updates like the ones I did to my catalog this morning should link to our official performance database.
The USTA database is a fantastic, almost magical resource showing every step of every horse, and this is where I found my little trio of secrets. In the case of a horse like BREAKING NEWS, I can tap a few buttons, maybe pay a few bucks, and watch the races of this horse that is of tangential interest in my yearling shopping.
The simple suggestion it pains me to suggest is that relevant records of horses in our sales can, and should, be updated daily on the online catalogs. Sports people these days are data maniacs, and data maniacs appreciate having data refreshed.
Suppose you watch a professional baseball game. Within minutes of the final out, every batting average, team standing, odds of making the playoffs, and thousands of other data points will be entered, recalculated, and available.
In a way, this stinks. The mind-numbing data takes the charm out of sports for many of us. However, the new generation seems to enjoy knowing that last night Andres Gimenez made a play on a ground ball that had a 92.4% chance of getting through the infield for a base hit. This play moved his fielding average up to .007, which placed him as the third-ranked second baseman in the national database of fielding evaluation. The new gambling generation of horseplayers and owners will demand up-to-the-minute data.
At this point in history, those of us contemplating spending a lot of money on a yearling should know when the lifetime earnings of a yearling's older brother go up a thousand dollars or when his half-sister lowers her lifetime mark by one-tenth of a second.
This nonstop flow of information is the new, sort of a sad world for those who enjoy the chase. Automatic refreshing of data would make my morning's search unnecessary, and my secrets will no longer remain secret.
Sigh.