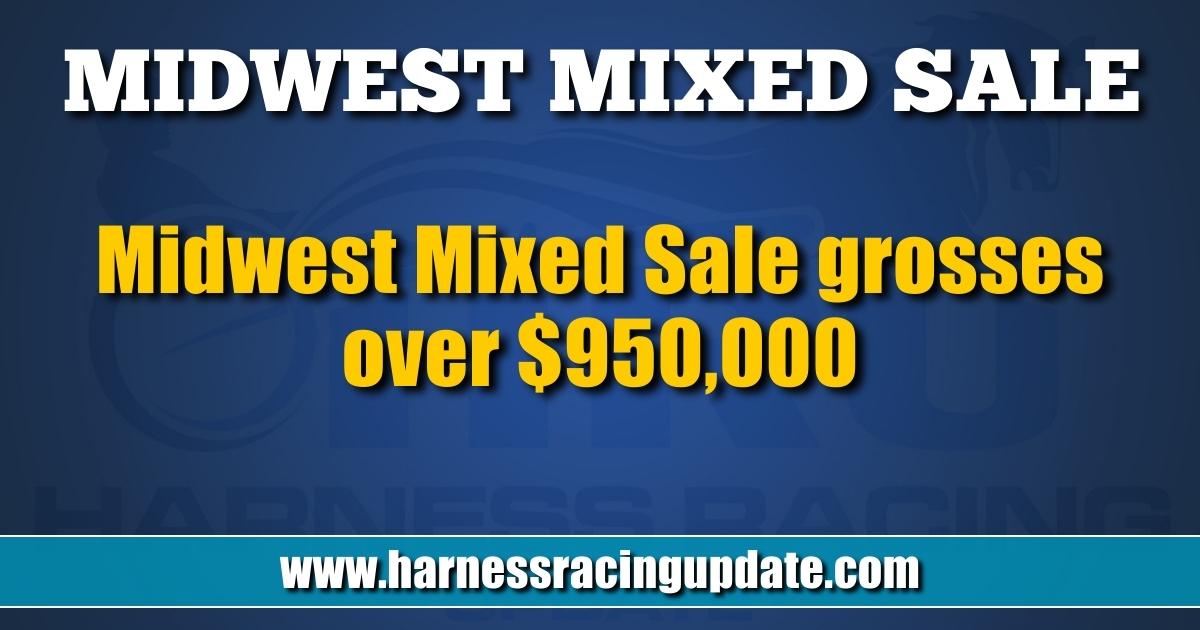 Midwest Mixed Sale grosses over $950,000
by James Platz
The Michiana Classic Yearling Sale has traditionally offered buyers one last chance to purchase Indiana-sired yearlings annually, as it held a November date on the sale calendar. This season, the sale, held in Shipshewana, IN underwent some format changes and was moved up to Wednesday, Sept. 7 to become the first yearling marketplace of the season in the Hoosier State. With fewer entries for both the Michiana Classic and Midwest Mixed Sale, the two were combined into a one-day sale under the banner of the Midwest Mixed Sale, offering a catalog of 83 yearlings and a mixed portion that included 31 entries consisting of weanlings, broodmares and racing stock.
A total of 105 horses were hammered down Wednesday afternoon for a gross of $958,400, producing an average of $9,128. Focusing on yearlings only, 78 babies passed through the ring grossing $718,200 and averaging $9,208. Compared with the 2021 Michiana Classic, where 98 yearlings generated total sales of $891,200, this year's average increased minimally over the $9,094 of 10 months ago.
Sale manager Steve Cross said the move to September was without precedent. Not only were yearlings offered at auction prior to October's Hoosier Classic select sale, the company's flagship event, but also before the conclusion of the Indiana Sires Stakes program. At the time of the sale, two legs and the $250,000 Super Finals had yet to be contested.
The Erv Miller Stable is experiencing a banner year in Indiana, racking up just under $1.6 million in purse earnings this season. Wednesday, two of Miller's owners, Doug Overhiser and Rocco Ruffolo, were on hand to begin reinvesting in the program. Ruffolo signed the ticket on sale topper Digital Solder, a $56,000 purchase, while Overhiser was the most active buyer, signing six slips for a total of $105,500.
Cataloged as Hip 77, Digital Solder is a son of Tellitlikeitis that is eligible to the Indiana and Michigan programs. Consigned by Brett Boyd Racing Inc., the colt is the third foal out of Manhardt mare Getoutthediamonds, who has already produced Megatron sophomore RB, a 10-time winner with just shy of $80,000 in earnings racing in Michigan.
Boyd said he had hoped to keep the colt, but there were several factors to consider, including the fact he has made significant investments in the Michigan program, with 40 head of horses at his Jonesville farm.
"I wasn't really planning on selling. We've had a situation where it's just been a tough year. Fulfullnmydestiny, unfortunately, got injured. My 2-year-olds just didn't pan out this year like we anticipated or hoped. When Steve announced the sale was going to be first, I thought it was a chance to be the first to market with the very first Freaky Feet Pete and a really nice Tellitlikeitis colt. I thought it would be a good opportunity to sell them," Boyd said. "We've invested heavily in the Michigan program. It seemed like the best business move at the time."
Warrior For Truth, offered as Hip 16, was the other Boyd entry. From the first crop of Breeders Crown champion Freaky Feet Pete, the colt was the first of four yearling purchases for Overhiser. The second foal from Art Major mare Odds On Cygnus, Warrior For Truth is a half-brother to Lovely Lady May, a four-time winner with $53,382 in earnings. Overhiser paid $20,000 for the colt, then spent $18,500 on Big Dover (Hip 42), $18,000 for JK's Knockinrocks (Hip 46) and shelled out $23,000 for Raylan Drew (Hip 56), a colt from the second crop of impressive young trotting sire Helpisontheway. The Illinois-based owner said he will take a piece of the sale topper, and other owners will be added to the yearlings he signed for as well.
"Rocco came to the sale saying he wasn't going to buy anything. He wasn't going to put his name on anything. I knew that would change during the sale," Overhiser said, laughing. "I'm in on that horse as well. I think that's the only one he came in on. The rest of them, we'll slice it up a little with a lot of the group of folks that Erv has."
The owner then picked up weanling Crazylikeitis, a half-brother to Rockin Image mare Letme Fly Low p,2, 1:55.2s, 3, 1:51.3s, 4, 1:50.2s ($259,302) and Certifiable, a Grand Circuit winner conditioned by Miller with earnings of just over $83,000. Consigned as agent by Victory Hill Farm, the filly brought $20,000. Rounding out his purchases, Overhiser signed the ticket for the weanling's mother, Art Major mare Psychotic, for $6,000.
"Erv has a history with that broodmare. I, myself, am looking to pick up a few more broodmares. I like her history, and she would be good for Indiana. If the price was right we were going to bid, and it was much better than I expected," he said.
A pair of broodmares topped the mixed portion, selling back-to-back for $30,000 apiece. Fawn De Savage, Hip 88 in the sale, was purchased by Cathy Webb of Ivy Lane Farm. The nine-year-old Keystone Savage—Ms Mastercraft mare sold as part of the Fawn De Mon Farms broodmare dispersal. The Indiana Sires Stakes final winner has produced freshman Chapter Seven colt Fulla Vex, an $80,000 yearling that has qualified in 2:03.1. She is in foal to perennial leading Indiana trotting sire Swan For All.
Rocknroll Hanover mare Rock N Roll Baby, consigned by Newfound Stables, also brought $30,000. In foal to Captain Midnight, the mare is a 100-per cent producer from five foals of racing age, with three in 1:52. Her freshman, JK Endofanera filly Rollin Rosie, is a perfect four-for-four at Harrah's Hoosier Park, with a pair of Indiana Sires Stakes leg wins, a mark of 1:51 and earnings of $111,000. Illinois breeder Jeff Jones purchased the 13-year-old broodmare.