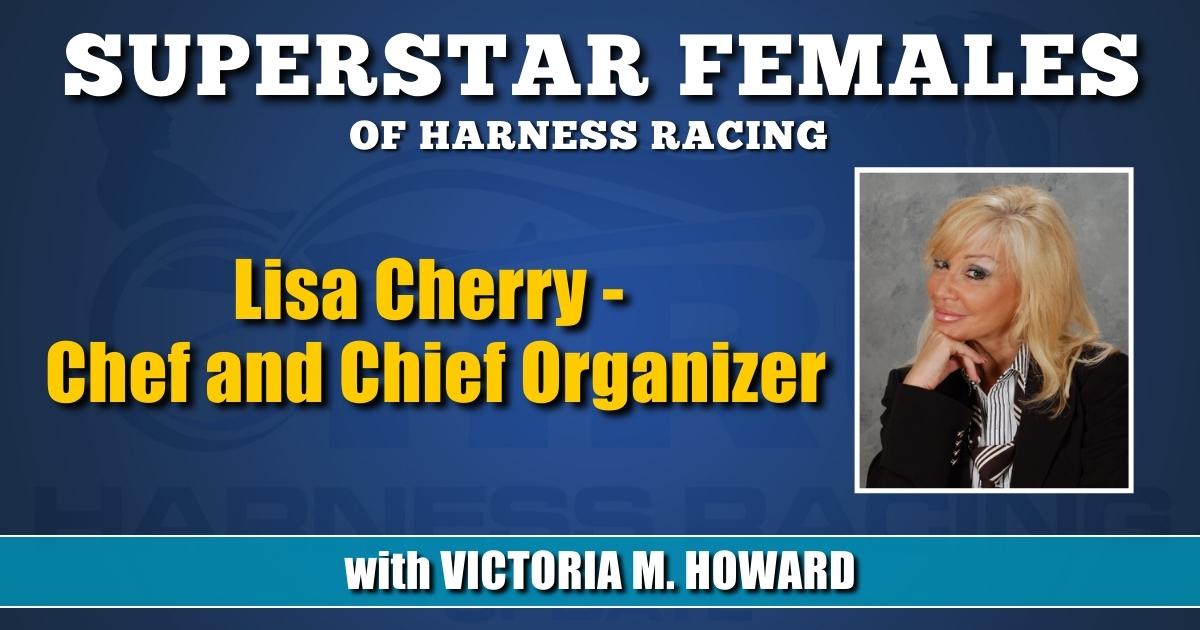 Lisa Cherry — Chef and Chief Organizer
by Victoria Howard
This month's superstar may not have grown up with horses or was born into a harness racing family, but that all changed when Lisa met and married Eric Cherry — one of the sport's major owners.
Presently, the Cherrys own over 350 standardbreds.
"I met my husband when we looked to collaborate on a possible business venture. It wasn't until 2014 that we started a relationship, and have been great partners — business and personally — ever since," said Lisa.
Q: How did Eric get involved in harness racing?
"In 1969, Eric started going to the races when he was 16 years old. He loved the sport and betting on the horses. In 1972, Eric bought several horses and really enjoyed it — that was until his trainer at that time cheated him. Thus, Eric got out for a few years.
"On April 4, 1978, he missed the business so much, he got back in by claiming Super Game from Henri Filion and has been in the game ever since."
But horse racing isn't Eric's first successful venture. Several of Cherry's lucrative enterprises were his "pay per call" phone industry and the early days of the Internet for his billing company.
Eric's latest innovative venture is his hugely successful on-line horse sale company, On Gait.
"In 2001 – one month before 9/11 — Eric and his partner Maurice Chodash launched On Gait, which sells about 600 horses every month and has sold over $35 million so far, this year alone.
"For many years people told Eric 'You can't successfully sell horses online,' but my husband's response was, 'People say things can't happen, until they do,'" said Lisa.
In the past few years I've become friends with the Cherrys and have spent many nights at their house, where Lisa is by far the "hostess with the mostest."
As we watch our horse race from their professionally decorated theater room, Lisa serves many unbelievable dishes, all made from scratch. She's Italian and credits learning the recipes from her grandmother, but I am also Italian, and I can hardly boil water.
Believe me — I know good food — and Lisa Cherry can put her food against that of Wolfgang Puck, Gordon Ramsey and Emeril Lagasse, and she will hold her own.
The Cherrys have a trophy room in their home, displaying pictures and awards from major races they have won. The first horse Eric bred was Shadow Dance, who is one of his all-time-favorites. Another is Tug River Princess and her offspring.
This year Tug River Princess has a freshman filly, Proud Mary, who has turned out to be a very good one, and like her name, is making the Cherrys proud.
Another personal favorite of Eric's is the millionaire mare, Drop The Ball — the dam of New Year (Somebeachsomewhere), and Butterfingers (Sweet Lou).
If I were to describe Eric Cherry I would have to say he is a genius. He has the mind of a brilliant mathematician and everything he touches seems to turn to gold.
He is by far one of the sport's best owners and we are lucky to have him, for he pours a huge amount of money every year into breeding, purchasing, and racing standardbreds.
"Currently, we have over 135 broodmares and also support a few stallions we have a big interest in. The first is Heston Bluechip, who my husband strongly believes will be one of the better sires in the industry.
"Eric has made it almost a crusade in his belief in Heston and I think this year we are starting to see it come to fruition through his offspring Fulton and Square Deal, among others.
"We also have a large interest in the stallion Bettors Wish, as well as Hes Watching, Sunfire Blue Chip and Stag Party.
"And we have shares in the top stallions, Papi Rob Hanover and Captain Crunch. Oh, and I can't forget Badlands Hanover, who is now 26 years old and has been very good to us."
ERIC AND LISA CHERRY'S TRAINERS
"I love that we have so many passionate, hard-working trainers. They are Brett Pelling, Nifty Norman, Linda Toscano, Noel Daley, Chris Ryder, Virgil Morgan, Ian Moore, Jeff Webster, Megan Scran, Mike Hall, Ron Burke and Tony Alagna. I hope I haven't left anyone out."
LISA'S FAVORITE HORSES
"I have a few. My first big win was when I just got started handicapping. Although I was never really one to bet, I learned from the best — Eric. After teaching me, he encouraged me to make a bet.
"One night I bet Evening Of Pleasure at 35 to 1 and he won. I am now addicted to gambling — if it's possible," Lisa said, laughing.
"My favorite first standardbred to own was Skinny Dipper. After I watched a video on YouTube about the great Somebeachsomewhere, I knew I had to have one of his babies.
"At that time Eric owned a Beach yearling filly, and knowing how badly I wanted one, he gifted her to me. She ended up winning over $200,000 for us — along with her many antics.
"Her barnmate was Call Me Queen Be and both fillies made it to the Breeders Crown as 3-year-olds. The Queen took the Crown and the purse.
"Our fastest horse is Allywag Hanover — 1:46.4, with Tattoo Artist a close second – 1:47.1. Jimmy Freight has joined our stable recently, too.
"But my favorite racehorse story is about the horse Springsteen. Although we were the under bidders, I picked him out based on my early analysis of his pedigree. He was beautiful and I still follow his career."
Q: After all these years and owning many great horses, does Eric get nervous or excited when his horses race?
"Yes, Eric gets very excited. You have been over our house and watched him pace around our theater room faster than the horse sometimes," Lisa said, laughing.
"Sometimes he's more nervous than other times — it all depends on how much that race means to him. For the 'bigger' races, and especially when our homebreds race, he gets really nervous.
"Of course you can't win all the time, for anything can and does go wrong in a race, but his frustration and disappointment doesn't last long. He tells me, 'If you do not feel the pain of losing, you will not enjoy the pleasure of winning.'"
Watching the races on their five enormous televisions is a daily ritual at the Cherry household. Constantly playing are streamed races from numerous racetracks across the country. Even if they don't have one of their own horses in, they watch the races for potential purchases or to make bets.
Although Eric seems to be great in everything he does, there is one thing he lacks and that is where his wife, Lisa, comes in.
Q: Lisa, what is your personal contribution to the success of the Cherry Racing Legacy?
"Although Eric has many great qualities, organization is not one of his strong suits. Since we have 60 horses currently racing and over 135 broodmares, I keep all the records — from where they're racing to who the drivers are, and if there are any conflicts. I also keep records on all the broodmares, who they are in foal to and the foal that is by their side now.
"Every day I write schedules and future stake entries. This helps us both with all the changes. Also, I recently started posting our highlights on our Let It Ride Stable on Facebook.
"Eric and I are totally consumed in the sport. Since we have been together, many of his horses have won major awards, but sadly as of today, Eric has not. He has, however, won awards in prior industries for his innovations.
"Our goal is to continue what we're doing and to innovate the industry. I believe one of the problems in our sport is the reluctance to change and try new things, but I hope that changes.
"Harness racing isn't something we just do — it is our life. It totally consumes us and we wouldn't have it any other way."