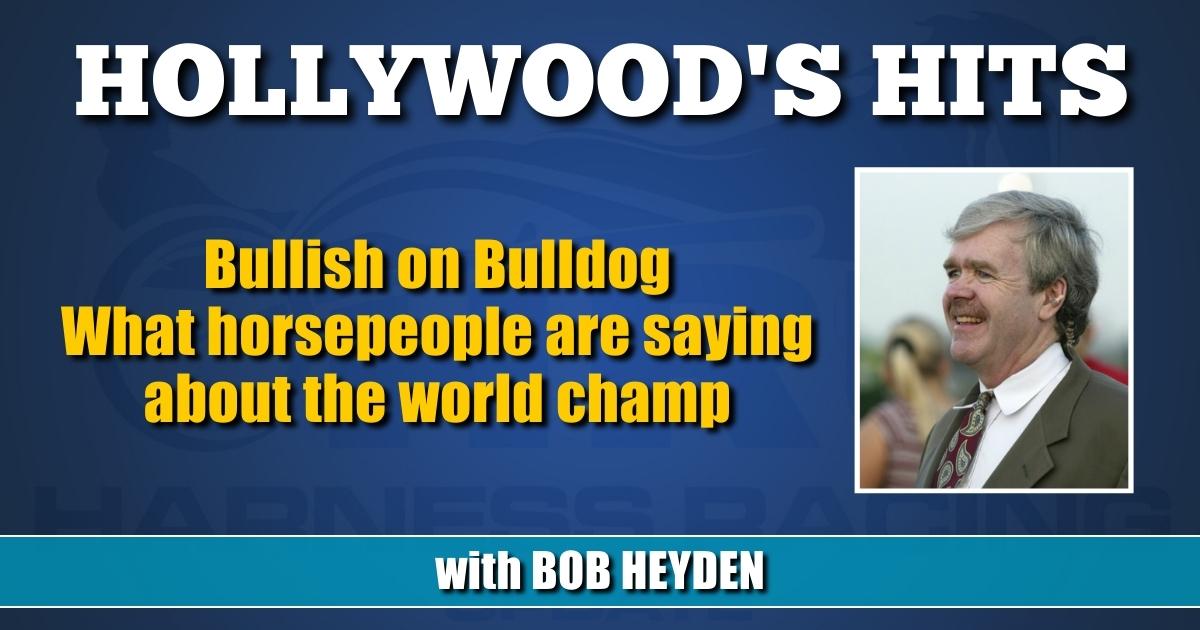 What horsepeople are saying about Bulldog Hanover, the first horse in 42 years to be the fastest in the world and on both U.S. and Canadian soil.
by Bob Heyden
Last Saturday, 4-year-old Bulldog Hanover won the Canadian Pacing Derby in 1:46.4, tying Dr J Hanover's all-age Canadian record. That means that for the first time in 42 years — since Niatross in August, 1980 — that a single horse is the fastest in both Canada and the United States. Niatross did it in both a race and in a time trial in the USA. His 1:49.1 in an Oct. 1, 1980 time trial stood for eight years until Matts Scooter lowered it to 1:48.2 in 1988. Niatross won the August 1980 Prix D'Ete in 1:53.4, then the fastest mile ever recorded on Canadian soil.
We caught up with a long list of horsepeople to get their take on Bulldog Hanover.
Tyler Smith: "A freak".
Mark MacDonald: "I was in the 1:45.4 race. He's tireless. The most shocking thing about the record 1:45.4 was not that he did that, but the fact that Dex (Dunn) had a hard time pulling him up after the mile. Amazing."
Howard Perlmutter: "So much has been said about this great horse. His speed and power simply speak for itself when everyone else in the race has already resigned to getting second or minor spoils. He's like a superior combination of Boomer Drummond-Tuff Choice and Forrest Skipper. Remember, he's the 14th foal out of BJs Squall."
Paul Kelley: "He's really impressive. It will be interesting to see how far he can take it."
JoAnn Looney-King: "It's great for the business."
Todd McCarthy: "The best horse I ever raced against."
Jacqueline Ingrassia: "Awesome! Goes to show even a yearling that was very late in the sale (HIP# 595 Harrisburg 2019) can be a world champ."
Steve Katz: "It's not over yet, But Bulldog Hanover in 2022 has the most impressive campaign for an older pacer that I can remember. That's not meant to detract from his colt form, which was good enough to launch a stallion career. But now he merits comparisons to the all-time greats."
Mark Weaver: "Most dominant horse I've seen since Sweet Lou's streak of 10 in a row in 2014. I'm very happy for the connections. Jack does such a good job especially when you consider that he starts with just a few horses each year."
David Smith: "To me Bulldog is the second best horse I've seen race and I've been watching horses for over 50 years. He has it all — great gait, heart-and speed. I'm still a Niatross guy though."
Travis Alexander: "His maturity from 3-4 is amazing. His ability to carry that speed so effortlessly is what to me sets him apart from the other top free-for-allers before him."
Peter Blood: "He looks like one of those once-in-a-generation horses — extremely fast and very intelligent."
Billy Haughton , Jr.: "Absolutely amazing! Great for the sport. He's a monster. I mean all the superlatives people have used — amazing, tremendous power, superstar, all apply. Hopefully he continues. It's good for the sport for sure."
Bill O'Donnell: "Bulldog has moved the sport up another notch."
Jimmy Bernstein: "Bulldog is an impressive pacer on his own. But I don't look at times. They relate to the improvement of equipment and sulkies."
Dave Palone: "He's just the perfect horse. Incredible gait. Dex has him wrapped up every time."
Scott DiDomenico: "What can you say other that he is sensational — a great big gait, big lungs and an unbelievable will to win."
John Kopas: "I've been around and have seen many greats in my time but none like him. Best older pacer ever."
Carter Pinske: "Every once in a while a horse comes along that is just a freak of nature. That's what he is — a freak of nature. Not the best bred or the most expensive, but proves consistently that he is clearly the one to beat when he's in to go."
Bruce Riegle: "Bulldog Hanover is the Cinderella story of this year's horses. It should show people that you can get quite a good horse for a little bit of money."
Bob McClure (who was third in the Pacing Derby with Poseidon Seelster): "I know I had Poseidon glued to Tattoo (Artist's) helmet just hoping they would tow me as far as I could. Bulldog is driving away from some very fast horses."
Mike Lachance: "He's built like a thoroughbred in his front half and a standardbred the back half. When he was in Jersey with Noel Daley I'd see him pretty much every day. So impressive."
Personally I have heard Niatross' name come up more than anyone else's. Let's go back and get a Stanley Dancer take on Niatross, from mid-1980, to see if any of this rings true with Bulldog today.
"You don't need to tell me that Niatross is the top 3-year-old around," Dancer said. "He does everything so easy. Everything right. He's a good-using horse like Albatross and he paces real clean. Niatross is a lot bigger than his sire — bigger boned — heavier and stronger. I don't think a horse's size goes into making them great or not. You had a small one like Good Time and a big horse like Bret Hanover. Niatross' best qualities are his gait, his perfect smooth gait — a long strider — perfect manners and his heart, much like Albatross. Remember that Albatross' easiest wins at age 3 came at the end of the year. Niatross has all the qualities you associate with a great horse."