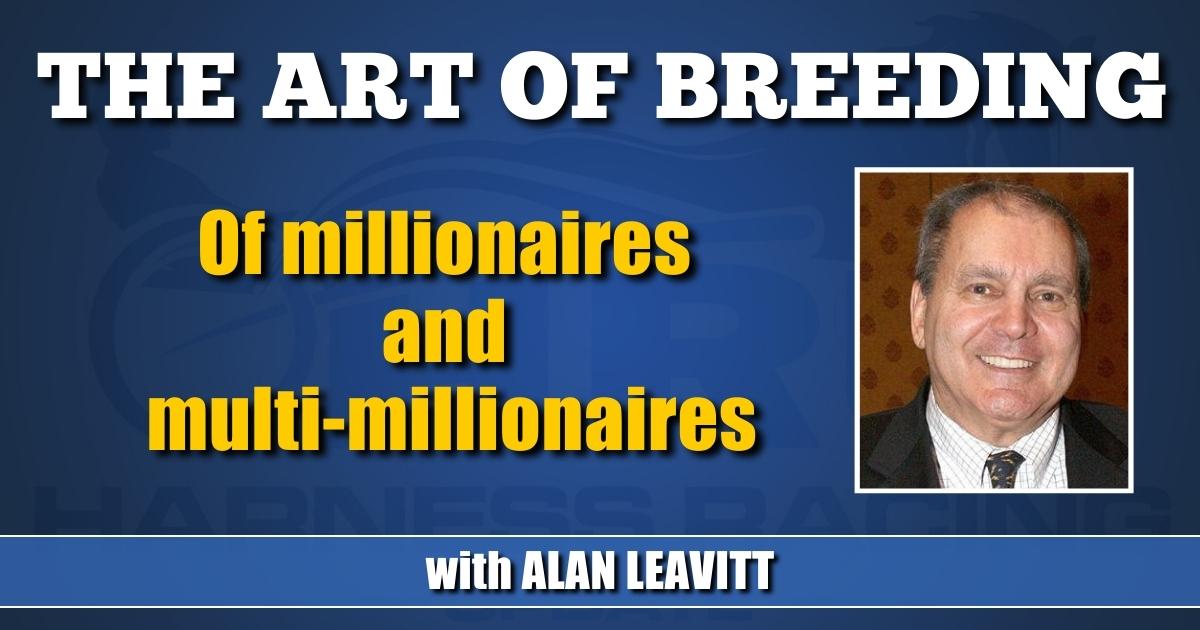 Of millionaires and multi-millionaires
by Alan Leavitt
Having rashly predicted great sire success for Rebuff based on his beauty at full stride, it was past time to look at his extended pedigree.
That is said with full understanding that the only worthwhile clue to a stallion's future potential is his record on the racetrack at 2. But it's still fun, and a little bit enlightening, to see where a good horse came from.
Rebuff is sired by Muscle Hill, and out of Meucci Madness, by Yankee Glide. Curious about the word Meucci, it seems to derive from the surname of Antonio Meucci, an Italian-American guy who lived from 1808 to 1889 and is sometimes credited with inventing the telephone. Today, it mainly refers to a manufacturer of pool cues and golf clubs, which I suspect is where our mare Meucci Madness got her name.
Being a believer in the power of judicious inbreeding, it's of interest that Rebuff is inbred, 3 by 3, to Valley Victory. As a reminder, when the sum of the two generations in which the same horse's name appears is six or less, the horse so bred is technically "Inbred."
When the sum of the two generations the same horse's name appears is 7 or 8, the horse with that pedigree is defined as "Linebred."
When neither of these crosses appears in a horse's pedigree, that horse is, by definition, an "Outcross."
The great majority of today's American-bred standardbreds, both trotters and pacers, are outcrosses. One of the advantages this kind of pedigree offers, in the stallions, is good fertility. Thirty years or so ago the American trotter had become highly inbred, with the result a marked loss in stallion fertility. We don't see that problem today.
As a quick aside, if one is curious about the future fertility of a young racehorse, there is a good method of predicting it without doing a test breeding, which has been the usual way. Most syndicate and purchase agreements are based on test breedings, which, for obvious reasons, are close to impossible to perform until the horse in question has been retired from racing.
The alternative method is to have an experienced repro vet take certain testicular measurements, and put them into a certain equation, and the result will be a 95 per cent accurate number of sperm cells that horse will produce in one ejaculate.
Naturally, there are other questions regarding the quality of the semen that can only be answered by an examination of the real thing, but that equation will answer the biggest question every stud manager has. And, at the risk of redundancy, it can be used anytime during a horse's racing days.
Back to Rebuff, a few words about Valley Victory, his grandsire on both the top line, or Tail Male, and the bottom line, or Tail Mare.
Even though he raced as recently as the 1989, the USTA no longer provides his race lines. He was a perfect seven-for-seven at 3, but contracted a virus and was not entered in the Hambletonian. That virus ended his career, but he went out with 10 straight victories stretching back to his 2-year-old season.
When he entered the stud, he exploded like a hydrogen bomb, and raised the performance level of the American trotter to new heights. He made an indelible impression on the trotting breed with sons such as Muscles Yankee, Victory Dream, Lindy Lane, Donerail, and Yankee Glide.
Valley Victory was highly inbred. He certainly wins this week's "I'm My Own Grandpa Award" in a walk. In case you don't know country music, I'm My Own Grandpa has probably the most complicated lyrics ever written in English which documents all the relationships that ultimately result in the song's title.
Rebuff is not only 3 by 3 to Valley Victory, he's also 4 by 4 to Speedy Crown. That great horse won the Hambletonian himself, sired 3 Hambletonian winners, and is the only standardbred trotting sire whose progeny earnings in one season exceeded not only those of his competitors, but also every North American based thoroughbred sire.
Once again, Rebuff's pedigree also shows the great influence of Charlie Keller, the New York Yankees star outfielder-turned-standardbred breeder. Rebuff's pedigree shows two crosses to Keller's foundation mare China L, which he bought for $1,600.
She was a great bred mare out of Jane Revere, one of the best producers in W.M. Reynold's vast standardbred holdings. Delvin Miller was Reynold's trainer, and he won practically every big race we had including the Hambletonian and the Little Brown Jug.
Every race in those days was raced in heats, and only the Hambletonian was raced, by the rules of the Hambletonian Society, on a mile track. The only other mile track that had a big race was The Red Mile, where the Kentucky Futurity was and still is today held. Although they don't even exist today, The Red Mile meeting in the early fall was the scene of hundreds and hundreds of time trials.
In those days, a record against the fence had value, and even if a filly couldn't beat 2:05, we breeders were happy to get 2:06 or 2:07 on a trotting filly destined for our broodmare band. The last notable time trial in our sport was on Aug. 16, 1993, when Cambest time-trialed at Springfield, IL in 1:46.1. He was trained by Fred Grant and driven by Bill O'Donnell. That was the fastest mile of all time for close to 20 years.
Regarding The Red Mile time trials being an anomaly. When Joe O'Brien trained and drove the powerful string of horses owned by Sol Camp, they won everything at one time or another, including the Hambletonian, at least three times, and the Little Brown Jug. But even when they had a top trotting stakes filly who cried out for a 2:00 record she hadn't got racing, O'Brien refused to go against the fence with her, or any of the other bluebloods in his string.
However, after Sol Camp passed away, and his holdings, including Almahurst Farm, were dispersed, O'Brien went out on his own as a public trainer. And he quickly became the most sought after time trial driver at The Red Mile meeting, where, among other things, he drove Steady Star to the fastest mile of all-time at the time, TT1:52.
So, as we said then and say now: Go figure.
And then there's the article I just read about a great Canadian trainer from the past. In an interview, one of the trainer's longest time patrons had this to say about the guy:
"After 10 years with x, I was a millionaire," his owner said.
Then he added, "But before he started training for me, I was a multi-millionaire."