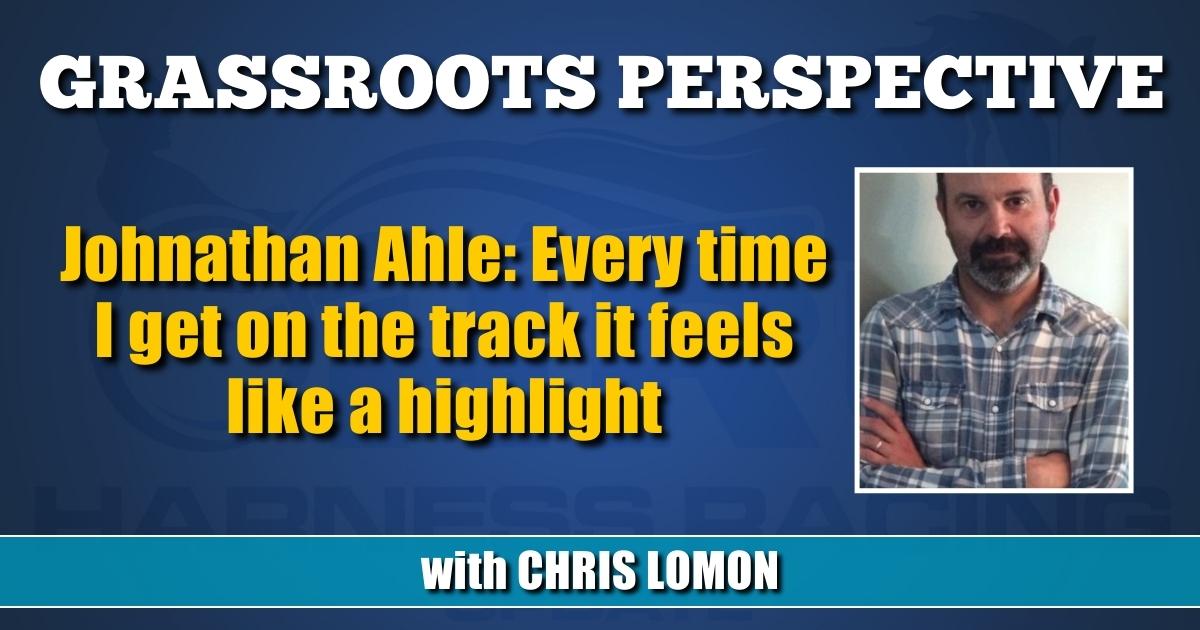 Johnathan Ahle: Every time I get on the track it feels like a highlight
by Chris Lomon
It's an answer that perfectly captures Johnathan Ahle's passion for horse racing.
There is a pause, albeit slight, when the 25-year-old standardbred driver and trainer is asked to pick out a special moment in his career to date.
"Big highlights… I don't think there have been that many so far," said Ahle. "For me, I would say, getting my first training win at Freehold with my horse Lynbar Rose. That was pretty cool. I got my first driving win at Freehold as well, with Bungalow Bill N. Other than that, it's all a highlight. Every time I get on the track it feels like a highlight."
Seven years ago, a life in racing wasn't on the radar for Ahle.
In fact, he didn't know much about the sport or the horses. One conversation changed all of that.
"I worked in a restaurant, doing all kids of different jobs – waiter, server, working behind the counter – but that wasn't a forever thing," said Ahle. "I met [trainer] Shaun Vallee's daughter, Sarah, and that's how it all started. I think the family was going away on vacation and they needed help around the barn. So, I went over there and started cleaning out stalls, whatever they needed."
The daily menu of tasks was completely different than what he was used to, but there was something about it that resonated with Ahle.
"I didn't start in the business until I was around 17, when I started working for Shaun. I didn't know a thing about horses at the time. I started out doing buckets and stalls, and it just intrigued me, being around the horses and seeing them train. Little by little, I started jogging and training. That all led me to where I am now."
In 2019, Ahle launched his driving and training careers, going winless in a modest number of starts. One year later, he posted his first victory as a conditioner. His first win in the race bike came in 2021.
This year, the New Jersey native has revved up things in the sulky, having already reached numerous career-best numbers, including starts, wins and purse earnings.
He's also fared well on the training side, having surpassed previous-high totals in top-three finishes and purse earnings.
"Pretty soon after I started working for him, I was intrigued with the whole business, racing and training and taking care of the horses. I started out helping around the barn, doing the feed tubs and stalls and stuff like that, and one thing led to the next. I started jogging, then that led to training, and eventually everything played out to where I am now."
There have been challenges along the journey, perhaps most notably, in the desire to establish himself as a regular driver.
Striving to achieve that goal is a daily focal point.
"I'm really trying to push the driving aspect of my career because I enjoy it so much. So far, it's the favorite part of the business. It's difficult to pick up drives because there is a lot of competition obviously. You just hope you can drive well and keep the horse for its next start. I would say that's the biggest hurdle for me now."
Paying attention to details, big and small, isn't an issue for Ahle.
"I think I've picked up enough knowledge that could fit into three brains over the past seven years I've been doing this," he said with a laugh. "The biggest thing I've learned is to listen to what the horses are saying to you. They don't speak our language, but they speak in their own way. I just listen to what they are telling me."
Those interactions have no doubt helped Ahle, especially in more recent times.
Whether it's time spent with the horses or helpful advice he gets from Vallee, Ahle is grateful to expand his knowledge of the sport.
"When it comes to best skill as a driver, I guess I'd say staying in the seat," he quipped. "Obviously, I'm kidding. I don't think I have one skill that really stands out. I'm still learning every day. I'm always trying to improve so that I do have a best skill."
Ahle's racing colors are a tip of the cap to Vallee.
"I went with red and black – I'm not sure where I really came up with the design – because those are Shaun's colors. I owe everything I know to him and his wife Anita. I just thought it would be cool to keep his colors and change the design around a little bit."
He's also developed an appreciation for making the trek to the winner's circle.
Ahle is hopeful there are more win photos, especially as a driver, out there to add to his collection.
"At one point, thought of being a driver seemed so far-fetched. Then, I started doing the amateurs and realized how much I liked it, and I had some success. I've been driving in some of the overnights at Chester, so I think I'll move on from the amateur ranks. I'm really trying to drive as much as I can and drive well, so that I can keep doing it. That's my long-term goal, to keep driving, keep learning, and keep getting better at it so that I can make a career out of it."
And when he's not focused on elevating his skillset, don't expect to find Ahle with his feet up on the couch.
The indoor life is not for him.
"I like to surf. I don't do many team sports. It's all about being outdoors. I love that, whatever it may be. I could be on a beach or a trail. Outdoors is where I like to be."
So too is working around the horses.
Ahle's connection with the pacers and trotters continues to grow stronger.
With his amateur driving career coming to a close, he hopes the best is yet to come.
"The sport and the horses, it just draws you in. It's almost impossible to let go. When I first started, there wasn't one specific horse that I developed a bond with. They were all very special, but it's not like the bonds I've created now. Every horse is different and you can't treat them all the same. That would never work. Every horse has their own little quirks, and you find out what they like, what they don't like, and what they can and can't do."