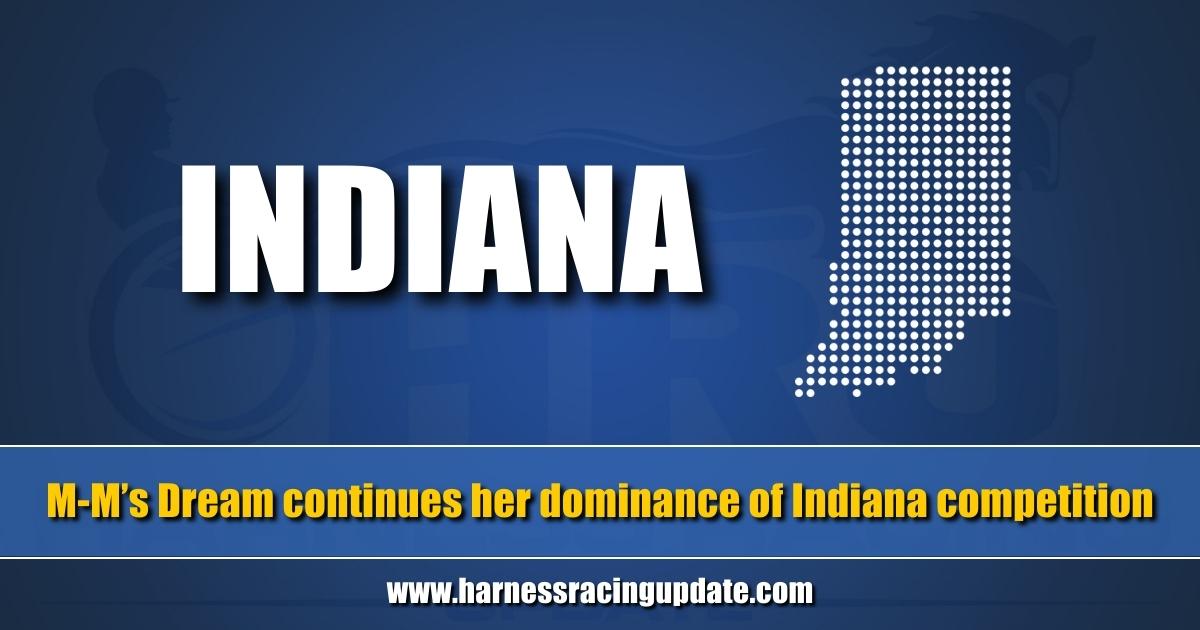 M-M's Dream continues her dominance of Indiana competition
by James Platz
Last spring, trainer Henry Graber Jr. was ready to pull the plug on a 2-year-old trotting filly he could not coax into staying flat. The freshman repeatedly made breaks while training over Graber's half-mile farm track. Just as he was preparing to turn her out, M-M's Dream made a dramatic turnaround. Now a sophomore, the Swan For All—Trading Places filly dominated Indiana Sires Stakes competition last season, and is off to a perfect four-for-four start in 2022.
"As a 2-year-old we were about to the point of giving up on her. She was making breaks training," said Graber. "She made so many breaks training. About three weeks before qualifying, she flipped a switch and she was a different horse."
It wasn't a complete transformation. As Graber noted, even after she began racing at Harrah's Hoosier Park Racing & Casino, she managed to make breaks training at home. However, in competition, she virtually eliminated all miscues.
In late June, Graber sent the filly, owned by his father's Eleven Star Stables, to Hoosier Park to qualify. With Trace Tetrick at the controls for two outings, M-M's Dream trotted second in 2:01.1 followed by a 1:59.1 romp on July 3, where she won by eight lengths and closed out the mile with a :27.4 last quarter.
"After qualifying Trace said, 'You need to take care of her. She's a nice filly,'" said Graber. "She always had a really nice way of going."
Before M-M's Dream made her pari-mutuel debut, Frank Baldachino bought an interest in the filly, as did Ernest Graber of Hillside Stables. They were quickly rewarded when she captured a $45,500 division in the opening round of Indiana Sires Stakes July 14. In rein to Sam Widger, the freshman won by more than two lengths.
In 12 career starts, M-M's Dream has missed the board only once, the result of a break early in her second career start. That day she finished seventh for the connections, and since then she has proven to be nearly flawless.
"She ran and popped a quarter crack and still trotted home in :26.4 that start. From there on, she's only lost one race," said Graber.
After a Grand Circuit victory at the Indiana State Fair, the filly returned to Hoosier Park. M-M's Dream managed second that day in the third round of sires stakes despite suffering the effects of a punctured foot. Graber and his team worked tirelessly to get her ready for the start, shipping her at the last possible moment from their base of Portland, Ind.
"We jogged her about seven miles that morning. We shod her three different times three different ways trying to get her comfortable. We actually sent the first load of horses to the track because she was at the end. We found another guy to ship her last minute," the trainer said.
M-M's Dream was nosed out at the wire in 1:55.3. It was the last time she missed the winner's circle in 2021. The filly reeled off four straight victories, capped by a 1:55 triumph in the $270,000 Super Final at Hoosier Park. In that race, Widger and his charge kicked home in :27 to edge slight favorite Fleurie at the wire by a length and a half. Bred by Mervin J. Miller, M-M's Dream finished the year with six wins in eight starts, $268,462 in earnings, and took home the hardware as divisional champion in Indiana.
"Last year, if you watch all of her races, she never got the same trip. It was always something different. On the backstretch sometimes it would look like she was giving up, but when she got to three quarters she would flip a switch," Graber stated.
At season's end, M-M's Dream was turned out at Kentuckiana Farm, where she wintered for the partnership. When the filly returned in early 2022, Graber said she had matured considerably. Gone was the habit of making breaks while training, as well as lingering issues.
"She had foot problems last year and her one knee was kind of iffy. We had to work on it all year. This year, there's nothing special we're doing. She's just a nice horse," he said. "She wears less equipment than last year. Her biggest thing is that she matured over the winter. Anybody could have taken her and did what we did. She didn't make any breaks, didn't make any mistakes. She was easier to drive and would do anything you wanted to do."
After two qualifying efforts, M-M's Dream returned to action May 30, winning her sophomore debut in a time of 1:54.4 despite broken equipment. She followed that with a 1:53.4 score on June 14, winning by a length.
Although she was winning, Graber noticed that his filly had a tendency to wait on other horses once on the lead. Fearing that she could get caught at the wire, he chose to open up the bridle on M-M's Dream in her third start. The trotter turned in her fastest mile to date, a 1:53.1 effort in the $92,000 third leg of sires stakes competition.
"We trained her with it and she seemed alright," Graber said. "It seems to be working."
M-M's Dream kept her winning streak intact with a victory on July 20. Squaring off again in Indiana Sires Stakes, the sophomore led gate to wire, winning by nearly three lengths after kicking home in :26.3, tripping the timer again in 1:53.1.
"She's the best one we have. We have Brookview Bullet. He paced in 48 and change this year, but he's a four year old. As a two and three year old, we don't have anything like her," said the trainer.
An $18,000 yearling purchase out of the Hoosier Classic sale, M-M's Dream pushed her earnings to $384,962 with the latest win. Graber said that some have asked if the filly will venture outside Indiana this year. He is focused on the task at hand in a tough sires stakes division, followed by multiple open stakes this fall at Hoosier Park. Next year is a different story. Graber once questioned whether M-M's Dream would make it to the races. She answered the question, and If she continues to excel, bigger opportunities could lie ahead.