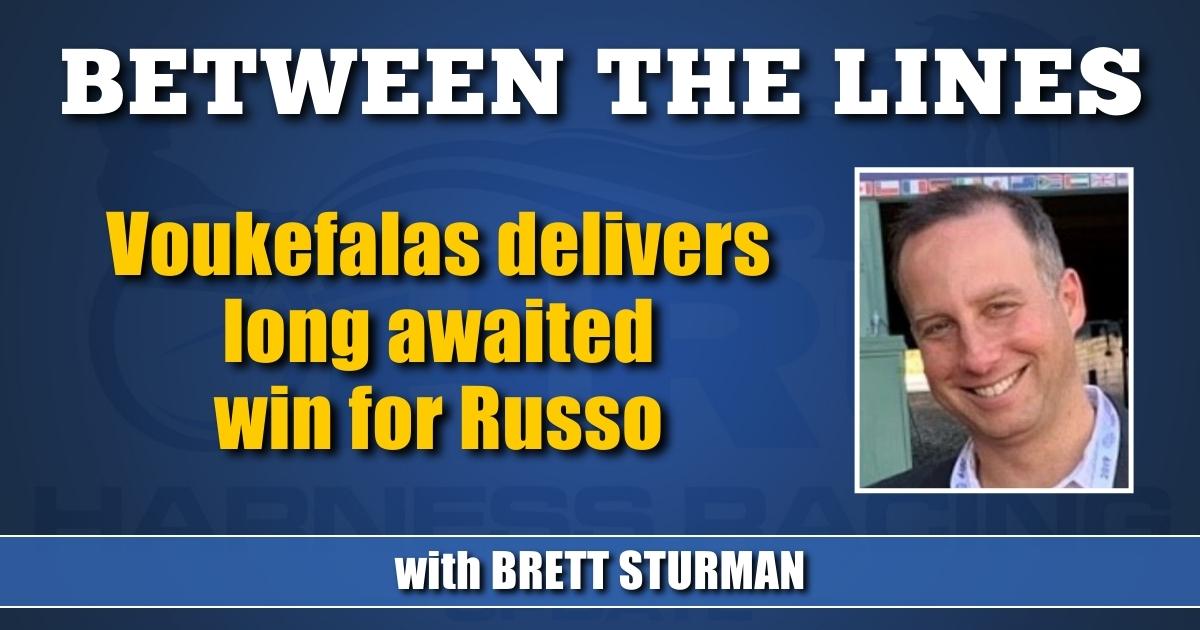 VOUKEFALAS delivers long awaited win for Russo
Trainer Mike Russo has seen more than his fair share of ups and downs through the years. So, the pacing colt's win in the New Jersey Sires Stakes final was the culmination of an improbable journey. 
by Brett Sturman
Emotions were running high for trainer Mike Russo following the resounding win from his 2-year-old Voukefalas (Lazarus N) in the $250,000 New Jersey Sire Stakes final for male pacers. Owned by Michael Pagonas, the winning time of 1:50 established a new season's mark for all freshman pacers.
For Russo, 54, who has seen more than his fair share of ups and downs through the years, the win was the culmination of an improbable journey. 
"Honestly, I was kind of surprised by my emotional reaction to it," said Russo. "It really did mean a lot.
"Back years ago, I had a nicer sized stable. It was mostly claimers, but they were some good horses, and the barn was running well and showing good results. The problem is that it was expensive to run the barn the way I was running it and to continue to get results. It was basically where my barn was operating under water and it just wasn't working, so I downsized. From there, I was working for Jenn and Joe Bongiorno for a while, and I was working outside the business as well to make sure that I could handle my personal and family commitments while still keeping a foothold here until I got another opportunity to put some more horses in the barn."
After reduced starts in 2018 and 2019, Russo was poised to start anew heading into 2020. But like many others, he was dramatically impacted by the pandemic. Horses that Russo had either just recently acquired or had just recently trained back down had their routines thrown off by the ups and downs of the disruption and not knowing when racing would resume. Even in that interrupted year where Russo notes in retrospect he may have done things differently, he still posted a more typical number of 181 starts.
Perhaps snake bitten of sorts through recent years off the track as well as on the track going back to his Prospector Hanover being interfered with in the 2000 Woodrow Wilson, "The majority of the emotional aspect of that race was mostly all the work that goes into getting to that point," said Russo. "I've been programmed to be disappointed in these races. I've been in a few races for that type of money, and I've been third in almost all of them and had shots to win but never this strong of a chance with Voukefalas. These opportunities don't happen every year and to win one of those, it's a great thing."
Jordan Stratton has driven Voukefalas in every start since the colt's second baby race, and despite a 1 for 41 record as a driver at the Meadowlands heading into last Friday, his drive in the NJSS final was flawless.
"I didn't for one second have a discussion with Jordan about the race," said Russo. "He told me the week before that the others can't beat him in the final (a race where he overcame trouble and closed in :25.1). He knew what he wanted to do and so there was nothing for me to say to him. And he did absolutely the right thing; he put the horse in the spot you need to be in."
In that race, Stratton moved Voukefalas to the front in a race where the half mile was posted in :54.1 When Tetrick popped the two-hole early with race favorite Lifes A Puzzle, the three-quarter time came up in 1:22.3.
"The fractions were something that because he hadn't done it on the front end previously they were something that I noticed, but in reality – and I mean this with the utmost respect – when that horse pulled the two-hole at the five-eighths I knew the race was over because that's all my colt needed to let him know that it was time to race. That doesn't mean that the other horse couldn't have gone by, but Voukefalas is very good and he wants to pass horses and he wants to fight them off. I felt very good about the way my colt was going to respond.
"When Jordan qualified him for me in his second baby race – and not because the horse won – the horse has very strong pull and he wants to do things whether you want him to or not. And Jordan has a very soft pair of hands, and he was kind of able to make the horse do what he wanted instead. When I saw that qualifier, I knew that Jordan would be a great driver for him. And he made it known that he wanted to drive the colt and that he was possibly going to have to pass a drive in the Yonkers Trot to drive him in the first NJSS leg. He never wavered about wanting to drive the horse, and to have a guy that believes in the horse – Jordan makes plenty of money at Yonkers and doesn't need to shoot over to the Meadowlands for one race — but for him to believe in the colt and want to be associated with him, that was more than fine for me."
Another element of the personally and professionally gratifying win for Russo, is that he picked out — as a $11,000 bargain 3-year-old and — campaigned and later bred the dam of Voukefalas, Inittowinafortune, at sale in 2013 for owner Pagonas. Inittowinafortune earned just shy of $700,000 between 2012 and 2018, including a mark of 1:49.3 taken at the Meadowlands during her 5-year-old season.
Inittowinafortune's first foal was a filly born in 2019 (American Ideal), which preceded by one year Voukefalas in 2020.
"I first bred her to American Ideal because of American Jewel; very similar breeding," said Russo. "Inittowinafortune is by Cam's Fortune, who is a full brother to Camluck. And American Jewel was an American Ideal out of a Camluck mare. So, that's why I bred her to American Ideal the first time. And that horse, Artemida, is a sweetheart of a filly but unfortunately is very small and got too weak last year and we had to stop with her.
"When they brought Lazarus to New Jersey, I felt good about him. I was a little apprehensive just because I had never seen him in person and got mixed reviews about his size. But Bettor's Delight is a great stallion, maybe the best ever. And I felt good knowing that in my back pocket I have a great mare whose strength was desire. She was a small mare, and I knew her speed was going to eventually show up somewhere in her foals. Even if it didn't work out the way that it did, we could have had the option to race against other Lazarus' in a closed circuit in New Jersey where we could make some money for a couple of years."
It remains to be seen how Voukefalas progresses from here, but Russo had been a believer in the horse long before last week.
"I've had this horse in training for eight months and I can't explain how good of a horse he is," said Russo. "He's never even been beaten in a training mile and I've never put a whip on him. All I've done for eight months is try to go slower than he's wanted to go. He's an extremely fast horse. His class will be determined over the next year, but he's an exceptionally fast horse."
Voukefalas is entered Saturday in an Arden Downs stake at The Meadows as part of the Adios card.