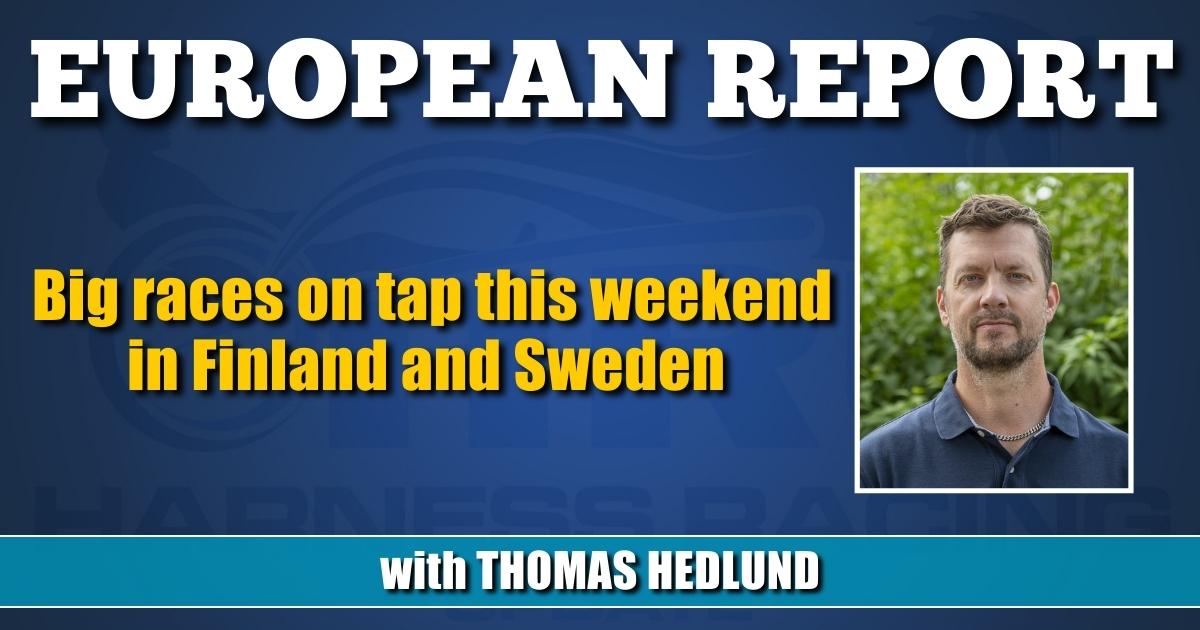 Big races on tap this weekend in Finland and Sweden
by Thomas Hedlund
Mikkeli in Finland and Årjäng in Sweden will draw attention from European harness racing fans this weekend.
The $140,000 St Michel-Ajo over the mile in Mikkeli is one of the summer's highlights in Finland and the track was once known as the world's fastest 5/8 mile tracks, similar to The Downs at Mohegan Sun Pocono in the United States. The field in Mikkeli is not quite as strong as we are used to seeing in the Finnish woods, but still, the mile will be raced and a classical winner will be crowned.
Sunday (July 17) is the race date for St Michel-Ajo.
The day before, Årjäng plays host to the track's biggest race. The $113,000 Årjängs Stora Sprinterlopp is on the schedule and the winner receives a ticket to Jägersro's $285,000 Hugo Åbergs Memorial (July 26), a race to which some great horses already have been invited.
Don Fanucci Zet, winner of the Elitloppet in 2021, is set for Hugo Åbergs Memorial and Daniel Redén's 6-year-old will be seen among nine opponents in Saturday's race in Årjäng, as well.
Behind him, title defender Vernissage Grif, trained and driven by Alessandro Gocciadoro, will try to repeat last year's triumph, this time from post 10.
Invited horses to Hugo Åbergs Memorial so far: Don Fanucci Zet, Önas Prince, Stoletheshow and Oscar L.A.
ÅRJÄNGS STORA SPRINTERLOPP (SATURDAY)
1,640 meters
Horse – Driver
1. Floris Baldwin – Kristian Malmin
2. Beartime – Carl Johan Jepson
3. Usain Töll – Björn Goop
4. Millindollarrhyme – Fredrik B Larsson
5. Bubble Effe – Jorma Kontio
6. Brother Bill – Magnus A Djuse
7. Tycoon Conway Hall – Flemming Jensen
8. Click Bait – Per Lennartsson
9. Don Fanucci Zet – Örjan Kihlström
10. Vernissage Grif – Alessandro Gocciadoro
ST MICHEL-AJO (SUNDAY)
1,609 meters
Horse – Driver
1. Run For Royalty – Janne Korpi
2. Esprit Sisu – Daniel Wäjersten
3. Mister Hercules – Örjan Kihlström
4. Next Direction – Hannu Torvinen
5. Global Withdrawl – Santtu Raitala
6. Makethemark – Ulf Ohlsson
7. Zeudi Amg – Alessandro Gocciadoro
8. Chapuy – Åke Lindblom