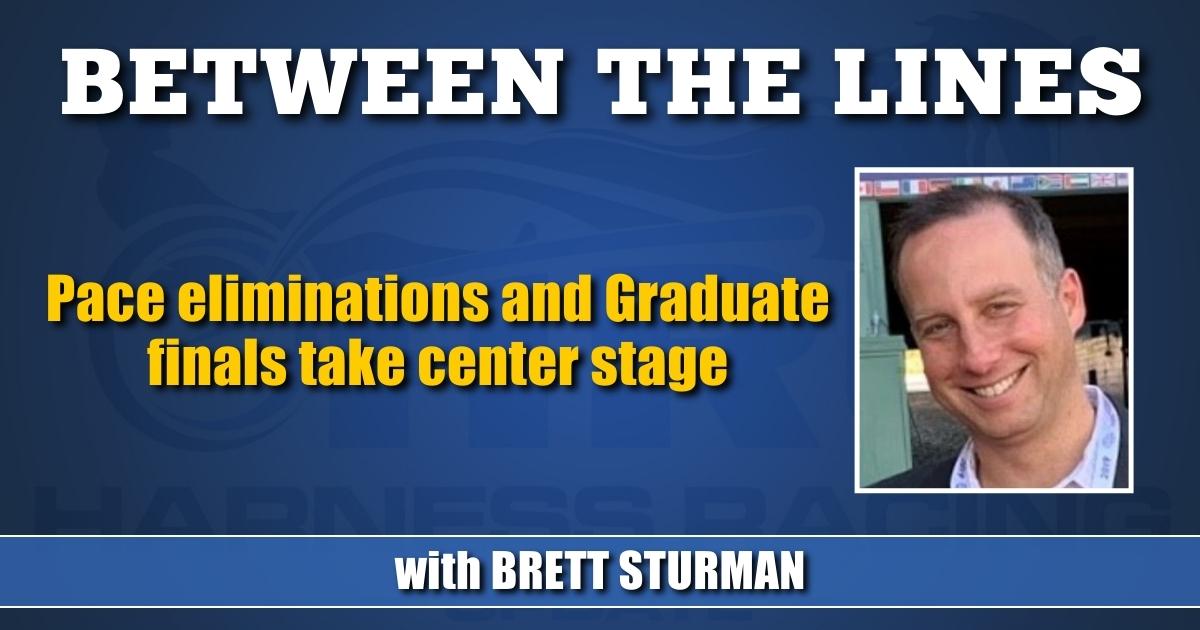 Pace eliminations and Graduate finals take center stage
So far, the sophomore pacing colts are a competitive group, but not particularly fast.
by Brett Sturman
Now into July, it's still hard to know what to make of this year's crop of 3-year-old colt pacers. With 16 (scratched down to 15) colt and gelding sophomores entered for the Meadowlands Pace eliminations this weekend and without any clear standout, the group is a hyper competitive one. But at least so far, it isn't a hyper fast one.
Last month's North America Cup at Woodbine Mohawk Park was won in a time of 1:50. That mark represents the first time since 2004 (Mantacular) in which the race didn't go in a sub 1:50 clocking, and was only the second time that's happened in the last 20 years. That said, the winner of that race, Pebble Beach, would have gone into the Meadowlands Pace as the favorite if he had been nominated to the event and would have gone faster too.
With Pebble Beach not included, that left the horse Hammering Hank listed #1 by the Meadowlands on their Road to the Meadowlands Pace rankings. Regrettably, it was announced following Tuesday's draw that he would have to scratch due to a condylar fracture. With two races this year in which I think it's fair to say didn't quite yet measure up to himself as a 2-year-old, the fact that he was ranked on top shows just how wide open this year's edition of the Pace is.
If there was future wagering established at the FanDuel Sportsbook at the Meadowlands for the Pace (why isn't there?), here's what the odds to win the Pace final might have looked like going into tomorrow's eliminations.
Beach Glass +400: A top contender and will be made so by the public, though still waiting for a "wow" type of mile from him. He makes his third start since picking up Gingras and just his ninth overall lifetime start, so maybe he's still figuring things out.
Night Hawk +450: He fought Pebble Beach bravely in his North America Cup elimination and then I was surprised that Miller didn't leave with him at all in the final. He hasn't raced since, so could be a bit of a question.
Greatest Ending +500: From the same trainer and driver connections as last year's winner Lawless Shadow, he could be any kind. He should get much credit for beating Night Hawk in his first start of the season and depending on how things go this weekend, he could potentially be the favorite in next week's final.
I Did It Myway +600: That was a breakout win for him last week in 1:48.1 where times across the entire weekend at the Meadowlands were unbelievably fast. McCarthy picked up the drive on him in the North America Cup final and this one has always been of higher regard.
Captain Cowboy +800: Dunn and Svanstedt teamed up last week with a monster stateside debut from Alrajah One It and this one could be better than generally perceived. He had pace last week from the pocket in the Messenger final but wasn't able to accelerate until too late; he's much better than early season record indicates.
Mad Max Hanover +1000: This one was Tetrick's surprising pick over I Did It Myway in the North America Cup final, so maybe he knows something. He was awesome in a couple races at Pocono in May; talent could be there.
Frozen Hanover + 1200: $325,000 yearling outraced his odds in the North America Cup final and tuned up for this with a win over the track last week. Connections have surprised here before.
Caviart Camden +1500: Still waiting for him to come back to that 2-year-old form. Last week's race was interesting though as he pounced first-over, fell back about five lengths, and then came back on again in the stretch to miss by about a length.
Early Action +1500: Almost the same could be said for him as for Caviart Camden. Connections shouldn't be ignored and I could be too quick to sell but looks like a longshot at present time.
Field (all others) +2000: Atlas Hanover picked up the winner's cover in the Messenger final but couldn't keep up when it counted. Captainryanmichael takes a shot for trainer Pavia but it's a giant step up; good front-end try five back against Caviart Camden, though. Fourever Boy didn't make much noise in the North America Cup when starting from the rail in both his elimination and final; did surprise in a PASS race at Pocono in May. Market Based was well positioned but tired in his North America Cup elimination as a longshot and didn't threaten last week in his prep for this. Nautical Hanover hasn't been disgraced against these types but is just 3 for 19 life; was okay late in the Messenger last week. PJ Lou has threatened against these on occasion, trainer Harder is just 1 for 26 at the Meadowlands this year.
THOUGHTS ON GRADUATE SERIES FINALS
Race 2 mares trot: Four of these five rematch from the most recent Graduate leg at the end of June. In that race, Bella Bellini sat an unhurried last through slow fractions and it still didn't matter as she swept in the stretch. Carded early as race two while there's still daylight, maybe the only question is if Bellini can break 1:50. She came close last week when beating older rivals in the Six Pack.
Race 8 mares pace: It's not too often you see horses close in :24.3 and :25.3 in consecutive weeks and lose both, but such is what happened to Test Of Faith. Actually, that :25.3 quarter last week was even more impressive than the :24 and change one from the week prior, considering the overland and first-over trip from post 10 in which she never saw the rail. Mikala was able to keep her perfect season intact when she gamely fended off Test Of Faith the last time they met. Not sure she'll be able to get away with a :55.3 first half this time around. Oakwoodanabella IR is the other obvious contender though wasn't quite strong enough to get past Mikala or hold off Test Of Faith two weeks ago.
Race 9 open trot: Rattle My Cage has improved markedly between age 3 and 4, and that was a well-earned win last out in a Graduate leg coming off the pocket trip. Cuatro De Julio has been trotting smooth of late and shouldn't have much issue getting to the front despite the outside post; throws it down again in a rematch with #6. Ahundreddollarbill found the older Open trotters a bit too much and now is back to a more reasonable spot. Sonofamistery has had his moments here.
Race 11 open pace: What more can you say about the 1:46
mile last week from Bulldog Hanover? The time was one thing, but just as impressive was making Allywag Hanover look ordinary from the pocket and did the same two back to Linedrive Hanover. Has the major post edge on his closest competition. Rockyroad Hanover exploded off second-over cover en route to his fast 1:46.2 win last week but now moves to post 10. Charlie May had to go first-over into fast fractions last week and did well to hold on for second; this is the same post he had almost one year ago in his first-past-the-post Meadowlands Pace.